It's safe to say that one of the largest segments we serve is businesses, ranging from small mom-and-pops to massive national corporations. And while they're all so different, what they have in common is the way they leverage their branded t-shirts and apparel to better their organizations.
Most often, they do this in 1 of 3 ways: either with promotional t-shirts to market their brand, with employee workwear to outfit their team, or with merchandise they sell to their own customers.
What I find when consulting with businesses is that they often know what their goals are and what they're trying to achieve. What they don't know is some of the insider knowledge that would help them make better decisions, save money, and get them a better-looking result.
So what I've done is compile the tips I would give businesses that are looking to make custom shirts for their company, tailored to the kinds of use-cases we see most.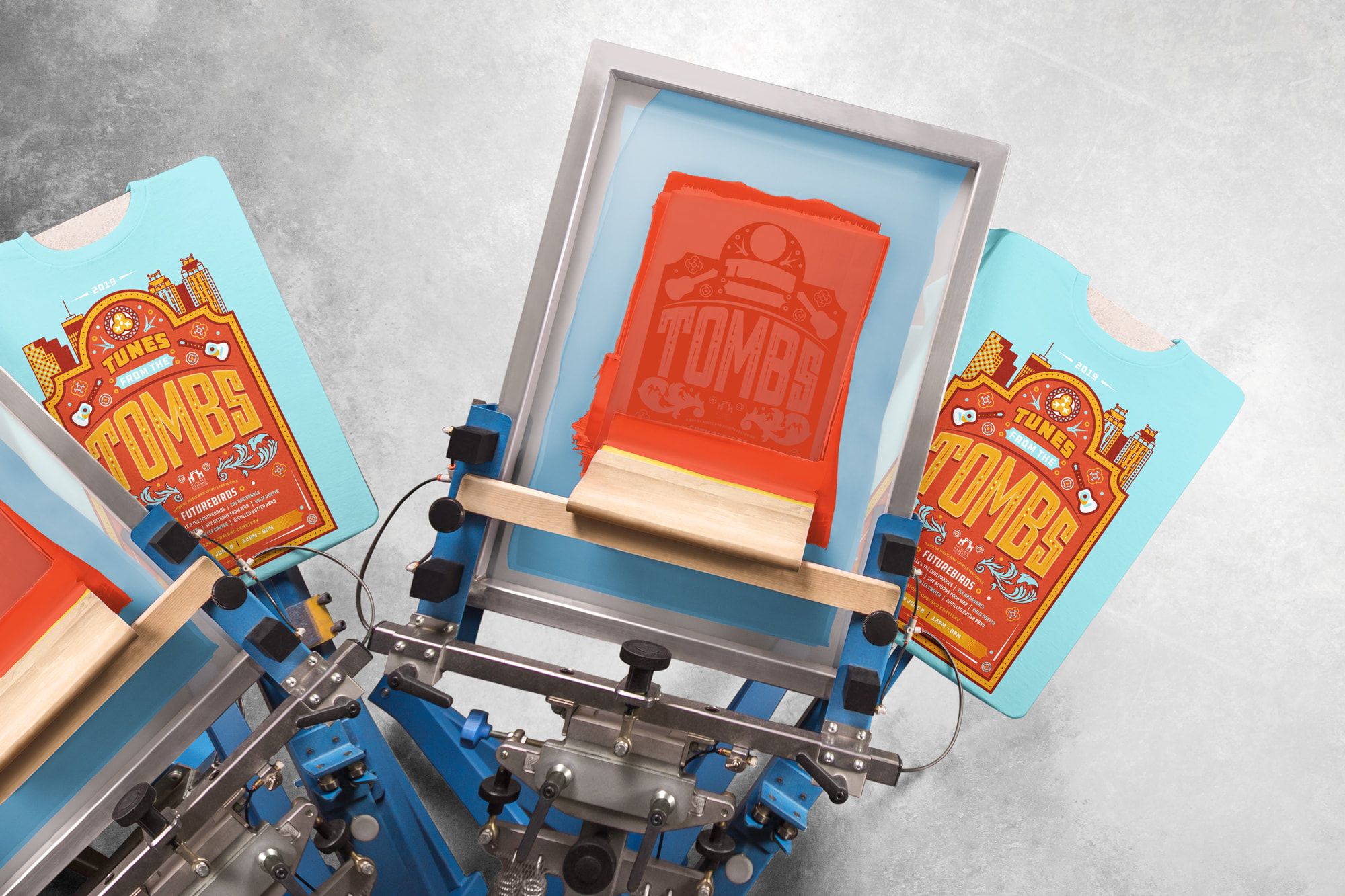 A few tips for all businesses making t-shirts
If you're just getting started, I'd always recommend looking at some inspiration or even just visualizing what your ideal company t-shirt would look like. A lot of the time, businesses already have their logo and intend on that being the focal point of their design. But you can also get some ideas from our company t-shirt design templates and use one of them as a starting point if you really like it.
If you're using your logo or uploading any other kind of image, make sure to use the highest quality image possible. Ideally, it would be at least 150 dpi at the size you'd like it to print, or some kind of vector graphic. You can take a look at our uploaded image best practices for a deeper dive on this topic.
For companies that have precise colors associated with their brand, you're more than welcome to specify a Pantone PMS value when ordering shirts with us. Providing a PMS value is the only way for us to know exactly what your brand's colors are because the digital image will look different on different screens.
Tips for making promotional t-shirts
Promotional t-shirts are those that are made for the purpose of distributing and marketing your company name and brand. They might be t-shirts you plan to give away at a trade show, to have everyone wear at an event, or to send to potential customers to introduce them to your brand. Either way, their main purpose is to spread awareness and market the company.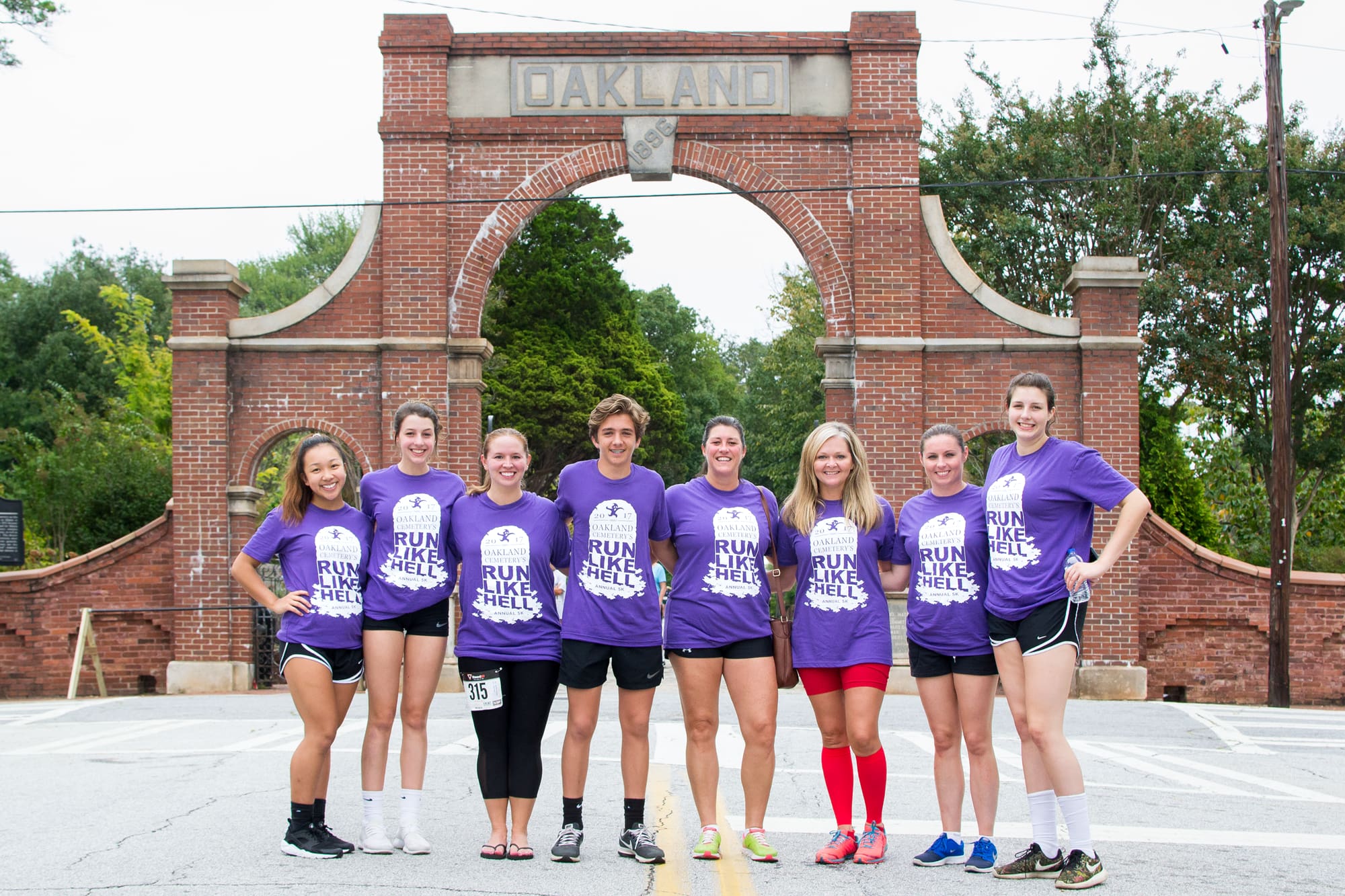 Keep your costs low by using simpler designs with fewer colors
The cost for screen printed bulk orders is in part determined by the number of colors in your design. Each color requires another screen to be made so keeping your design's color count to a minimum will help reduce cost.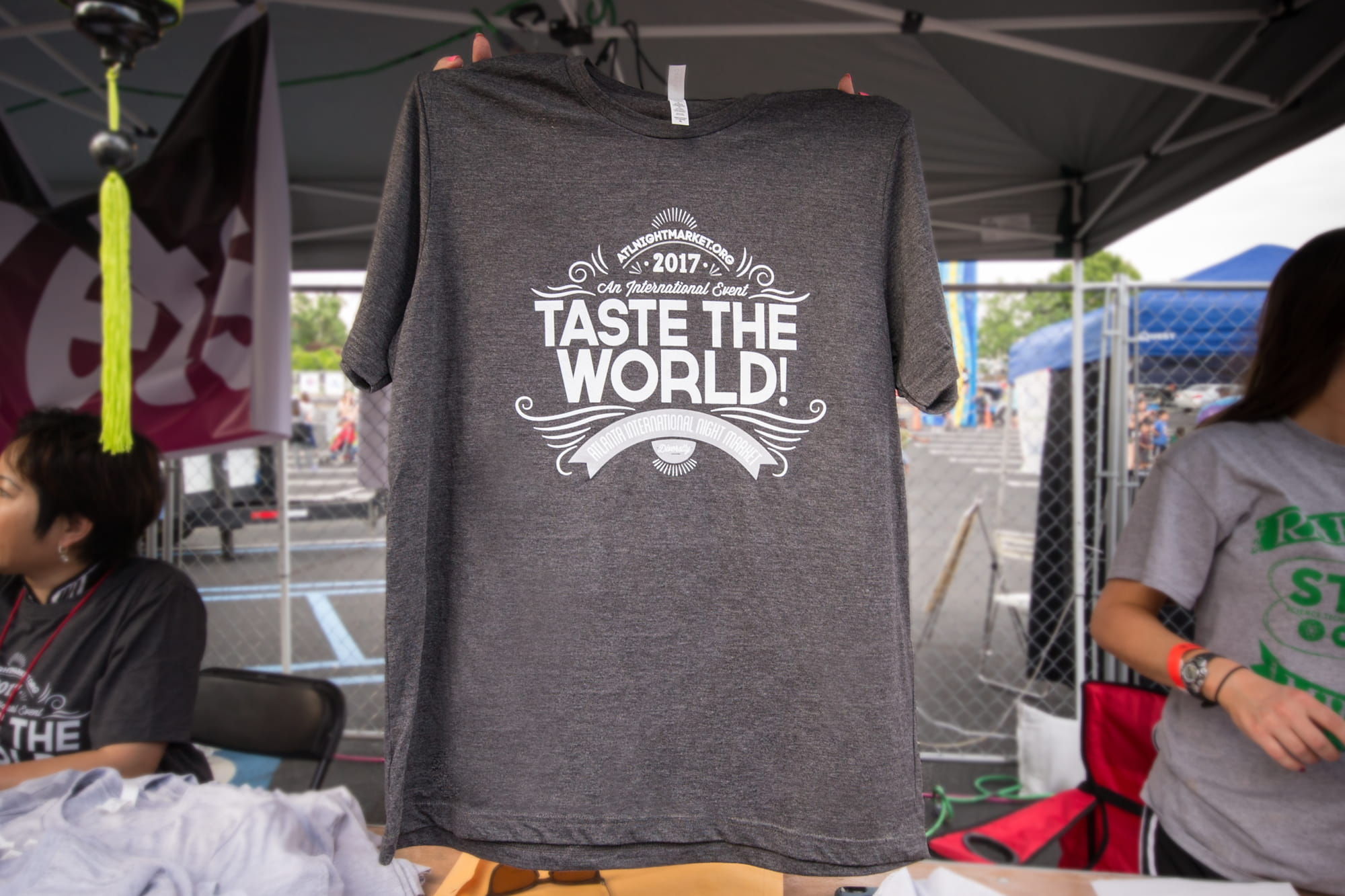 I suggest this because promotional t-shirts are very often given away and you'll want to get the absolute most out of your budget. If you're getting these printed to hand out at a trade show, you'll want to make sure that as many people as possible get them. Keeping the cost per shirt as low as it can be by limiting the number of colors you have printed is one way to do this.
If you need help simplifying an image to fewer colors, just let us know and our art department can make the changes and send you a proof before anything gets printed.
Spend more of your money on a quality t-shirt that conveys the right message for your brand
I know I just said to keep your costs as low as possible, but an often overlooked way of leveraging promotional t-shirts is to give people something that's comfortable that they'll want to wear. When you hand out free t-shirts that are ill-fitting and uncomfortable, not only do you send the wrong message about your brand, but you also virtually guarantee that no one actually wears the thing.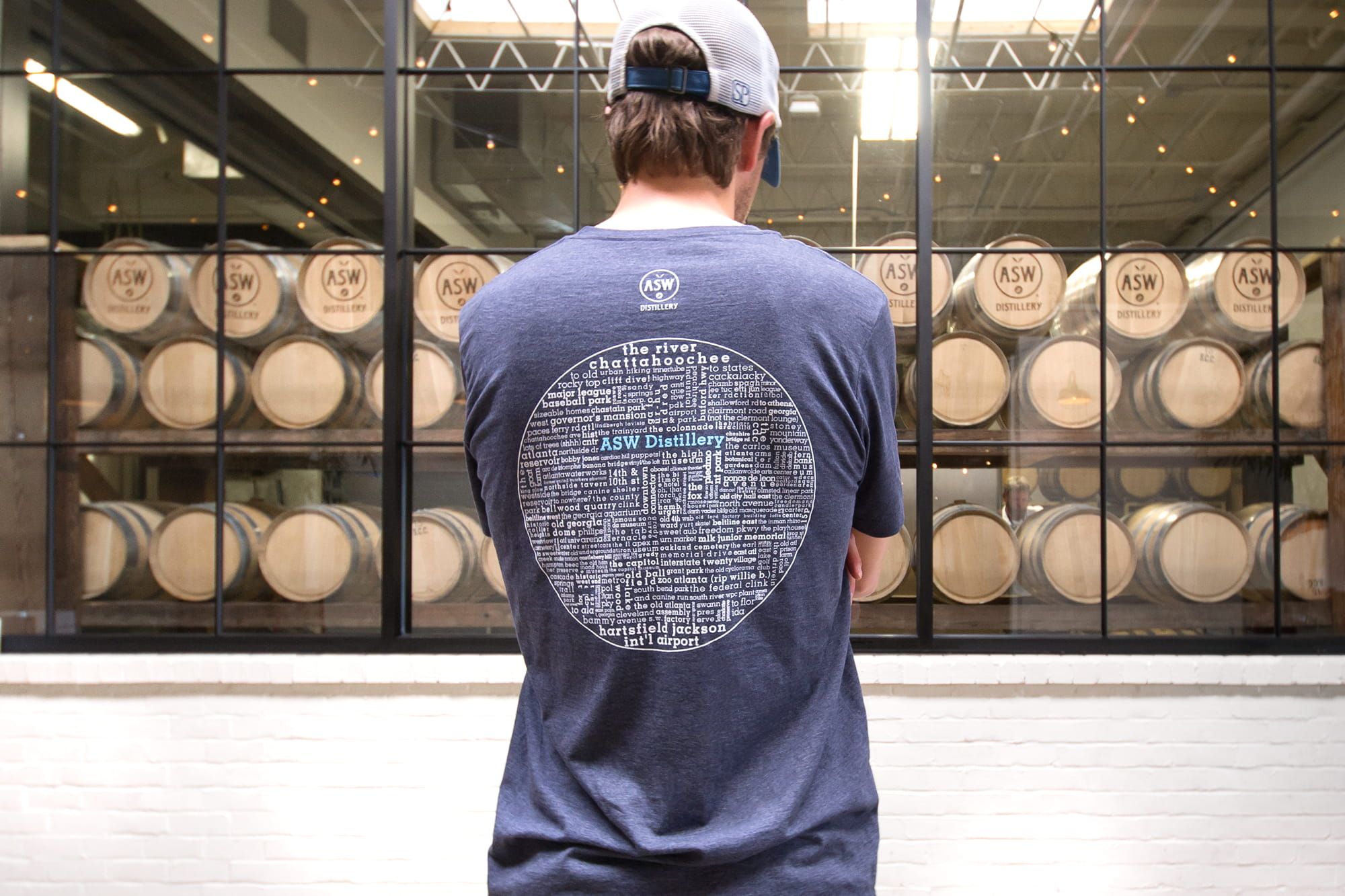 The real value in using t-shirts as a marketing tool isn't just to show people that you have t-shirts with your logo on them. It's to get your audience to engage with your brand and actually wear that logo around maximizing the advertising you get out of it. And an easy way to increase the reach of this advertising is to make the t-shirt itself worth wearing. Even if that t-shirt just becomes someone's gym shirt or something they get dirty in doing yard work, the more it's worn the more it gets seen.
One option I'd recommend that's still really cheap is the Softstyle T-Shirt. It's made of ring-spun cotton so it's decently soft and has a more modern fit. A step up from that would be something like this Jersey T-Shirt that's even a bit softer and made with higher quality construction.
Focus the design on your business's name and logo
The design you put on your promotional t-shirts should be clear and easy to identify. You want them to be like walking billboards for your business and for that reason, it's really common to just print a logo or brand name large across the chest.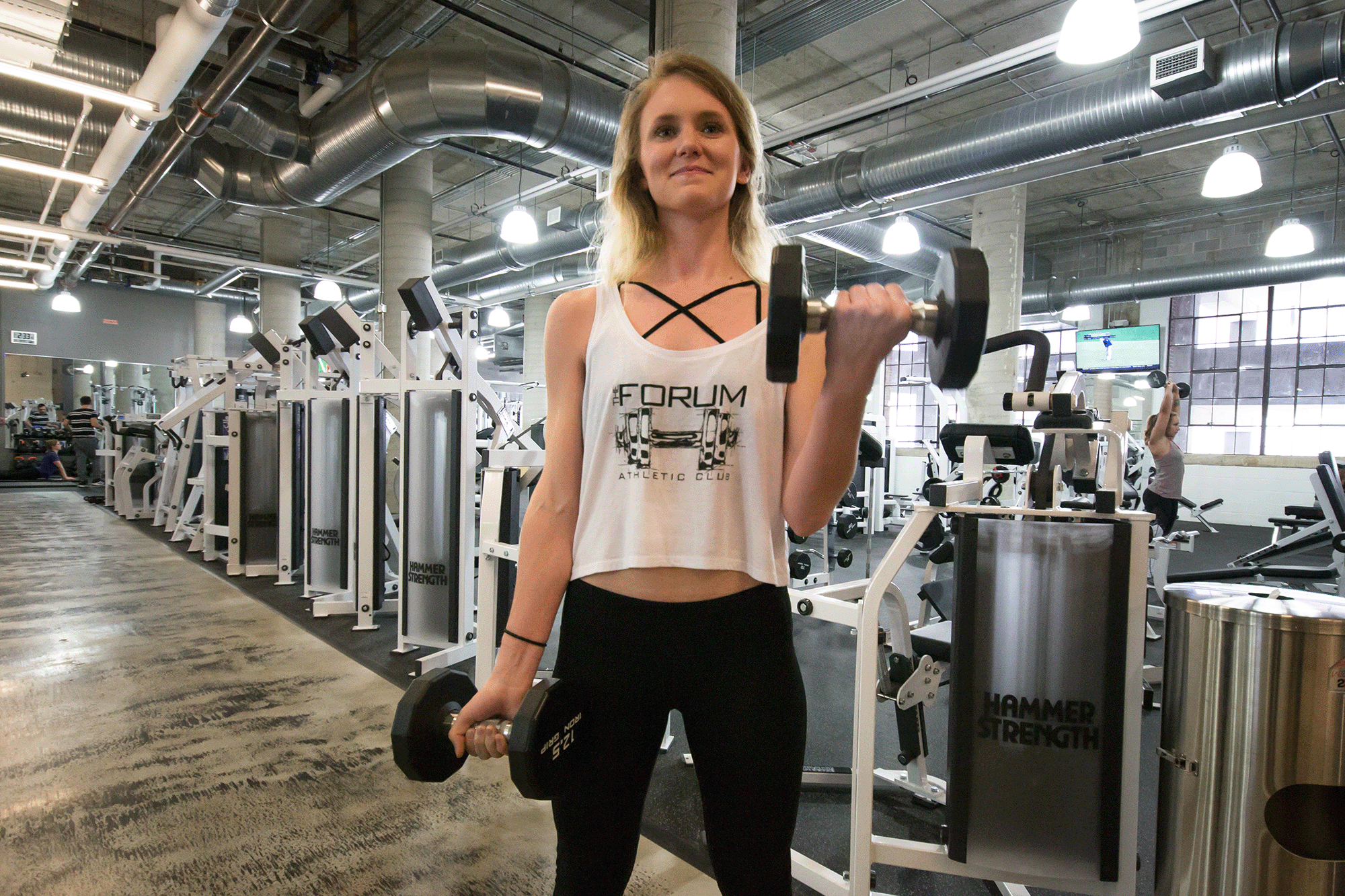 Just make sure your logo isn't placed too low. It should be at about sternum-height to look visually centered on the shirt. Square or circle logos will look better when they're a bit smaller, while a horizontal text logo can be as much as 12 inches wide. For a general guide to these sorts of things, check out our article on how to design a t-shirt.
Tips for workwear and employee t-shirts
What your employees are wearing while at work might be very important to your business. Not just for professional reasons, but more and more I see businesses that are using cleverly designed t-shirts to show off the personality of their brand.
Make sure the look of the design and garment reflect your brand image
You should consider how professional or casual your brand is and pick a t-shirt and design that matches that identity. For more highly professional occupations, you might want to go with the look of an embroidered polo instead. But if you're a casual, local eatery, then a t-shirt with your witty slogan might be the best thing.
Just remember that the apparel you outfit your employees with will broadcast a certain message to your customers. Use that to your advantage by reinforcing the message you want to be sending. Is that a vintage or modern design? Bright or pastel colors? Funny or serious?
Consider the comfort of the staff that will be working in them
Think about the conditions and scenarios that employees will be working in and what type of garments will make the most sense. If you're a landscaping company that works exclusively outside, you'll have very different needs than a business in an office building.
It may also mean that you need entirely different workwear during different times of the year. That same landscaping company may need t-shirts in the summer but hoodies and sweatshirts for the winter. It might be necessary to have a few different matching styles to accommodate different settings and environments.
But ultimately, just consider overall comfort. Just because your staff is lucky enough to work in an air-conditioned building doesn't mean they want to wear a scratchy t-shirt all day.
Think about how many you need and how you'll order more when your staff grows
If you're expecting your staff to wear a specific shirt every day they're at work, each person will need more than one to make it to laundry day. Factor that in when you're getting a tally of how many of each size you need to order.
Also, what happens when you hire a few more employees? Most of the time, businesses place orders of more than 12 shirts and have them screen printed because it's cheaper for large orders. But you either have to order extra to keep on hand for when new employees are hired or have some way of ordering more.
To accommodate this, I've seen some small businesses opt for our digital printing option because it lets them order single shirts on-demand. Each time they get a few new hires, we get an order for 3 or 4 more shirts. This will be less efficient on a per shirt basis and is limited to certain styles, but might keep you from having to order a ton extra.
Tips for merchandise
Selling merchandise isn't just restricted to apparel brands. Another trend I see more often is local businesses, whose primary product or service has nothing to do with t-shirts, using branded clothing as a way to bring in revenue and promote their name.
As one example, ASW Distillery here in Atlanta sells t-shirts in their tasting room and generates a ton of brand loyalty from their fans. Restaurants, breweries, artisan shops, and tons of others have found that offering cool branded apparel is about more than profits, it cultivates a connection with their customers and helps spread word of their business.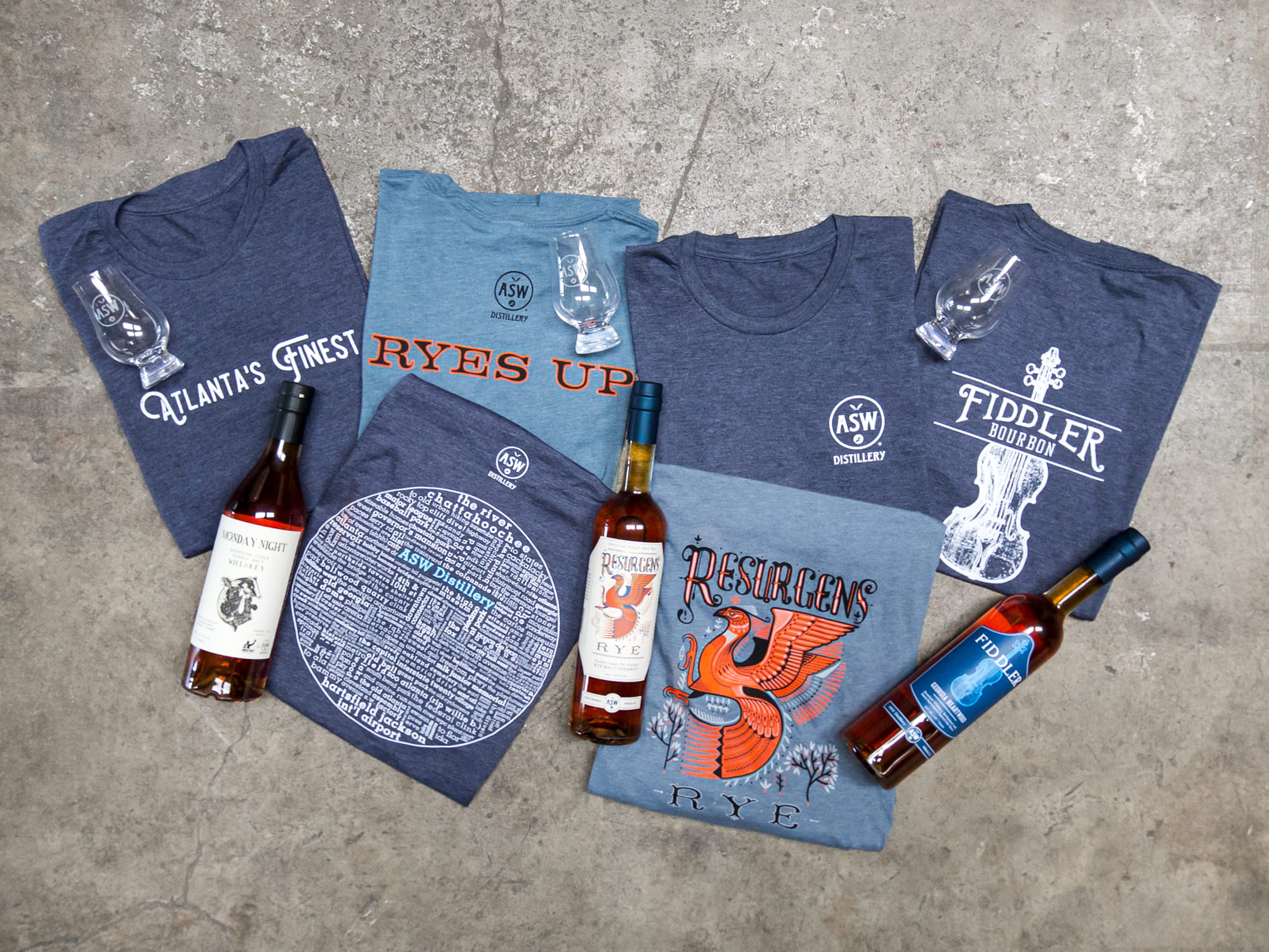 Decide on apparel styles by demand and the potential profit
First, you have to consider the kinds of styles that you're most likely to sell. Think about the demographics of your target market. That will help determine if you should offer more than just t-shirts — like women's or even youth styles — and might inform whether they should have a more slim or generous fit.
Second, keep in mind that you'll be able to sell certain styles for more than others and potentially make a greater profit. A nice sweatshirt, while it will cost you more to offer, will also demand a higher selling price than a generic t-shirt. And even something like this super soft Triblend Jersey T-Shirt will warrant a higher asking price compared to something that's stiff and uncomfortable.
You'll have to compare what you're willing to invest with the return that you're expecting. Start small and get feedback on what styles customers like and you can always expand your offering.
Order in larger quantities when possible to maximize your return
You can make a greater profit on each t-shirt sold by ordering in bulk. Another feature of screen printing is that the cost per piece gets incrementally lower as you order in larger quantities.
You'll see a large difference in cost per t-shirt when you order 100 pieces compared to 24. Of course that means a larger upfront investment, but you'll also get a larger return on that investment, or you can choose to pass on that savings to your own customers to entice them to buy.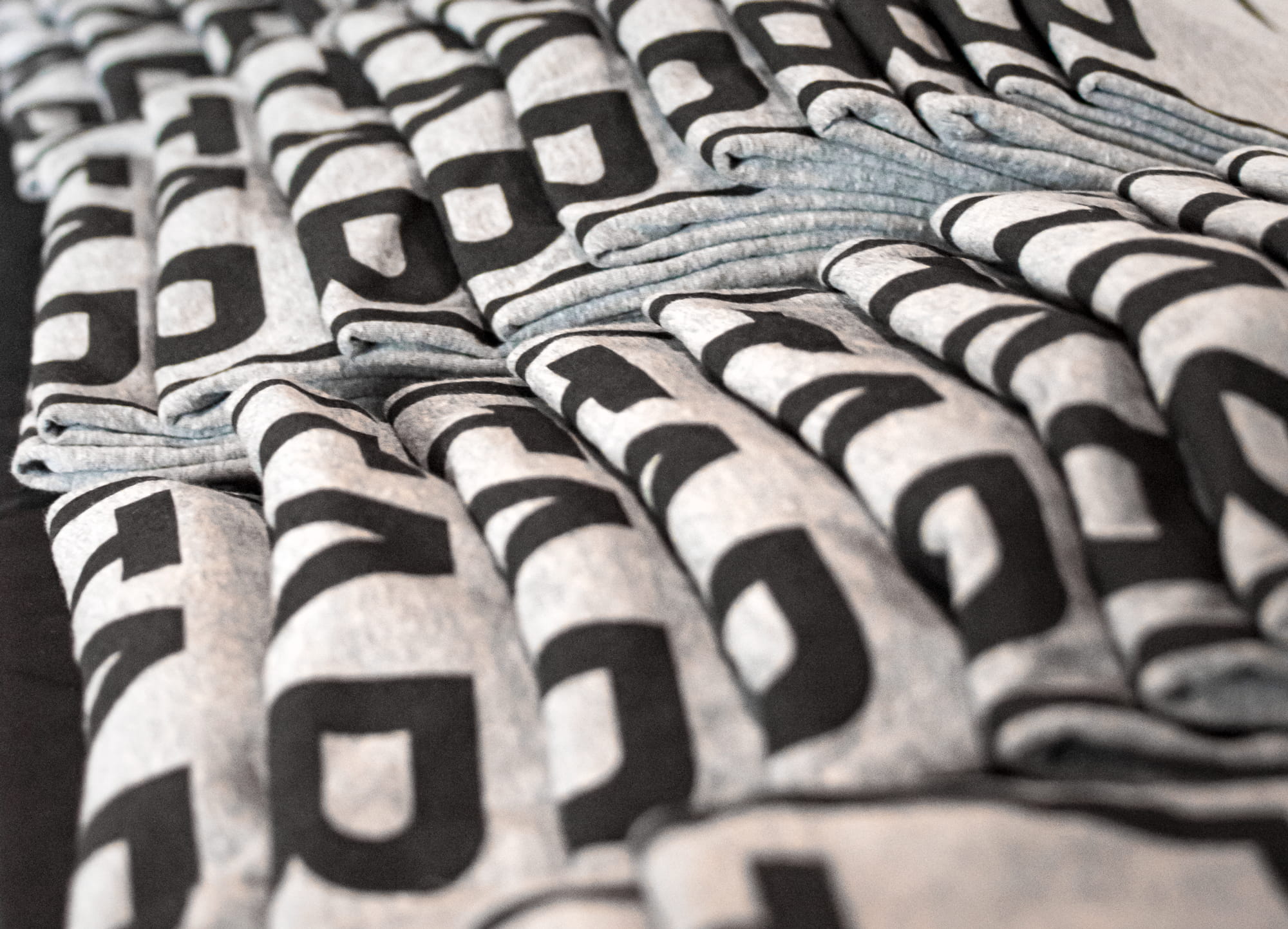 Make designs that are unique and striking while still incorporating your brand
Unlike promotional t-shirts, customers who are buying your merchandise have to be swayed to spend their hard-earned cash. It might not be enough to just slap your logo on the front and call it a day.
This is another opportunity to leverage your brand's personality. You might want to feature your witty slogan or come up with new ideas for your merchandise specifically. Alternatively, ASW Distillery repurposed the design work from their product's labels into really cool t-shirt designs that both incorporate their logo and make for stylish merchandise.

---
Hopefully, you find these tips useful and they've given you some interesting ideas for how your company can use t-shirts as a part of what you do. Nowadays, I see so many businesses successfully using branded apparel in one way or another, and I'd expect this to be a trend we see grow and evolve in the future.
So get with the times, and make something awesome that helps your business grow – we're more than happy to help.