Gift-giving has gotten harder. Thanks to delivery services and companies like Amazon and Etsy, we can get any item we want in a matter of minutes. When the holiday season comes around, anything needed has already been purchased.
So you go to the top "gift guides" to do some research and still wind up at square one. Anything novel is so popular, the likelihood of you purchasing it first is slim.
At this point, you're almost ready to pick up a gift card and call it a day. Not so fast. You still have one thing to turn to—Personalized gifts.
Personalized gifts are the solution to a saturated gift market. They are more than a commonplace item, they're memorable keepsakes your friends will cherish for years to come.
Why are personalized gifts the best type of gift?
Gift giving is an opportunity to give something meaningful, but it's also a time to stand out as someone who knows exactly what to get. Everyone wants to be someone's favorite. Like the long-awaited aunt who showers her nieces and nephews with the coolest new toys. We all had that friend who knew someone (or was someone) with a well-connected cousin who got them Hamilton tickets when it first opened on Broadway.
Giving a personalized gift may not be Hamilton-level good gift-giving, but your presents are always remembered. And most of the time, that's the mark you're trying to hit.
Personalized gifts are creative and show your recipient that you put time and effort into your gift choice. Something that said, "I've had this in mind and couldn't wait to give it to you." After two years of social distancing and strained family relationships, a little personal touch to a gift can make a somewhat strained relationship feel like it's back on track.
Bonus: No one will expect you got their shirt from the same company you used to print the Jingle Jog shirts for your church's fundraiser. You can get every custom shirt this holiday from the same reliable company.
What makes the best personalized gift?
When brainstorming your personalized gifts this year, you'll know it's the right gift when it fits in one or more of these categories:
They're specific to that person or group.
Specific gifts show others you really know them. Making a custom gift can be an easy way to show someone you appreciate them.

They're timely.
Don't confuse timeliness with trendiness. New parents always need diapers—It's a timely gift, but not a trendy gift. If you focus on finding the "latest and greatest" the gift's impact has a short shelf life, making your gift obsolete. On the other hand, giving a timely gift is relevant and instantly has an impact while maintaining its value. Like giving a friend a tote a week before she and her family go to the beach. The gift is timely because it has upcoming usage without having an expiration date.

They seem over the top or like a splurge.
Some of the best gifts received are the ones you'd never purchase for yourself. Personalized t-shirts can be exactly what that person has been longing for, but can't bring themselves to purchase them. You get to come to the rescue and make it real.

Personalized gifts are unexpectedly thoughtful.
Gifts can have many outcomes for the recipient. Maybe it solves a problem the person wasn't aware they had. Or it's an accessory for something they didn't know existed. A really good personalized gift surprises the recipient because it's something even they haven't considered getting for themself. There's an element of surprise to it because it's so accurate.

Ideas for personalizing your custom apparel gift so you know it's a hit
Announcement Shirts
Pregnancy announcements have turned into an art. Search them on YouTube and you'll find compilations of new creative ways to announce your family's new additions to the world. (BONUS: Search "Gender Reveal Fails" for a good laugh.)

At times, these announcements go awry while some bring you to the brink of tears. The guaranteed method is a customized t-shirt for the grandparents-to-be. The shirt does double duty as a gift and uniform for future family photos.

Dog-friendly households lookout: Our custom dog shirts are a creative way to get the whole family involved in your announcement.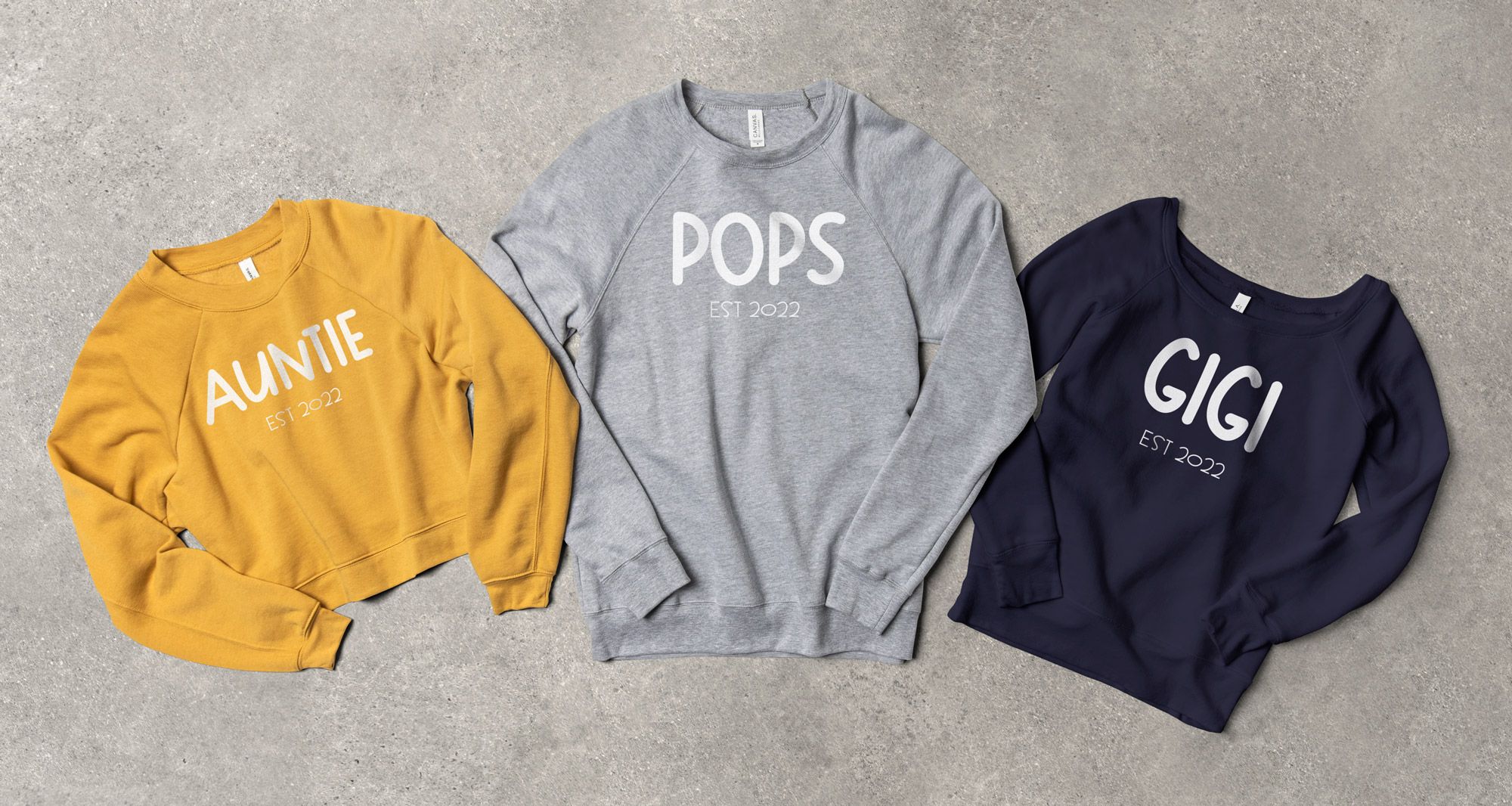 Well-Known Inside Jokes
Inside jokes can be great to put on a custom shirt. The downfall can be if it's so far inside, the person you're gifting it to doesn't recall the joke. Go for long-standing jokes amongst groups. Like the time Alex spilled his entire flight of beer at the brewery, so now your friend group calls him Spills.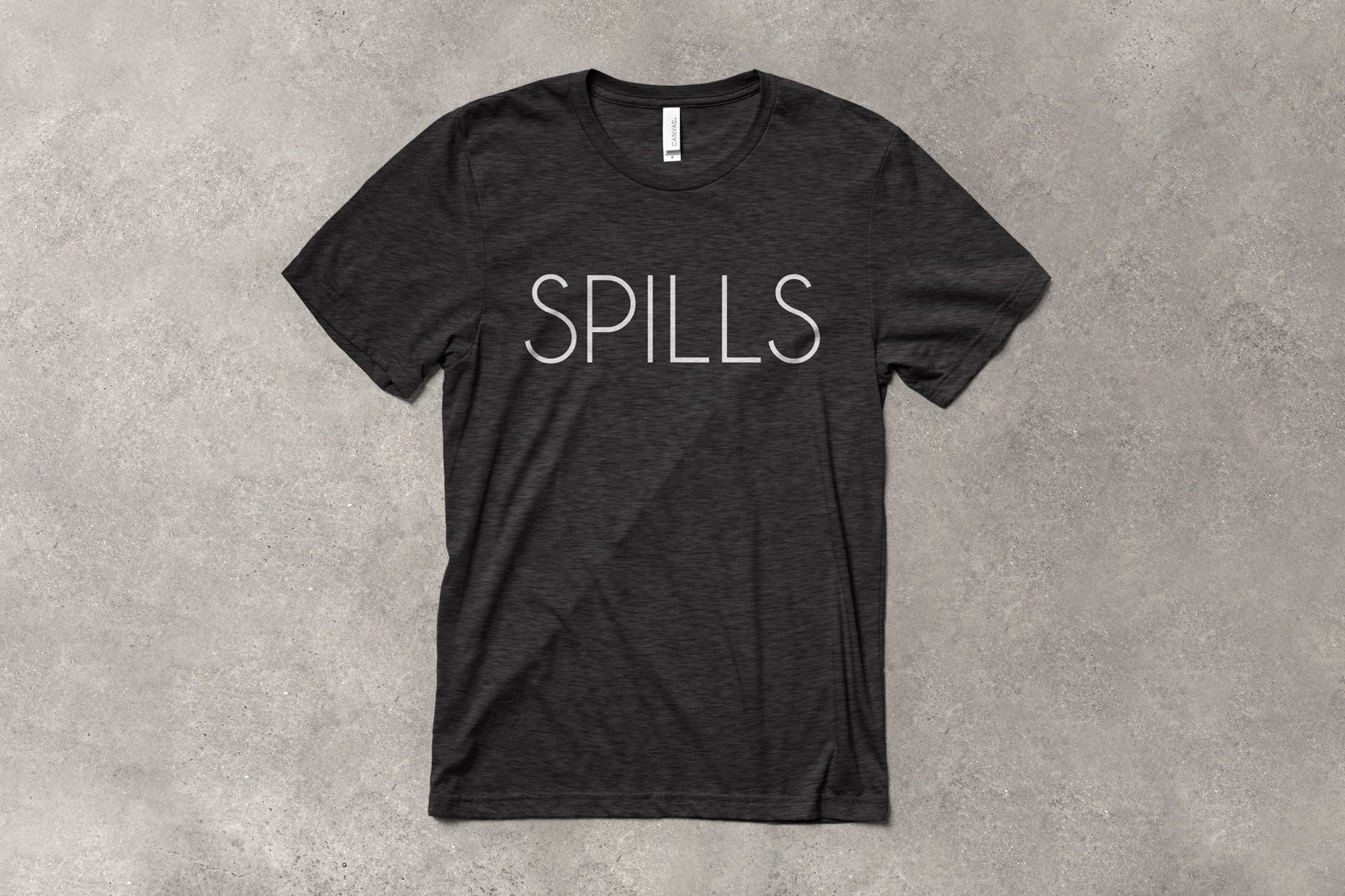 Their Personal Saying
When in doubt, use their own words. Well-known sayings, memorable advice, declarations, or catch-phrases are a perfect start.

For example: If the players from AFC Richmond were to give Ted Lasso a shirt, it might read "Your body is like day-old rice. If it ain't warmed up properly, something real bad could happen."

Occasion-Specific Shirts
Occasion-specific shirts have utility. And for some folks on your list, that's all you can hope for. These work the best for those re-occurring events, like Oktoberfest or your friend that runs marathons.

Fandom & Pop Culture References
Beware copyrighted imagery here. When you're looking for a super-niche phrase or pop culture reference, they can be hard to come by. Create a retail-quality shirt your recipient can't get elsewhere because you made it just for them.

Gag Gifts
Take caution and know your audience before you gift a gag gift. You've been warned.

Gag gifts can miss the mark, so making it personalized to their sense of humor keeps you in the clear from any humor in poor taste.

You know that goofy photo you set as your friend's contact image from years ago? Print it on a shirt. Select "Digital print" for the best photo quality. Please know they'll never wear the shirt, but it'll be talked about for years to come.

Try printing a funny photo of someone in your group for a gift exchange party. It will be the gift that is stolen repeatedly and is brought back as the joke present year after year.
Our Top Picks for Your Custom Gifts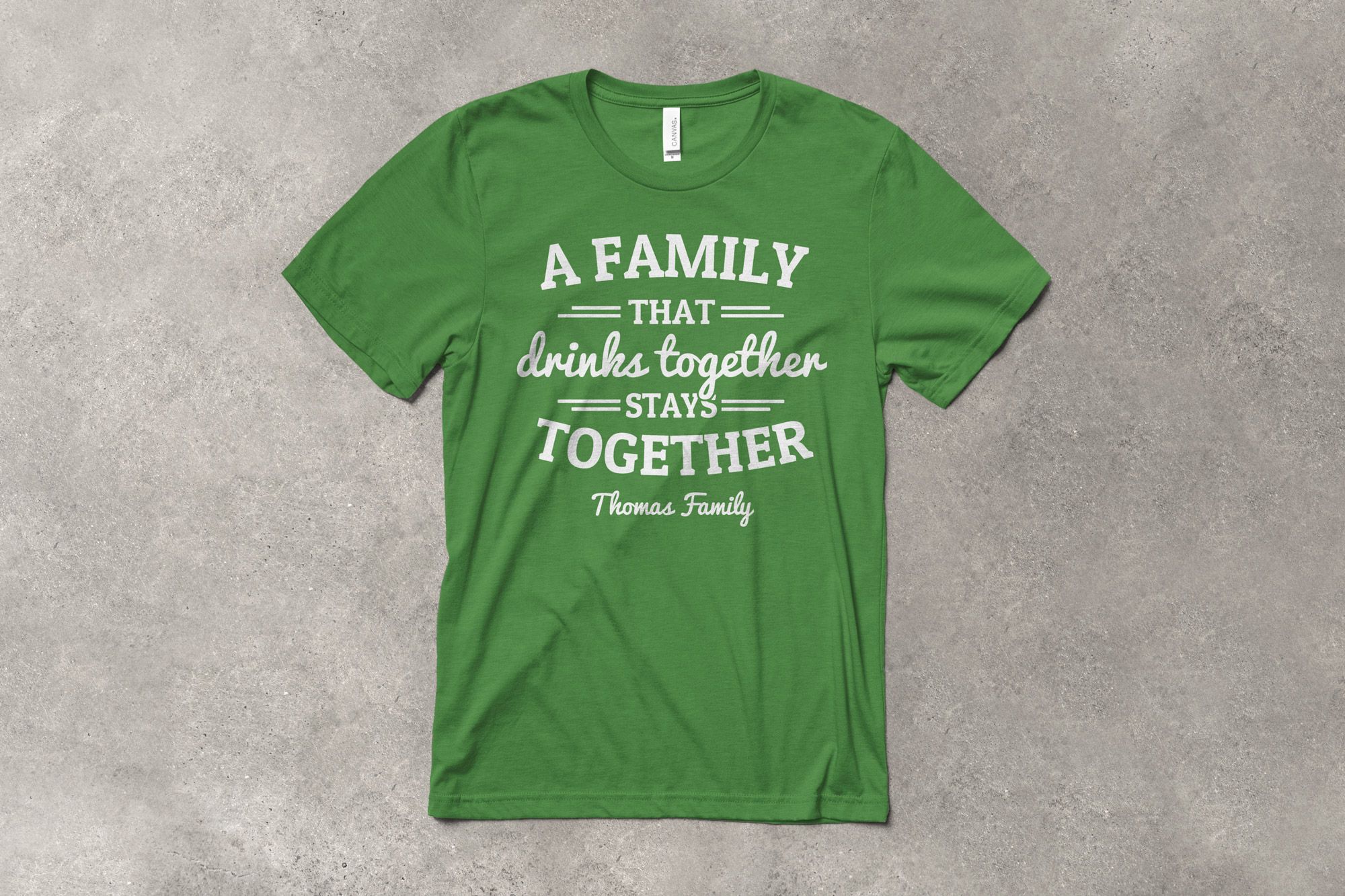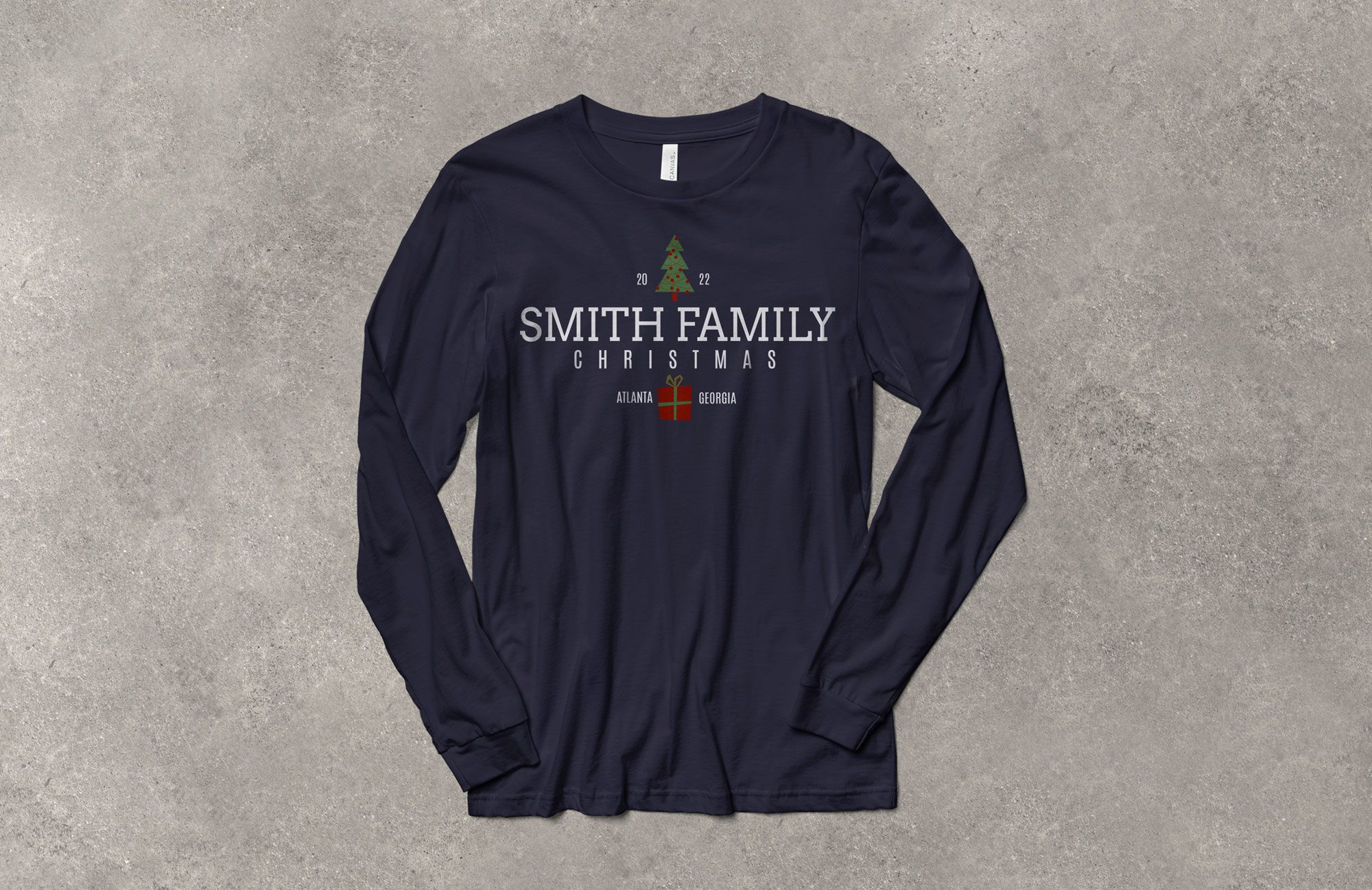 Pull-Over Hoodie by Independent Trading
This mid-weight hoodie has a "No Minimum" option and comes in all the dark, moody colors. The heavy cotton/poly blend makes it uber-comfortable. This will definitely become the favorite hoodie in your friend's closet.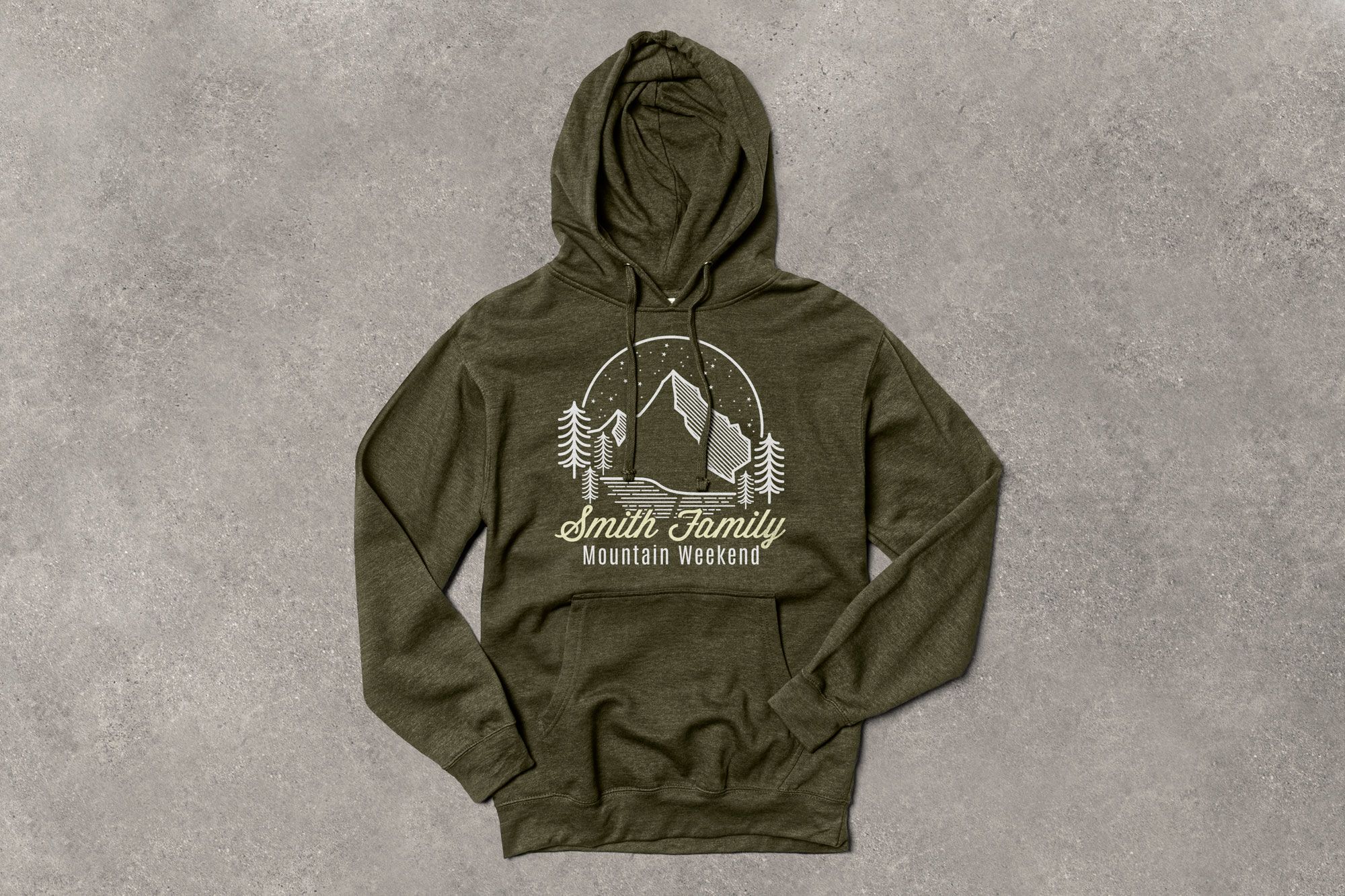 Infant Triblend Onesie by Bella+Canvas
Is there anything cuter than baby clothes? Yes, custom-designed baby clothes. Use any of the personalizing ideas above for this.

BONUS: Add a onesie to your original order for your friends or family with new babies and get the best out of both worlds. New parents will love matching their child and they'll love you for thinking outside the box and customizing their matching outfits.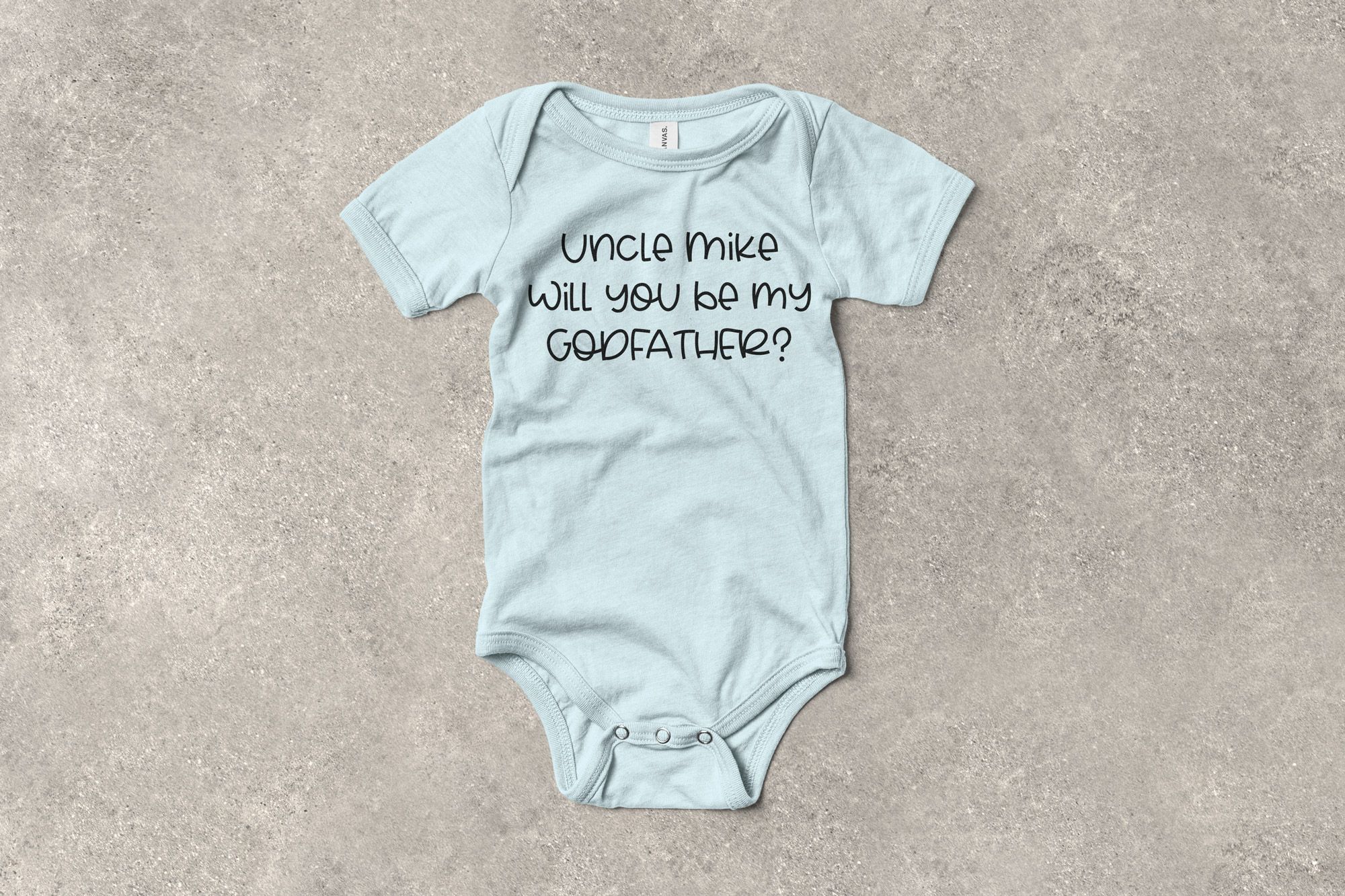 Apron
Aprons are a unique gift for the cooks, bakers, and grill masters in your life. With an order minimum of 12, your crew of culinary friends will appreciate you took their passion into account. You can also expect to see this present every cookout, barbeque, chili cookoff, and feast meal for the rest of time.

Dog shirt
Everyone knows someone who got a pandemic pet, and chances are it was a dog. New pet parents will not only appreciate the personalized gift but including the dog in your gift-giving will bump you to the top of the nice list. Dog shirts are available for "No Minimum" orders, so you can buy just one for that special pooch.

How to choose?
Working on a budget?
Make it affordable by selecting "No Minimum". No Minimum is our way of saying you can purchase one at a time. These shirts get printed quickly and ship immediately after they are printed so these make perfect short-notice presents.

Looking for a group gift? Go Screen Printing.
These items have a 12 item minimum which makes them great group gifts. Shirts printed in bulk via screen printing end up being more affordable than most expect. Maybe you're thinking about aprons for the soup kitchen volunteers? Custom shirts and apparel are great gifts for your group this holiday season.
Make them feel special this year. Use one of our T-Shirt Design Templates for inspiration and create your customized gifts today.