If you're gearing up for your Cinco de Mayo celebration and looking for that extra spice, custom designed t-shirts are perfect for engaging with the holiday in a personalized way. We've got a few design tips and inspiration to help you out and make creating a custom Cinco de Mayo t-shirt much easier than you thought.
Often mistaken for Mexico's Independence Day, Cinco de Mayo actually commemorates the Mexican Army's unlikely victory over the French Empire at the Battle of Puebla on May 5th, 1862. The annual celebration became a symbol of resilience that was originally popularized throughout the United States to promote Mexican American heritage. Long after its start in Los Angeles, the tradition is now celebrated in cities across the country with organized parades, festivals, and fiestas.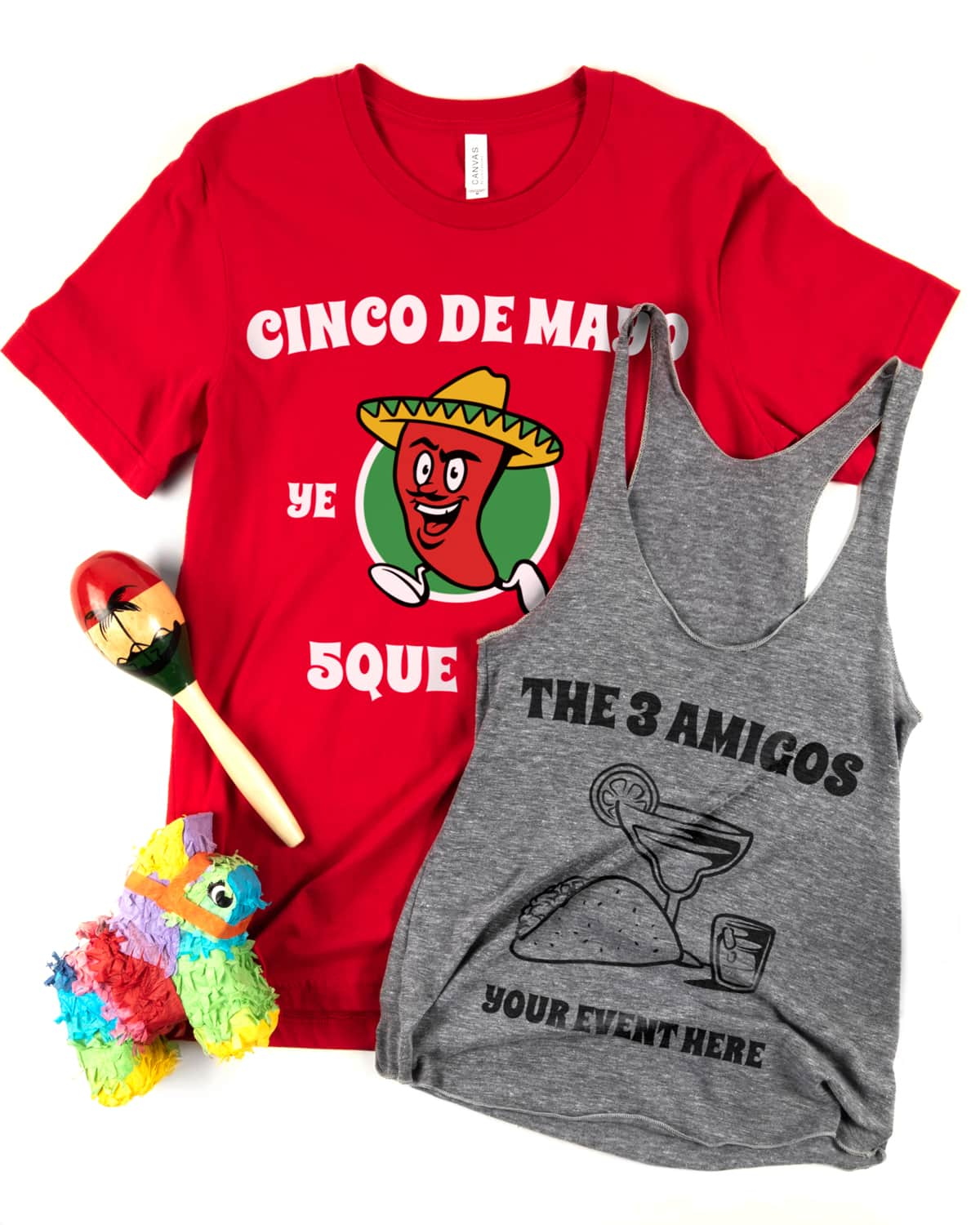 Custom Cinco de Mayo t-shirt designs
Whether it's a parade or just a party with friends, these celebrations are a great opportunity to create custom Cinco de Mayo t-shirts that incorporate some one-of-a-kind flavor. Let's give 'em something to taco 'bout (see what we did there) as we check out some design tips, inspiration, and Cinco de Mayo design templates that'll get you going.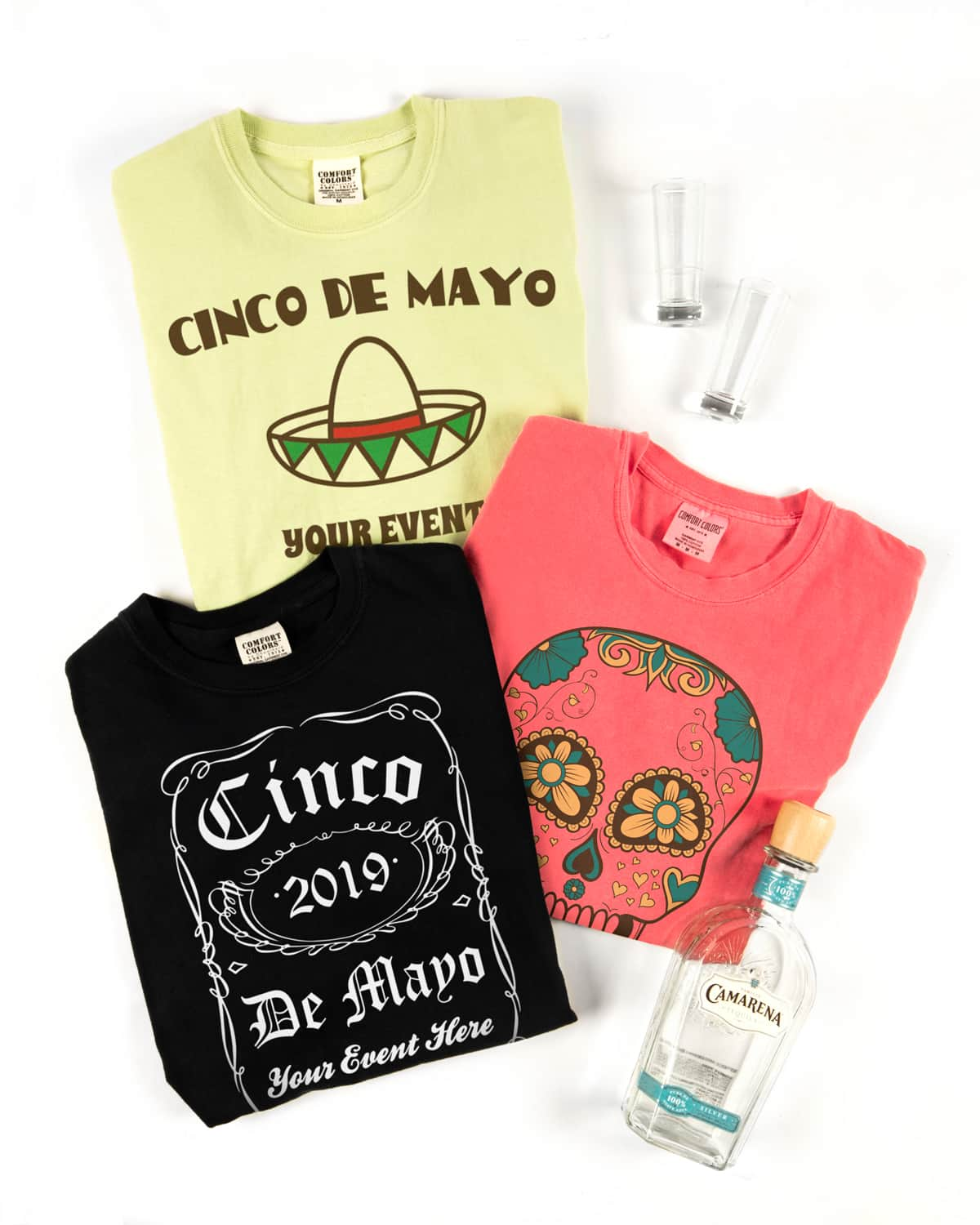 Color pallet
While you may want to incorporate a whole range of colors, a great place to start is with the traditional green, white, and red that adorns the Mexican national flag. Green and red are opposite each other on the color wheel, making a complementary color scheme that's perfect for a design you really want to pop.
If you want a design that's a bit more subdued though, swap the primary green and red for less saturated versions. That way, you can add more diversity to your color pallet and still create a clear connection with the holiday.
Imagery
You can look to draw on traditional icons for inspiration in creating your own custom design. For example, La Catrina, the ornate skulls depicted in celebration of Día de los Muertos, or Day of the Dead. Often seen in makeup or papier-mâché, these unmistakable skulls are decorated with floral patterns and distinct dark eye circles. You can grab a couple of these designs as clip art in our Design Studio or feel free to upload your own.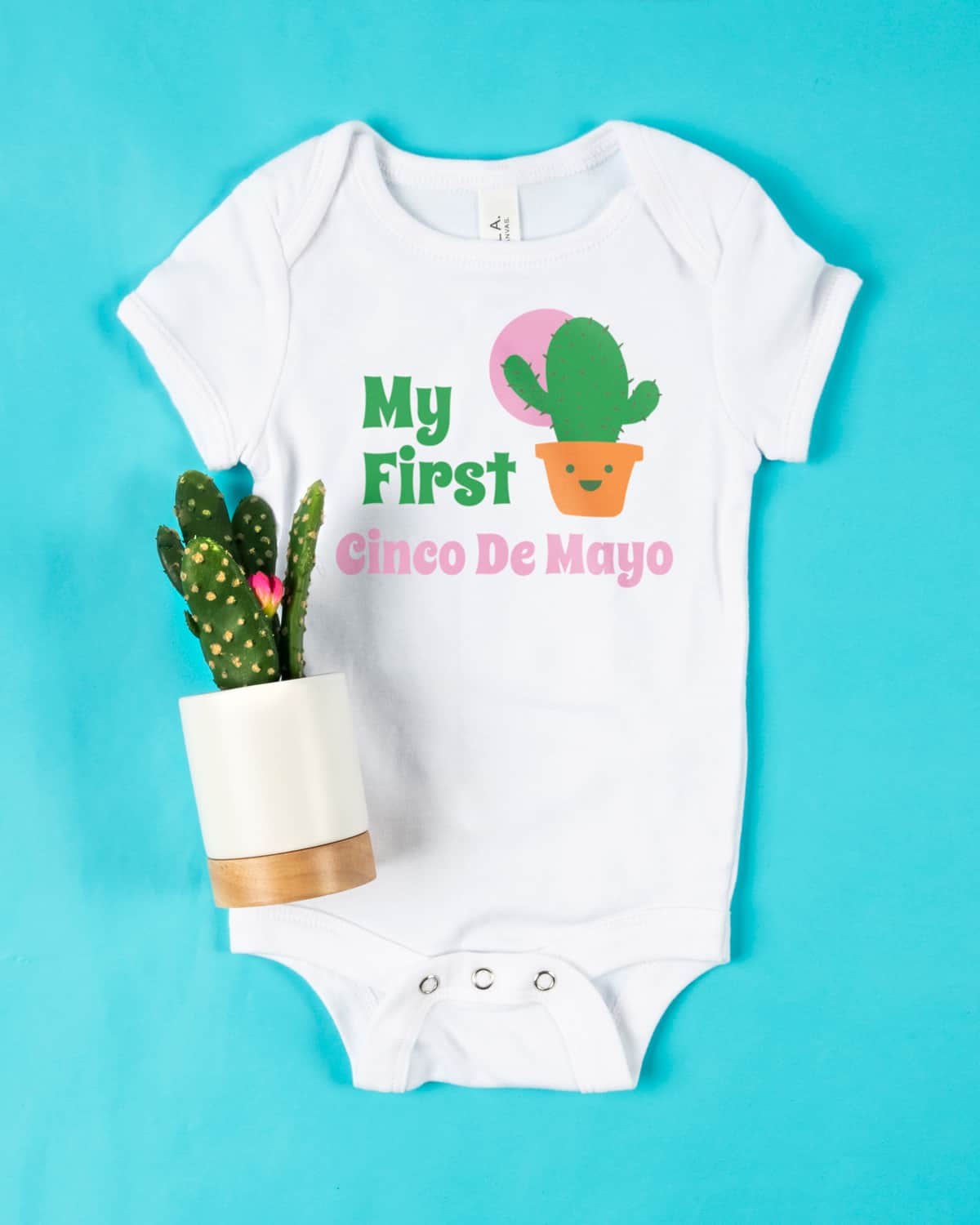 Designs for every occasion
Get creative and find new ways to use custom t-shirts for your Cinco de Mayo celebration.
If you're designing for a large event, design templates make it easy while still giving you the flexibility to insert the name of your event, year or anything else. If you're looking for something that's breathable in the warmer weather but still budget friendly, we'd recommend large groups go with the Softstyle T-Shirt to have the whole range of sizes necessary to fit everyone from kids to adults.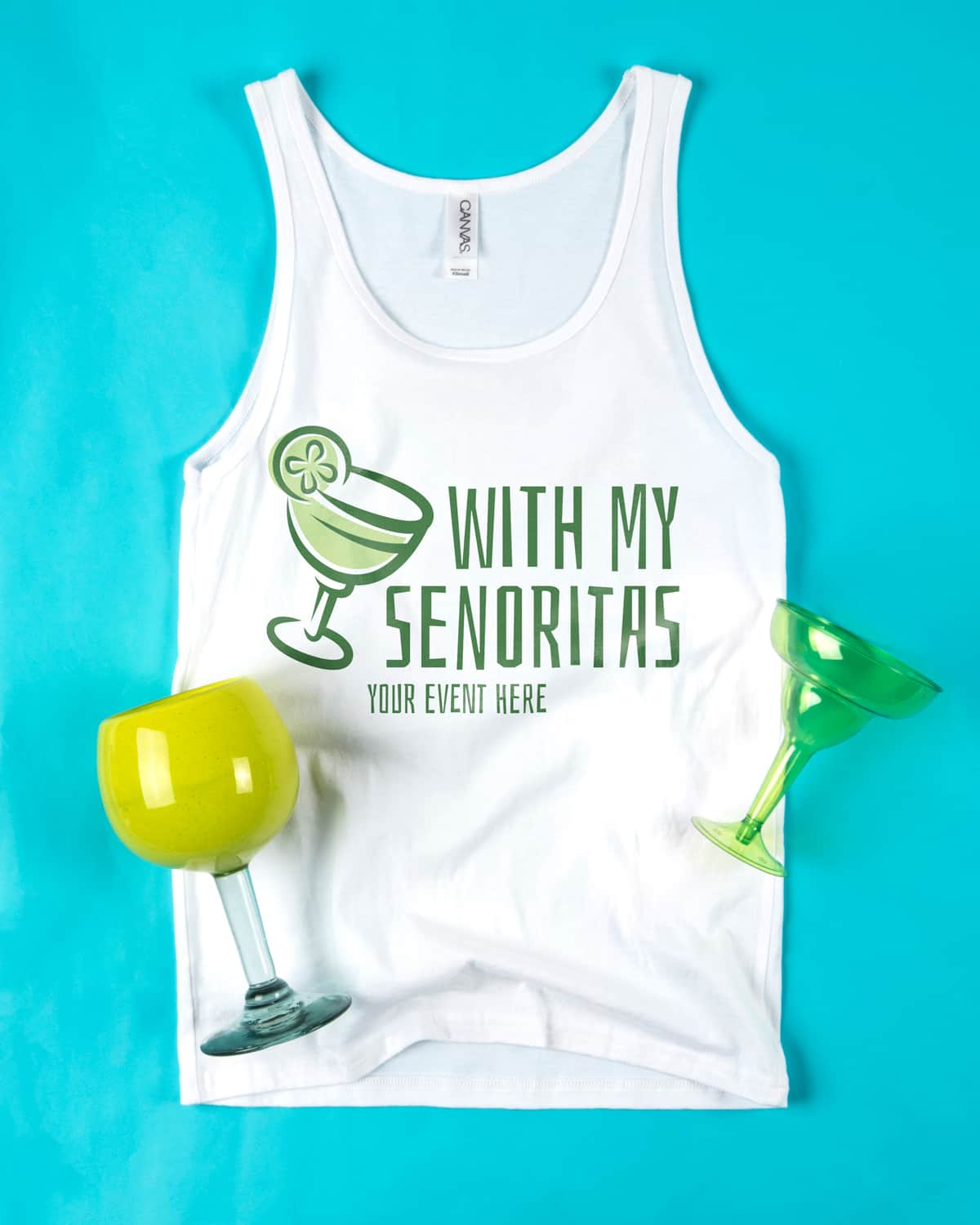 If you're looking for a fun one-off custom t-shirt to wear for a party or a night out, explore some other design and apparel options. Tank tops, slim fit tees, or ladies apparel can give you a more personalized look that's more fashionable and a better fit.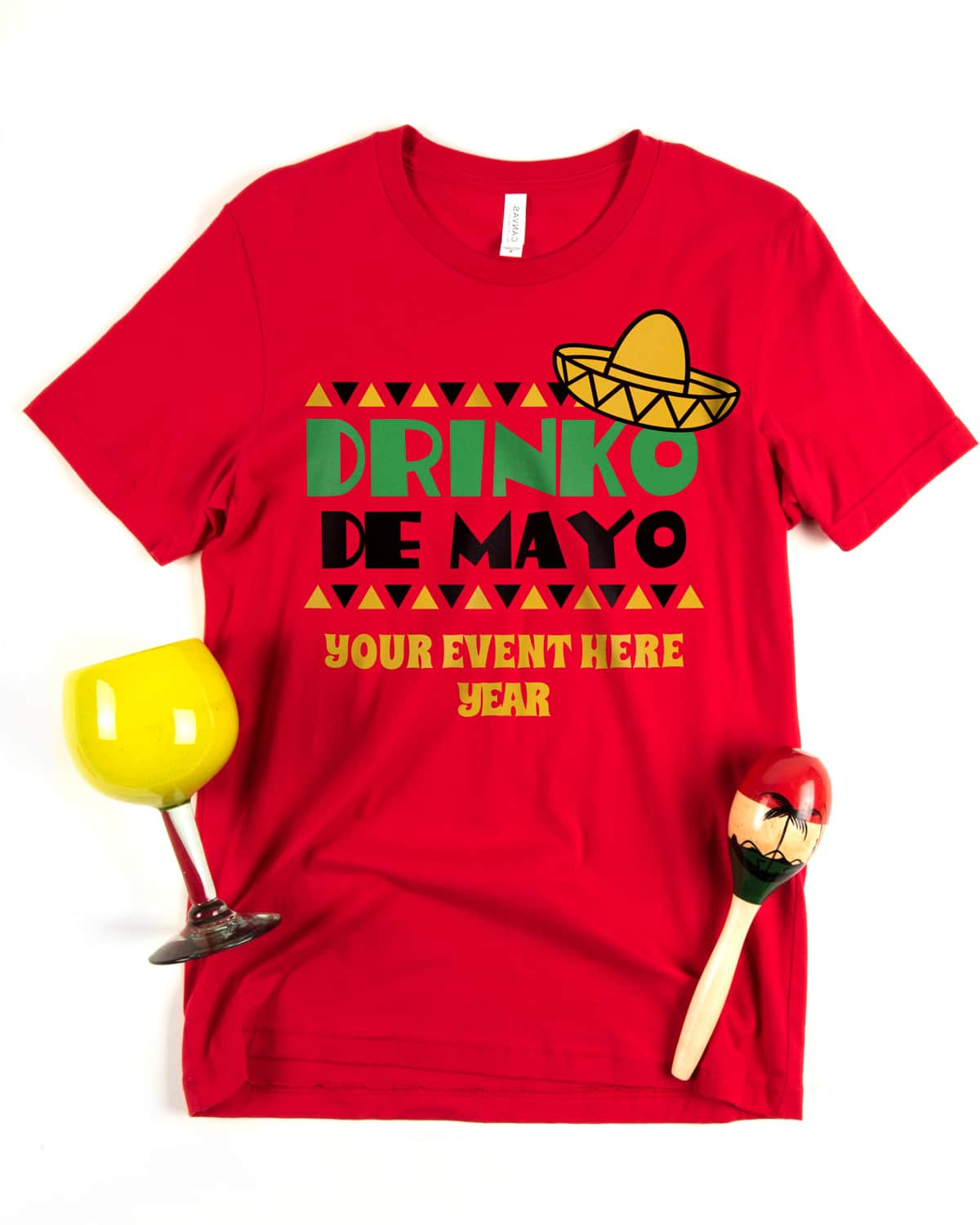 Your own custom design can take any form you'd like. Remember that all of our clip art and templates give you the ability to move, resize, change colors, and mix in your own uploads to get just what you're looking for.
---
If you have any questions or need some extra help walking through the process, don't hesitate to contact us — our customer service team is happy to help!