If you happen to be getting your morning latte and vegan muffin in Athens, you might just stumble upon a guy who looks like he should be doodling on the boardwalk of Venice Beach rather than setting up watercolors in a downtown coffee shop.
Jamie Calkin is an academic turned professional artist, an Athens' (and sometimes Atlanta) local  with his biggest (literally) and most prominent work displayed at the at the University of Georgia's Tate Student Center's 64-foot mural, but we think his UberPrints original is pretty cool too.
When I sat down with Mr. Calkin at Athens' local Hendershots, I was surprised at the ease of which he spoke openly about his life, art,  the Athens community, and his fervor for pickleball.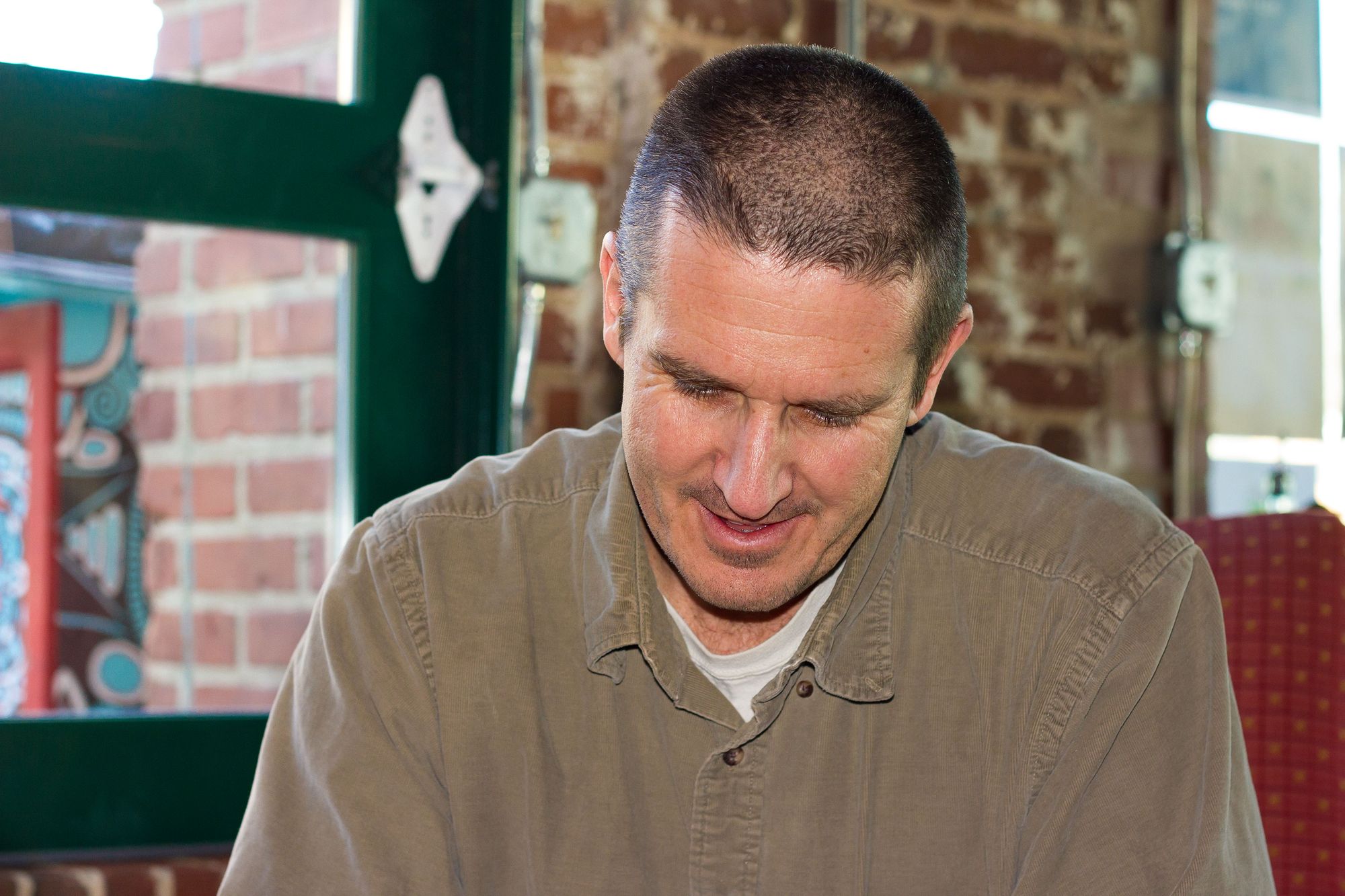 UP: You started out as a Science teacher, do you miss it?
JC: The reality is, I'm where I should be, and I usually think "Thank God I'm doing what I'm doing". I tried really hard to be a classroom teacher and then to be a professor, and I am much more cut out for this. I feel like I'm doing what I am good at, what I like to do, and what is good for the world. I can help education, kids and teachers doing what I am doing more than I could being a classroom or a professor.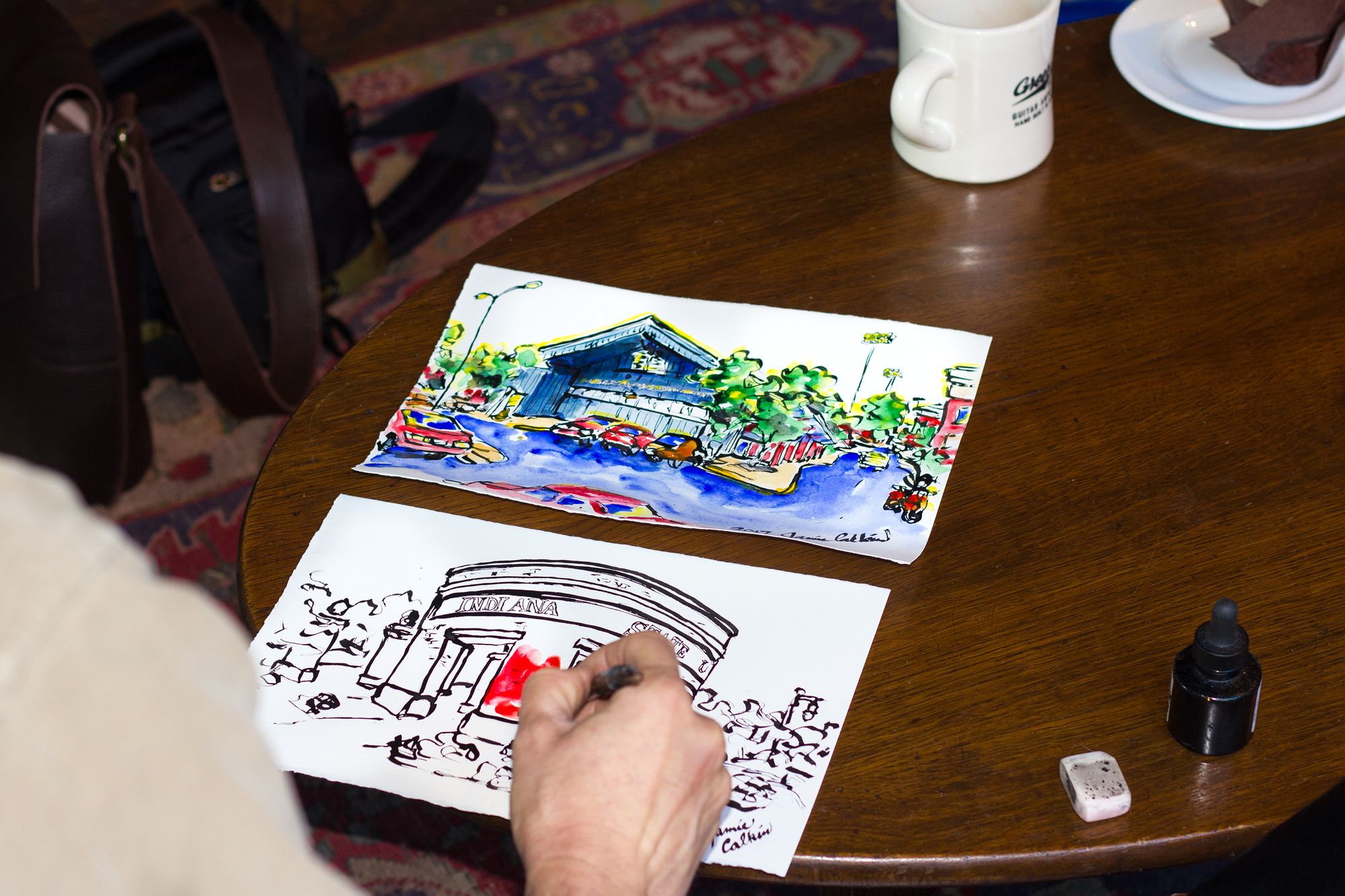 UP: You've said that painting makes you happy and you want to invoke happy feelings with your work. Do you ever fall into the "tortured artist" scenario?
JC: My favorite paintings are the Expressionist, so invoking emotions. I was looking at some of Edvard Munch's self- portraits, and man they are disturbing, and I do like to consider myself fitting into that (Expressionist realm) , in the sense that I am invoking positive, happy, light. I did not intend on that, but I think it fits in terms of what my goal is. That said, I am a street artist, I paint scenes in the street of the street. I think it is human nature to try and get fancy, but I have plenty of people that keep me grounded, my wife for example is great at checking my ego. I tried to do an angry painting one time, and the process it didn't… I've done demolition before, like around the house, and to me that a process works with anger (laughs).
UP: You chose watercolor as your medium because it was easiest for you to transport in your backpack, but do you have any other mediums you like to work within?
JC: So yesterday I did my "Selfie Sunday". Way back in 2003 I had a week-long workshop, oil portraits, and I was really good at it, and I got home, and they looked like people, but they didn't look like "the" person, which is kinda the point. So I feel like I am close. I feel like I have 100 hours, and little bit of feedback from experts, and then I feel like I can do it professionally. I'm very close to being able to translate this (watercolor) into oil, that's really the next step. In fact, I have a commitment from one of the best places to show art here in Athens to do oil.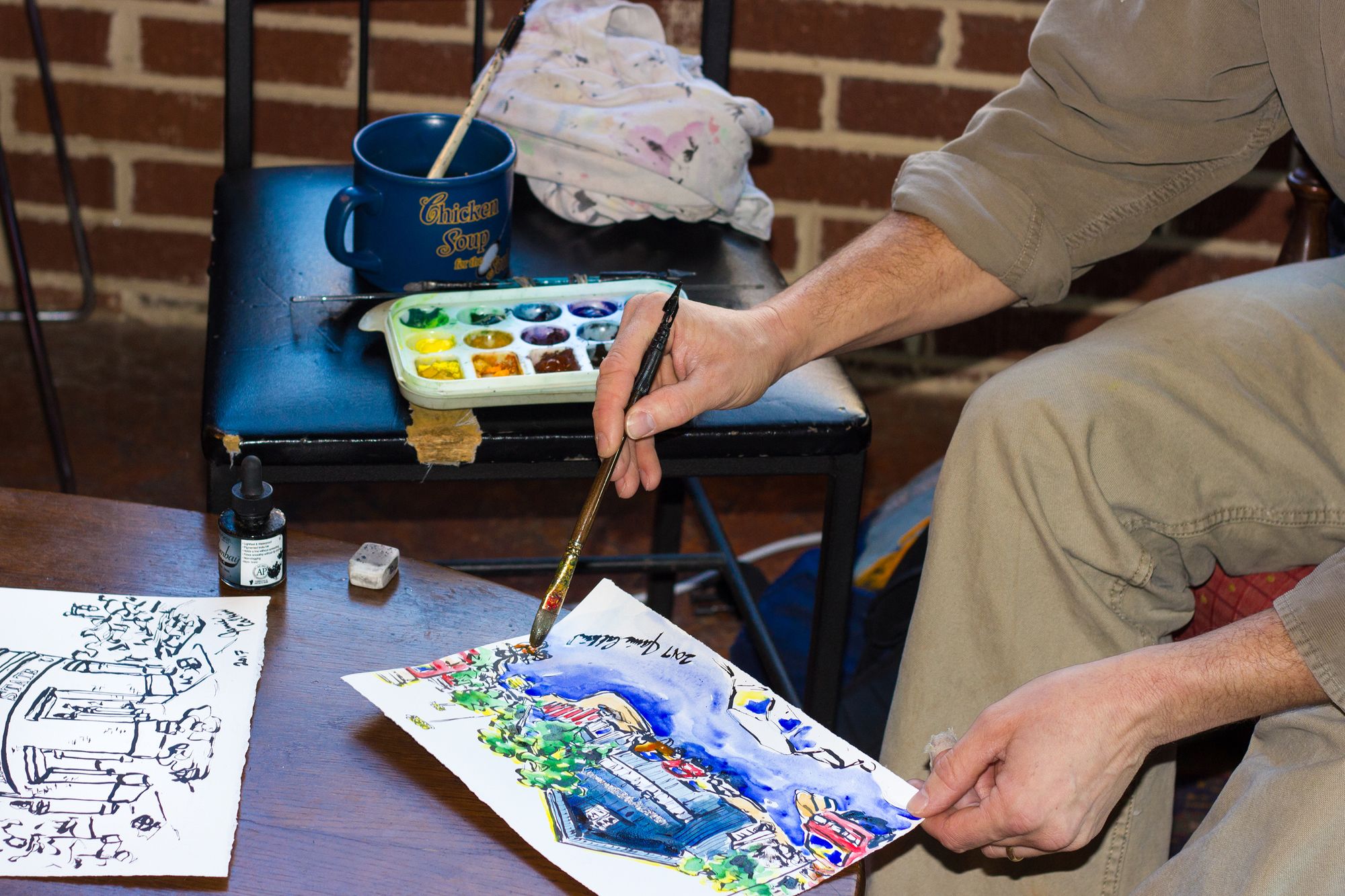 UP: Did you ever make a conscious decision to stay in Athens rather than taking your art to a more metropolitan city?
JC: I think that Athens is fascinating because there are SO many artists here working, and part time, especially considering how much money is flowing within the art scene, and that there isn't much. My art started out as travel art. Which is the backpack, so I've always thought about being in other places, painting and getting paid to travel, but the thing I immediately think about, was that I flirted with Asheville (North Carolina), for half a day, but Athens is where our roots are.
It doesn't take a lot of imagination to think that we could have done well in Asheville, even though it's a competitive place, because there is money flowing around the art scene. There are a shit-load of artists, but I have a very unique yet wide appeal in my work, and I work fast, there is a lot of things going for me as far as my art business, that would lend itself to moving to a place like Asheville, but my home is Athens.
There is a cycle of people moving in and out of Athens, and that is why it is sustainable, but in 2012 I started doing Atlanta, where I am still kinda local. It was the outdoor art fairs, which is the easiest way for an artist to market themselves in a new place. I've been doing Atlanta stuff since then, and I've really enjoyed it.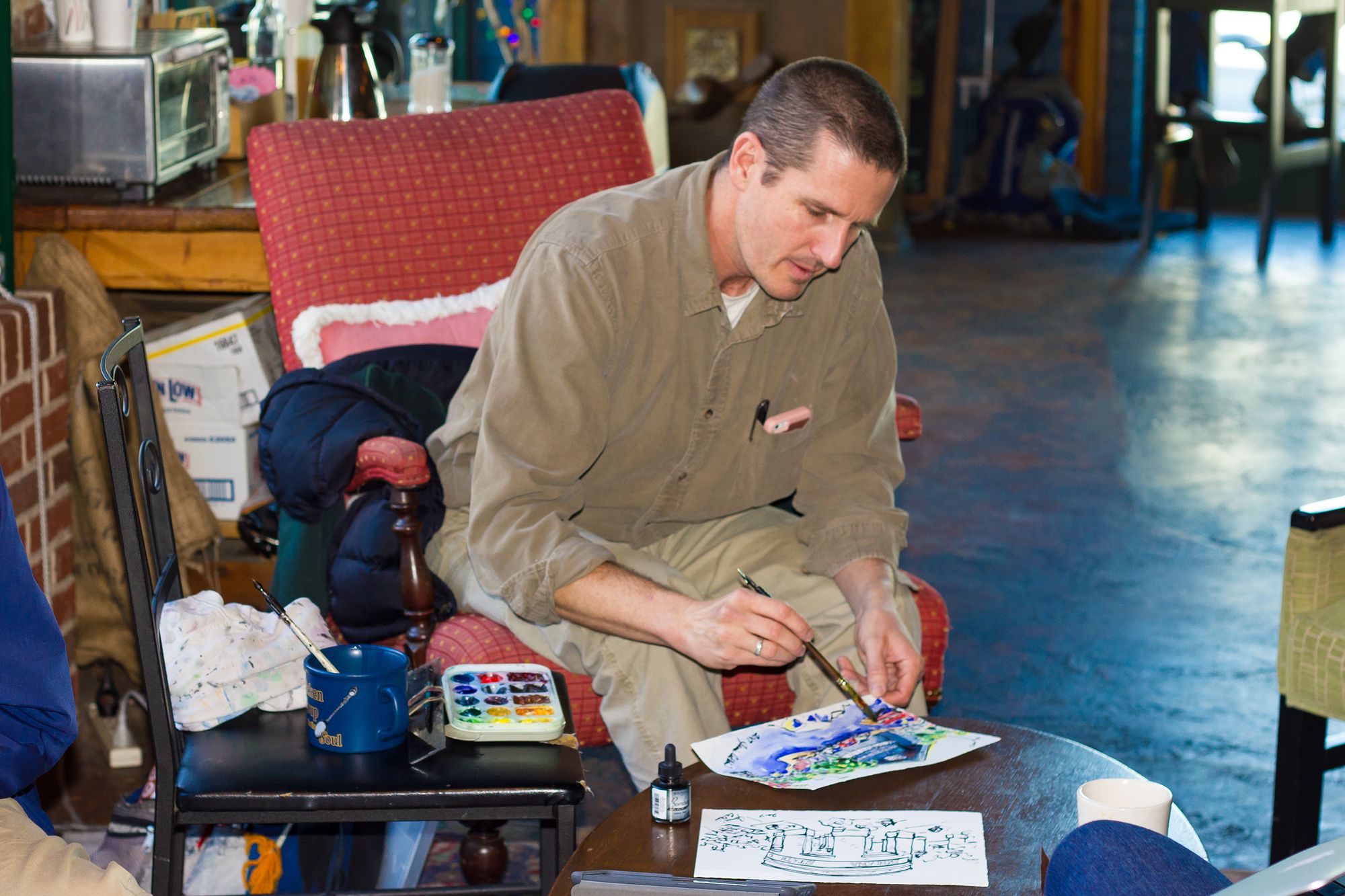 UP: What are some of your favorite things to do in Athens?
JC: Pickleball. That's my…if I could make money doing that's my… Art is actually below pickleball…in that sense. My most favorite, I love to work in coffee shops, I think I do love coffee shops, but I'm always working.
UP: It feels like you have a good community here
JC: Yeah, it's a nice size town that way, because you will see people you know, like I know her (points to a woman sitting at the counter), but it's not so small town that you can't go the grocery store without wearing earbuds because you don't want to be bothered.
*A barista comes to say hello, and an intense pickleball discussion ensues. Calkin lights up as he speaks about the sport, and the Athens pickleball community. The barista is extended an invite and instructions, but when he leaves Calkin explains that he although he would be happy to have him, he is VERY competitive when it comes to playing.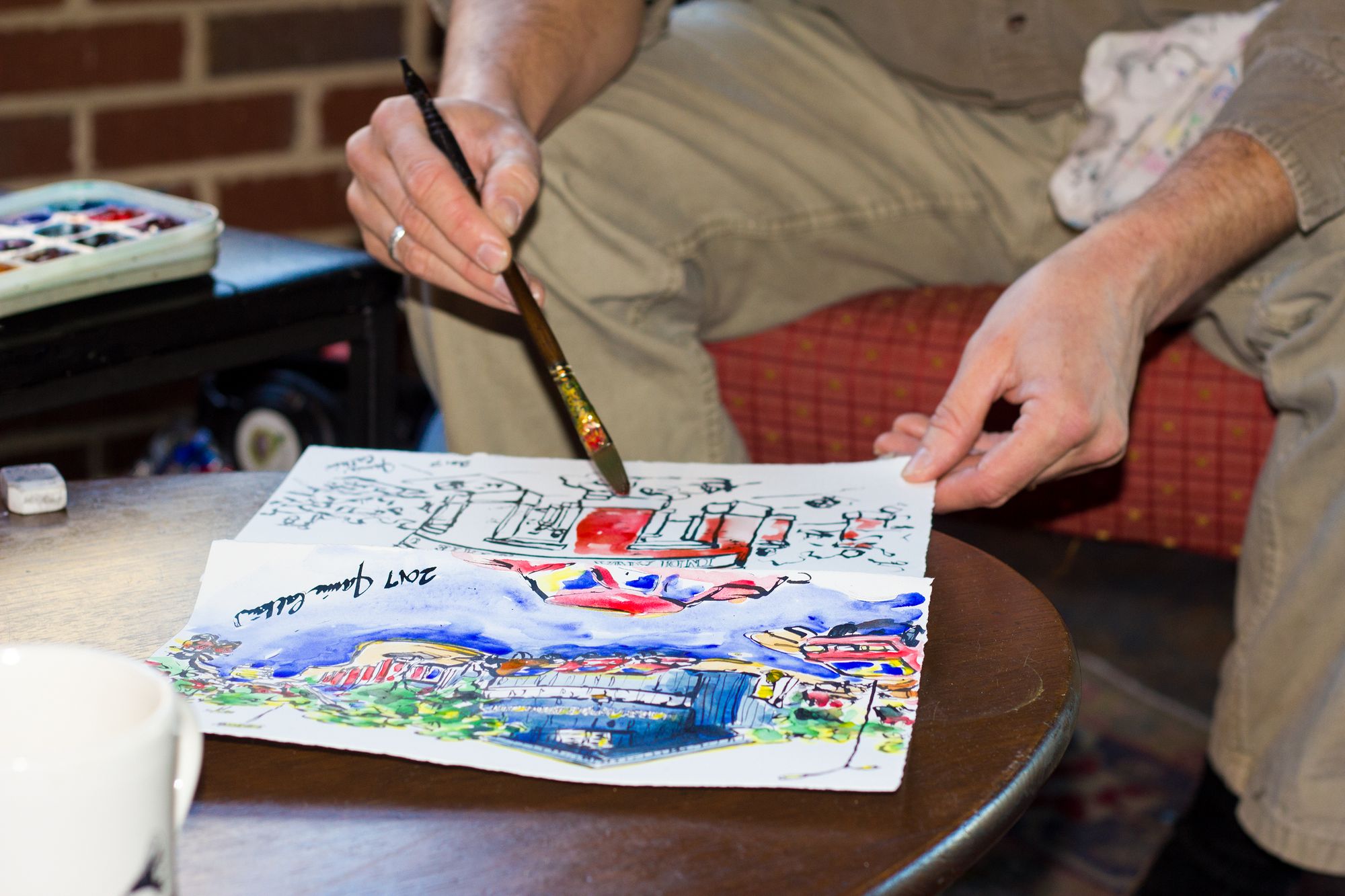 UP: What do you see for the future of  the art community in Athens?
JC: I probably should be careful to speak for the community. I don't foresee Athens becoming the next Asheville, where it is a destination to buy art for tourist, and I do think it's kinda nuts to try and recreate a business, so I don't foresee galleries in a traditional sense succeeding here. I think public art and murals. Specifically I think murals. I think painting and murals, and I have started doing that. Exterior. Public art, thats a goal of mine.
One thing that I do want for Athens is to become more pedestrian friendly. Like College Square, here in Athens, if they close that off to cars and make that a courtyard, open to pedestrians, I think the art scene would kind of go along with that.
UP: What's your favorite meal here in Athens?
I love Depalma's, and they have satellites, so I have one a block away from my house.  Barberitos would be a less expensive option. Last Resort is the best place to hang art, and eat really good food, and it has a great history. There is a great mural on the outside. It's a great place to paint. My wife is a vegetarian, so The Grit is great. Big City Bread. There is a lot of good eating, for not that expensive in Athens. I stopped drinking a year after I moved to Athens, but it is a great drinking town too.
When the twenty somethings see me at the Atlanta art shows and say "You are so lucky you live in Athens!", and I don't want to burst their bubble, but the reality is I live in the "morning" Athens. In some sense there are two Athens, and I don't know how that translates into the art scene, but I do very little art social stuff at night with receptions, and that's a bummer, but if the social art stuff was at 9 in the morning, man I would be a butterfly!
---
For more information and examples of Jaime's art, check out his website here or follow him @jamiecalkinart