With 3 different offices in 2 different cities, UberPrints has deep roots in North Georgia. Athens is known for its school, music scene, and it's "small town" vibe. Atlanta, the big city with a music scenes of it's own, the Hollywood of the South, and big business names might always be the assumed winner when it comes to battles between the cities, but Athens is one to rise to the occasion!
Welcome to the inaugural Athens Vs. Atlanta battle of the cities: BEER.
Athens was put on the craft beer industry map when Terrapin Brewery chose Athens as its home (over Atlanta), and the addition of the beer-snob-haven Creature Comforts Athens seems like it is a sure fire win in this A vs A city battle of the Breweries, but Atlanta may have something to say about that.
Sweetwater Brewery is Atlanta's most popular brewery, and it's not just about the beer, Sweetwater is part of the Atlanta culture with a huge annual concert, local events, and a big events brewery. 3 Taverns is the specialty brewery that boasts about having 1 of only two Belgium brewmasters in the country and has a highly awarded IPA.
We've gathered a group of UberPrints  "beer nerds" to be the judges in this blind taste test battle. There will be different categories, IPA, Sours, and Seasonals.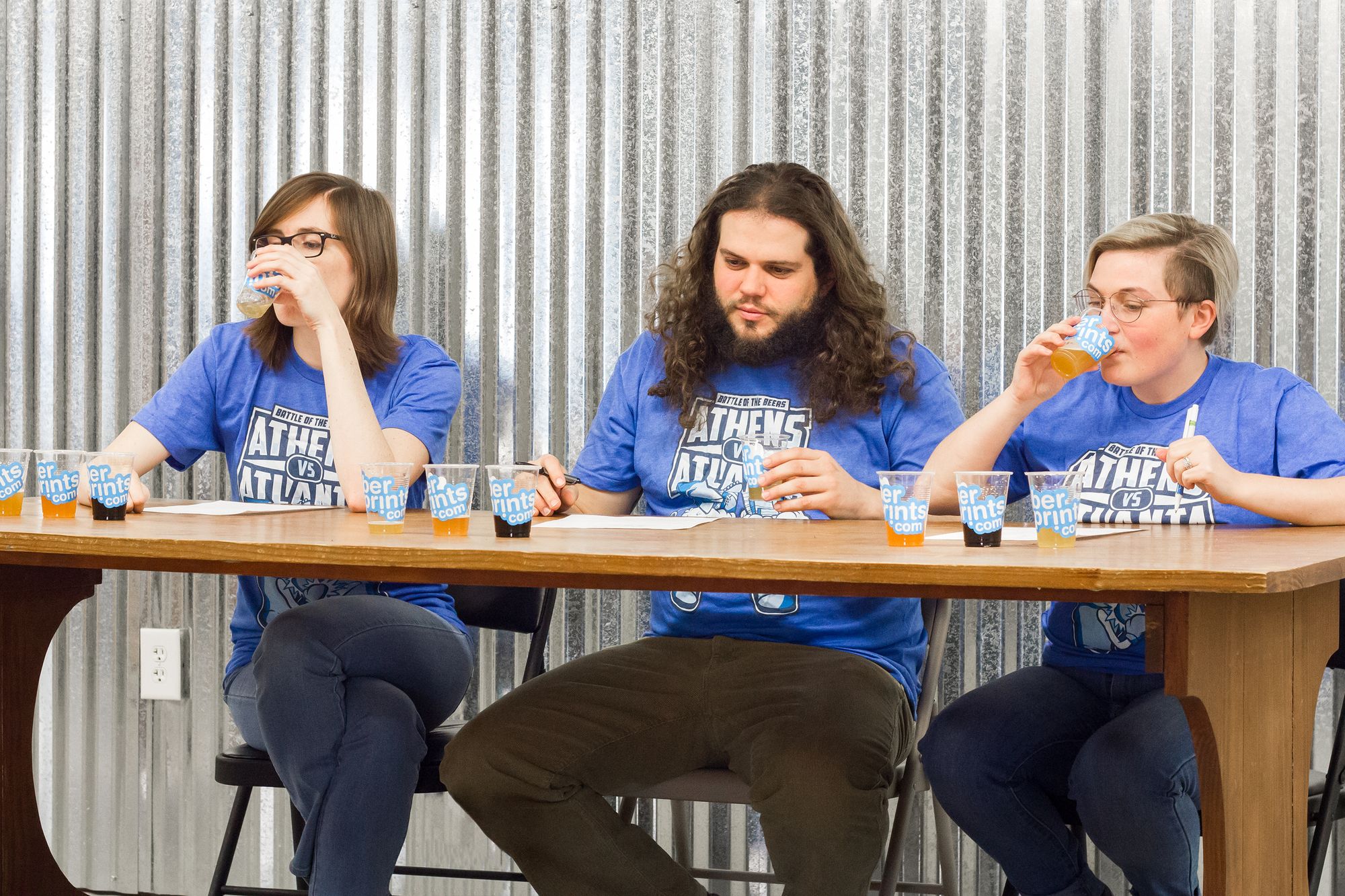 IPA
The UberPrints beer nerds were pretty tied in IPA category (even though one of our judges hates IPA).  Ranking the beers from 1-4 with one being the best, they tasted: Night on Ponce, HI-5, Tropocalia, and Sweetwater IPA. The Winner?  Tropocalia! This Creature Comforts brew barely inched by Night On Ponce and HI-5 who tied for 2nd. IPA ROUND: ATHENS
Sours
Sours were the next round. 3 Taverns has an award winning Rapturous, with notes from our judges like "great aftertaste" and "more fruity", but how would it hold up against CC's "well ballanced" Athena , SweetWater's Pit and Pendulum "fruity and smooth at the same time", and Terrapin's sour stout Tart Oatmeal "very interesting". The Nerds chose ATLANTA with SweetWater clearing winning over Creature Comforts 2nd place. SOUR ROUND: ATLANTA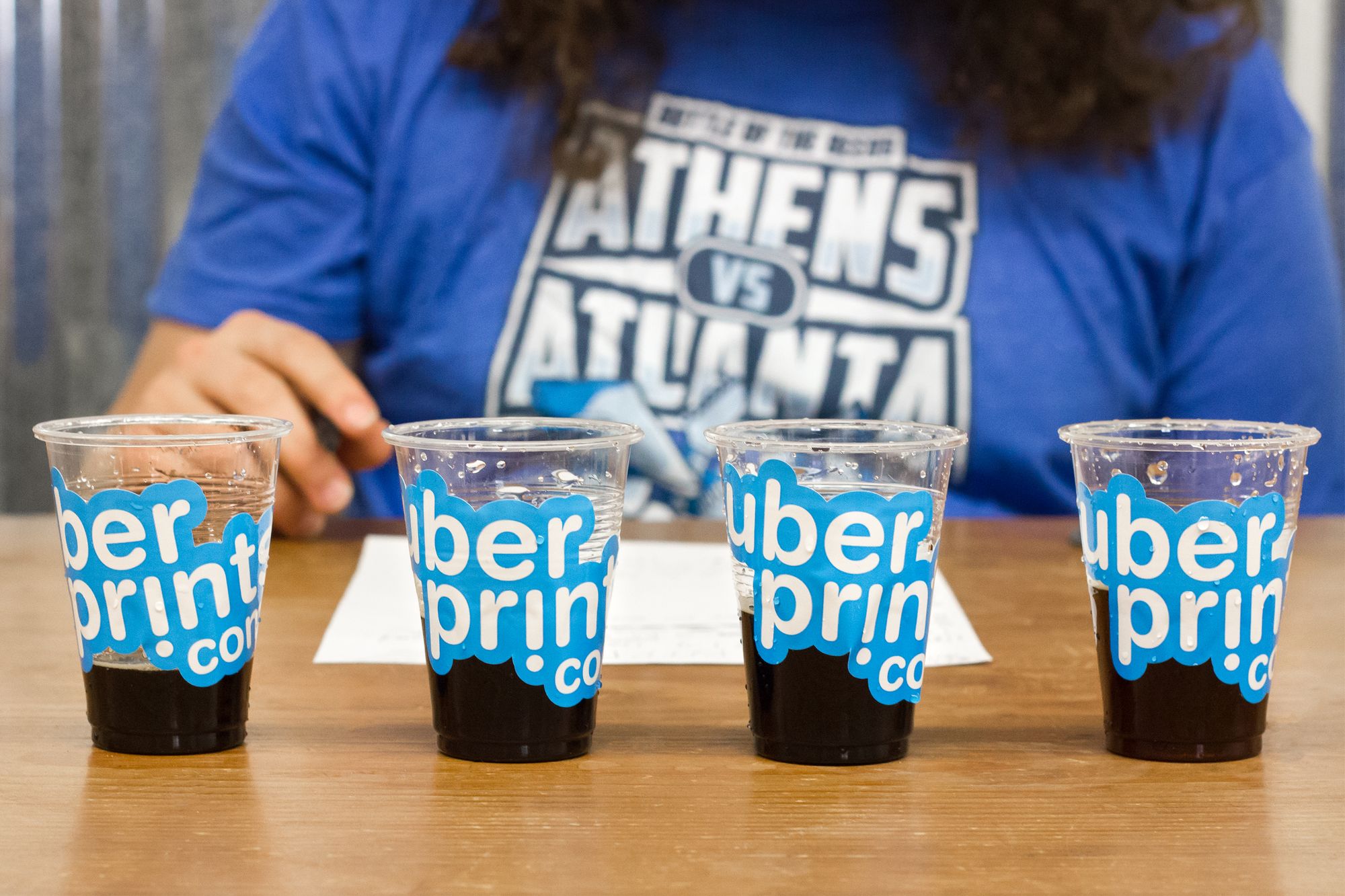 Seasonal
The final, and tie-breaking round featured the breweries seasonal selections. We had a Belgian-style quadrupel, porters, and a milk stout to represent the best of the breweries. Here all of the Nerds ranked all the beers the same way! In fourth place they described Feest Noel, 3 Taverns quadrupel, as "very alcohol-y," "liquorish, strong, do not like" and "gross, ginger?".  The 3rd place Dank Tank from Sweetwater had a "weird tasting ingredient" (Bacon) that the nerds were not a fan of, thus making ATHENS the winner of the seasonal round with Creature Comforts' Koko Buni and Terrapin's Moo-Hoo rounding out the top two with "good aftertaste" and "delicious chocolate flavors".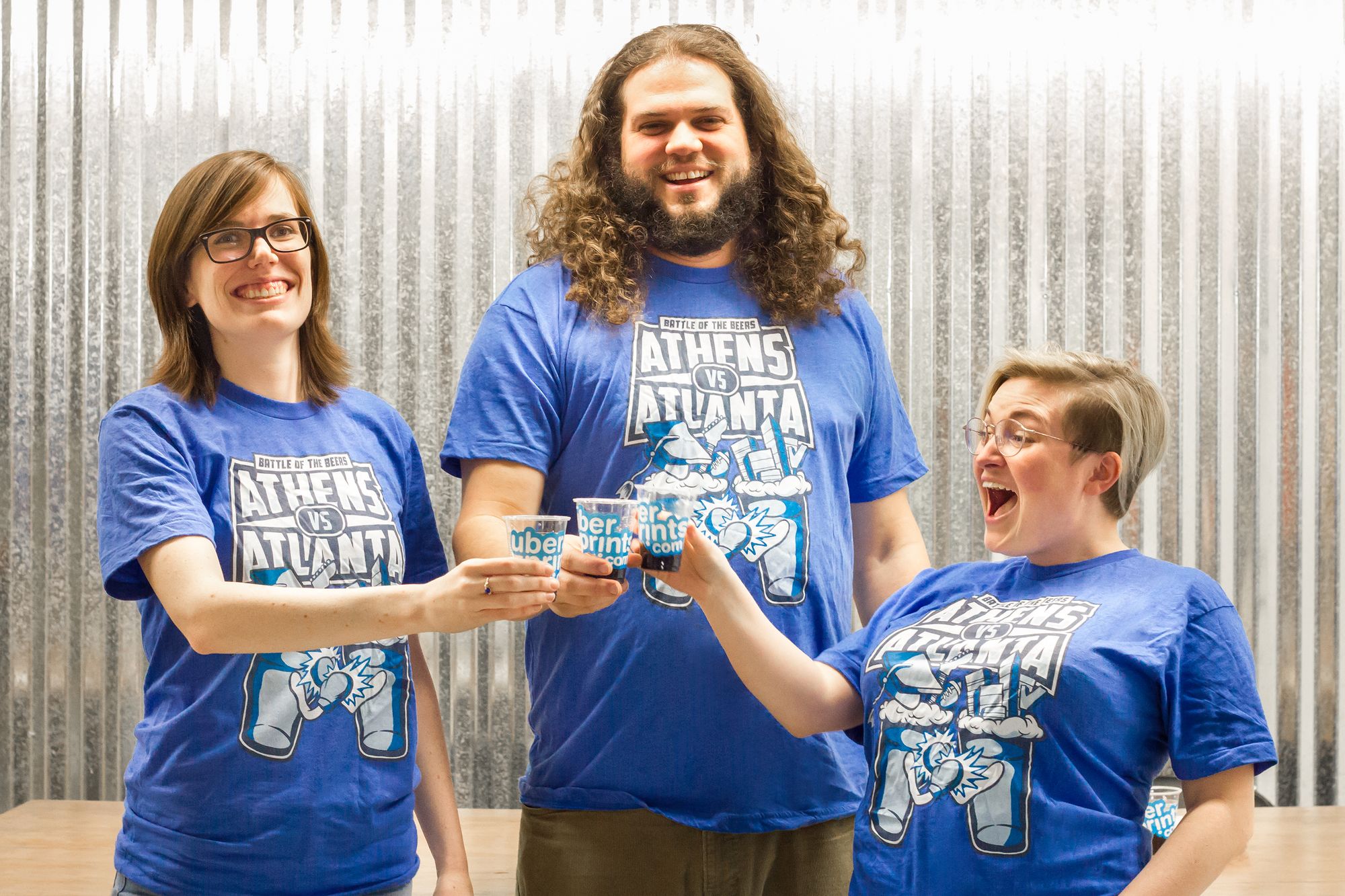 This means: Athens is the winner!