The classic short sleeve t-shirt will forever be the main staple of custom printed apparel, and for us, it represents the vast majority of garments we print every year. In delivering all those t-shirts and through the feedback of our customers, we've learned a lot about what people like and dislike, and the styles that are most popular.
In this guide, we're going to compare the 3 most popular t-shirt options across different price tiers and tell you when you should pick one over the other. We'll be taking a look at:
The Ultra Cotton Tee by Gildan in the lowest price tier.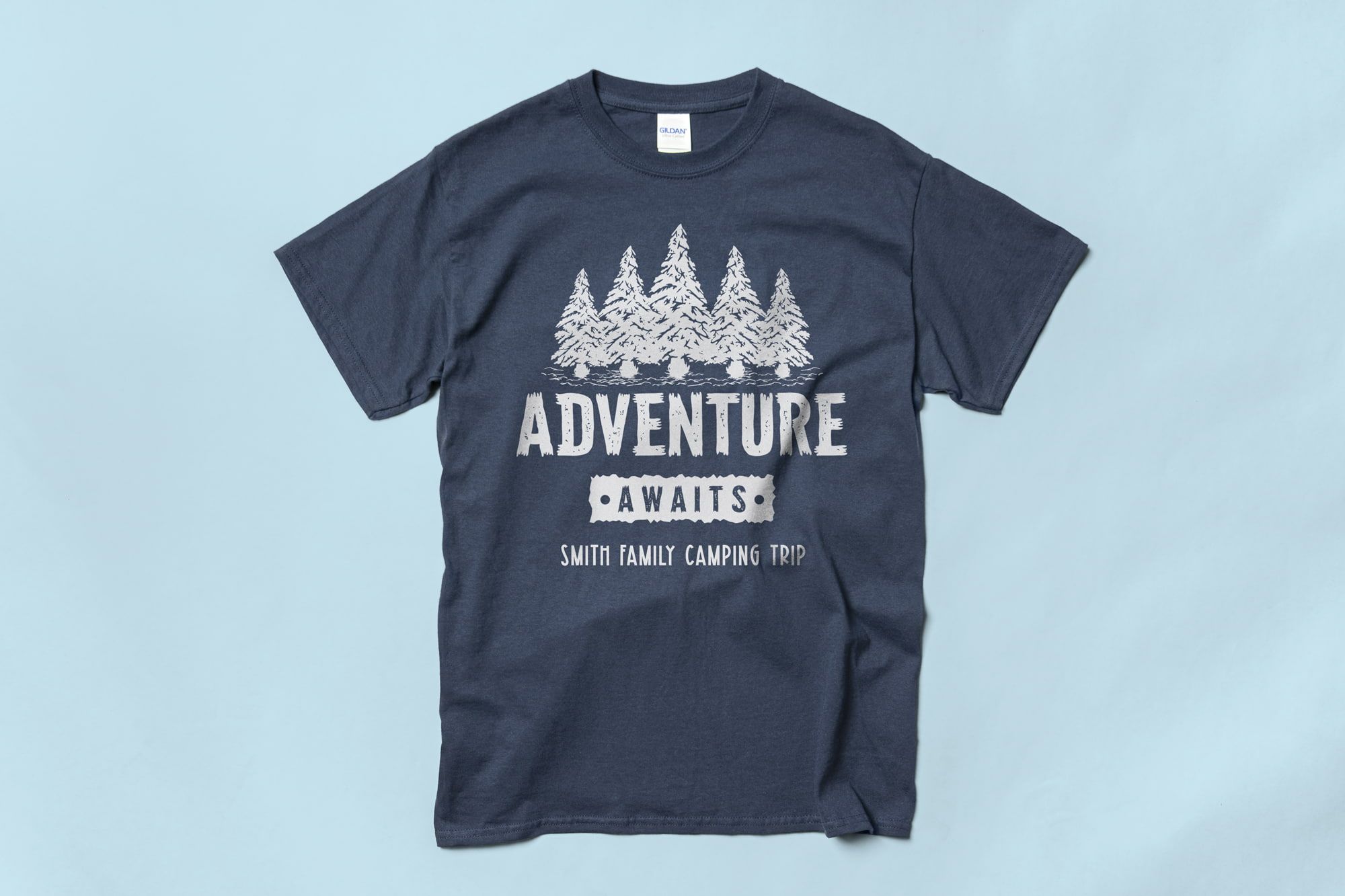 The Jersey T-Shirt by Bella+Canvas in the middle price tier.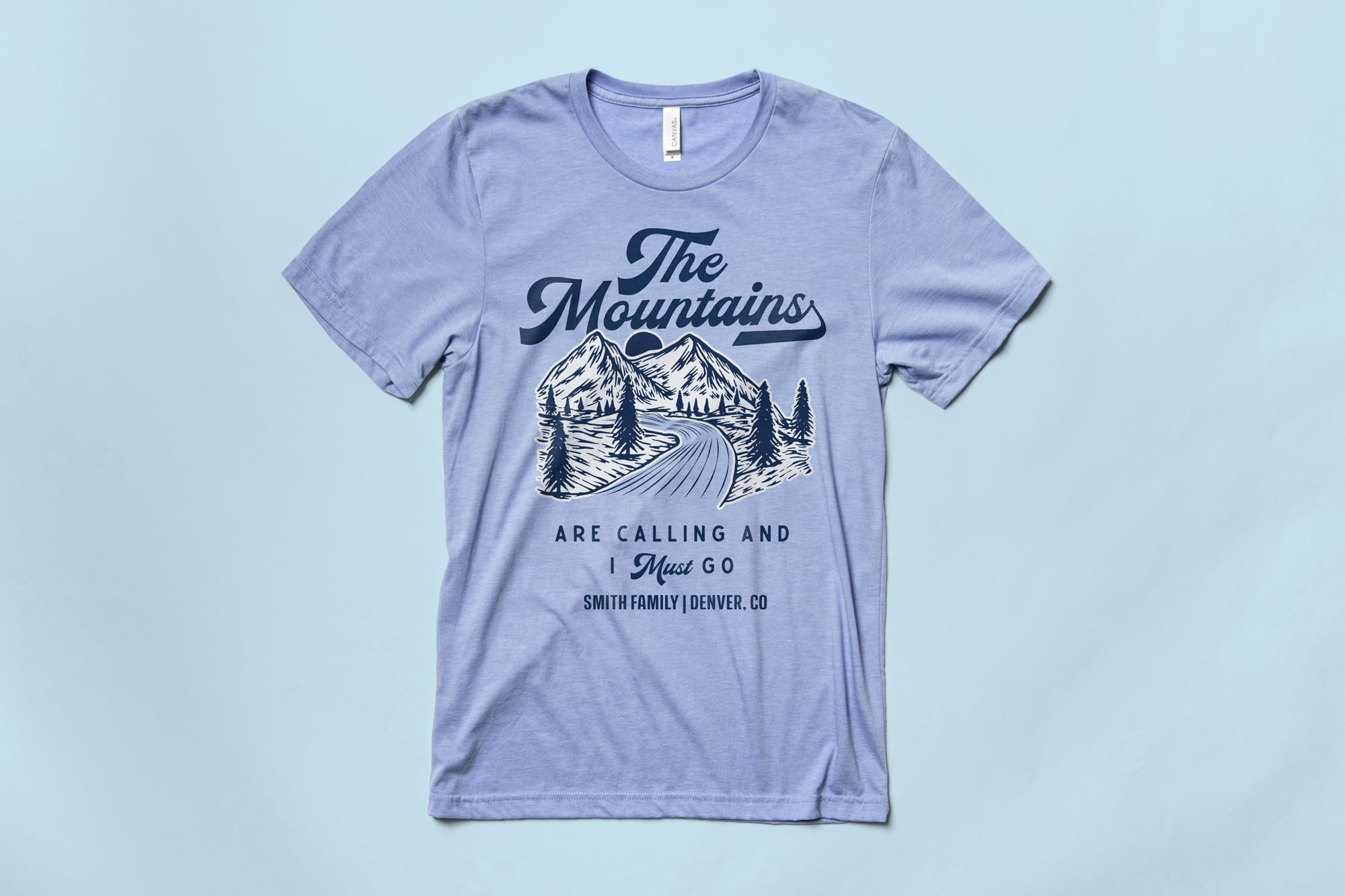 The Triblend Jersey T-Shirt, also by Bella+Canvas, in the premium price tier.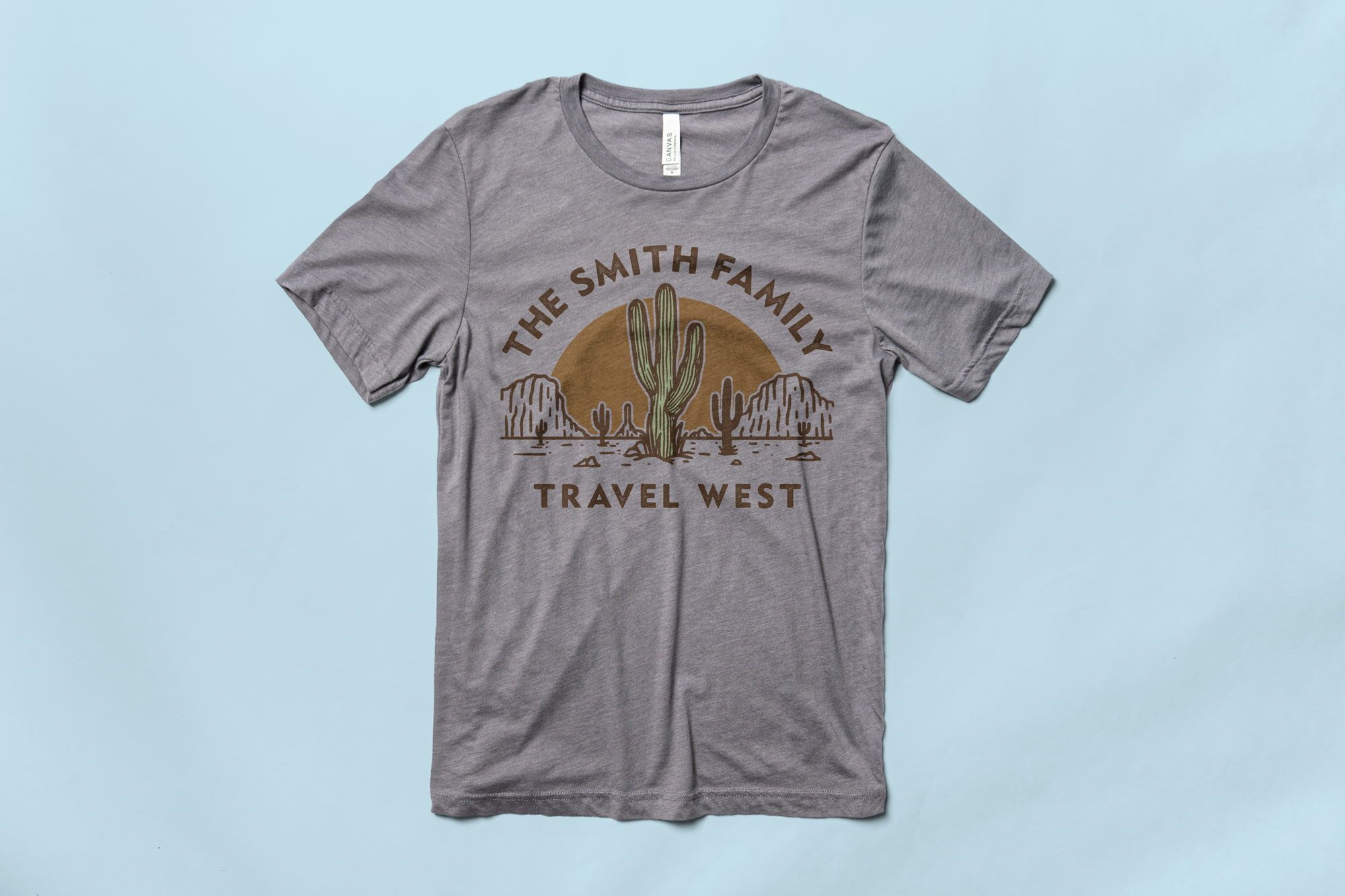 In my experience, just these 3 options will make the bulk of customers more than happy and serve a wide variety of uses and preferences. I'll be breaking down the comparison by feel, fit, price, color, and printing options with a pros and cons list for each one at the end.
Fabric and feel
The Ultra Cotton Tee is made of 100% cotton material comprised of what's called carded open-end yarn. You can learn a whole lot more about this in our complete guide to t-shirt fabrics, but what's important to know is that it's budget-friendly, however, it won't feel as soft as the other two options on our list.
It's a heavy-weight material that will feel a little more structured and have the comfort of those free t-shirts they shoot out of cannons at basketball games. The value in the Ultra Cotton Tee isn't its feel, it's that it's so cost-effective.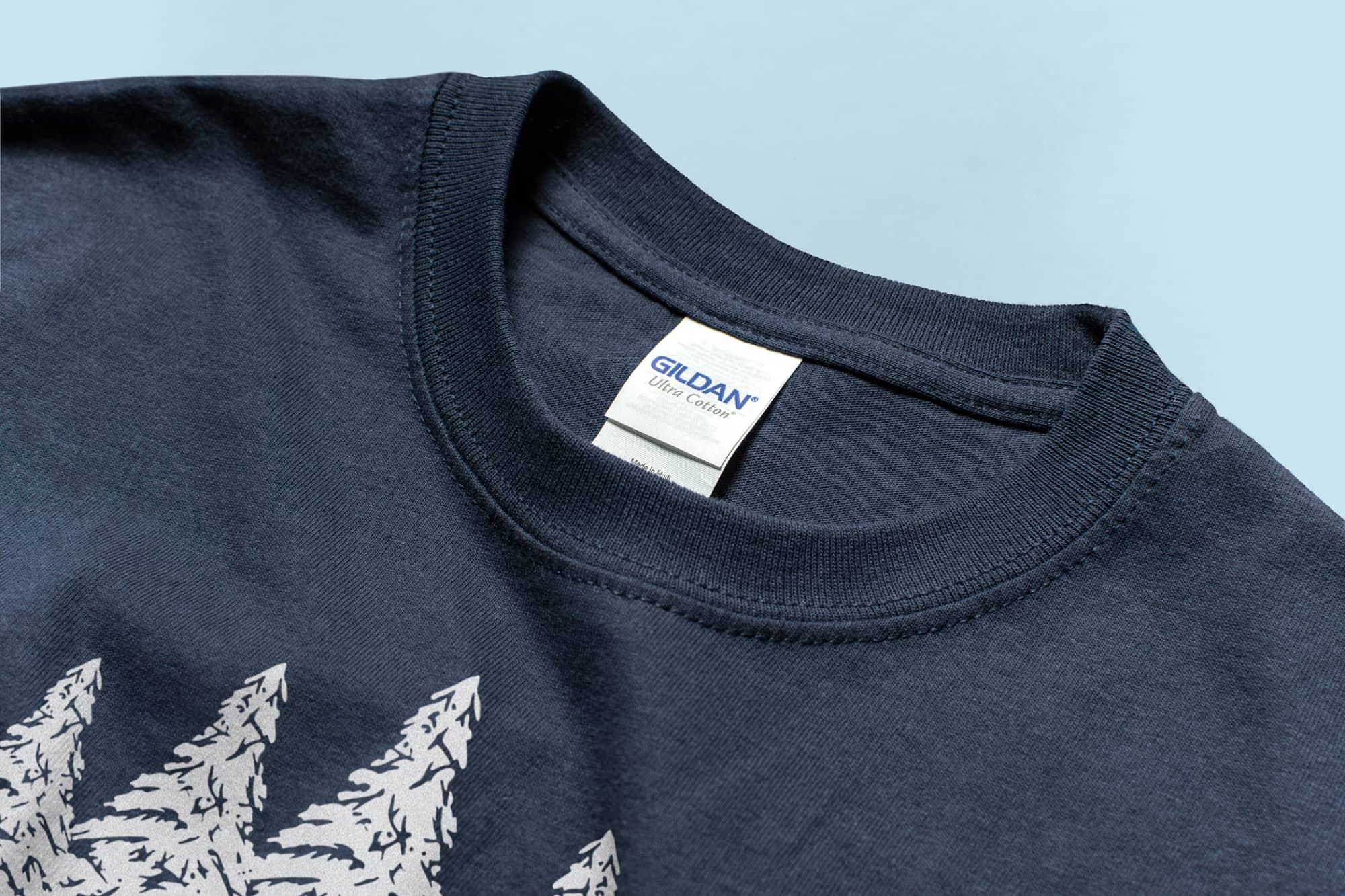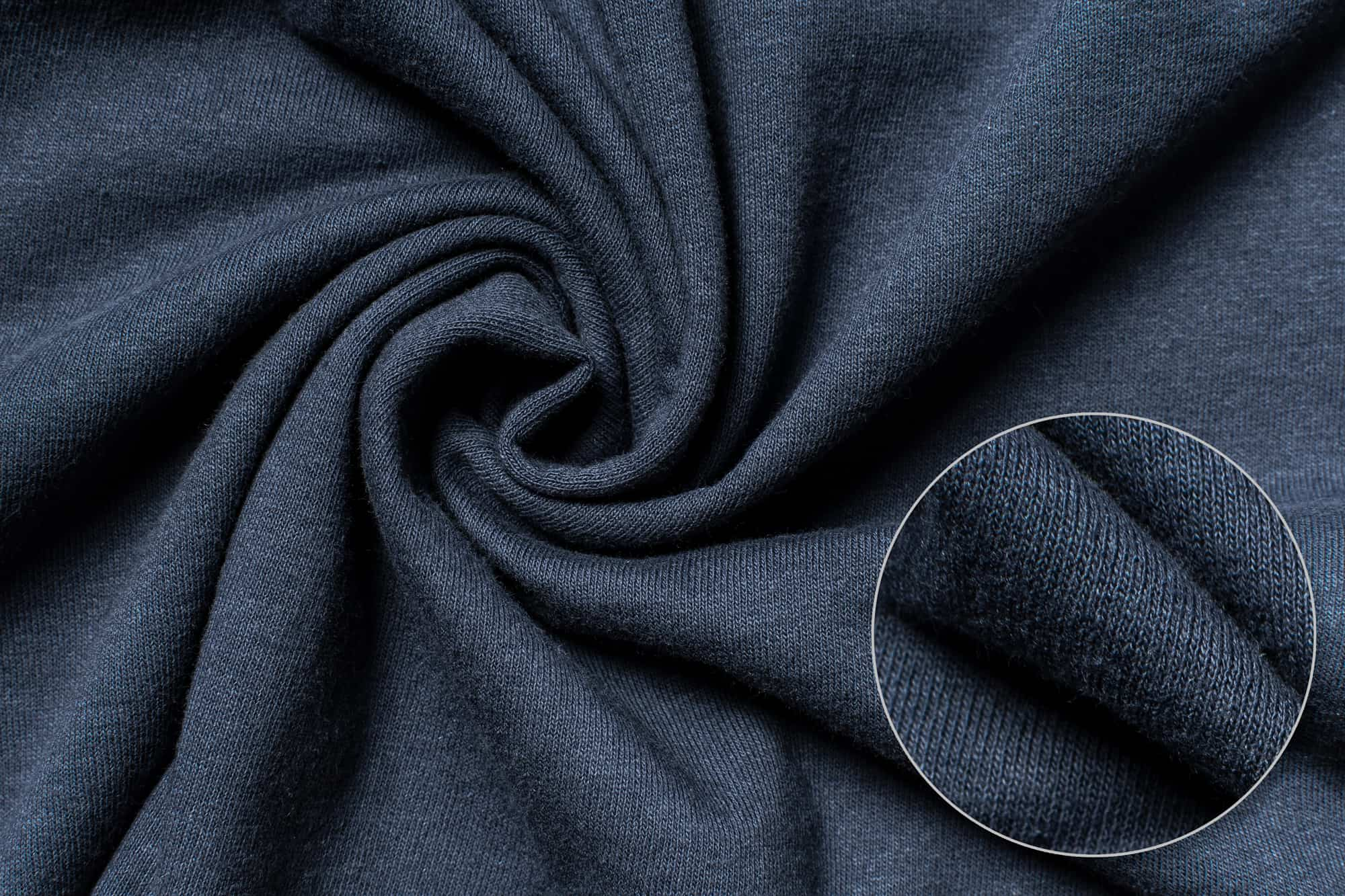 The Jersey T-Shirt is also 100% cotton but is instead made of combed and ring-spun cotton that's significantly softer and smoother. It's a light-weight material with a more retail-quality feel that will be less structured and drape more fluidly.
One downside of light-weight materials like this is that they can be slightly see-through in light colors like white, ash, and natural. But the upside is a comfortable material with more give and stretch.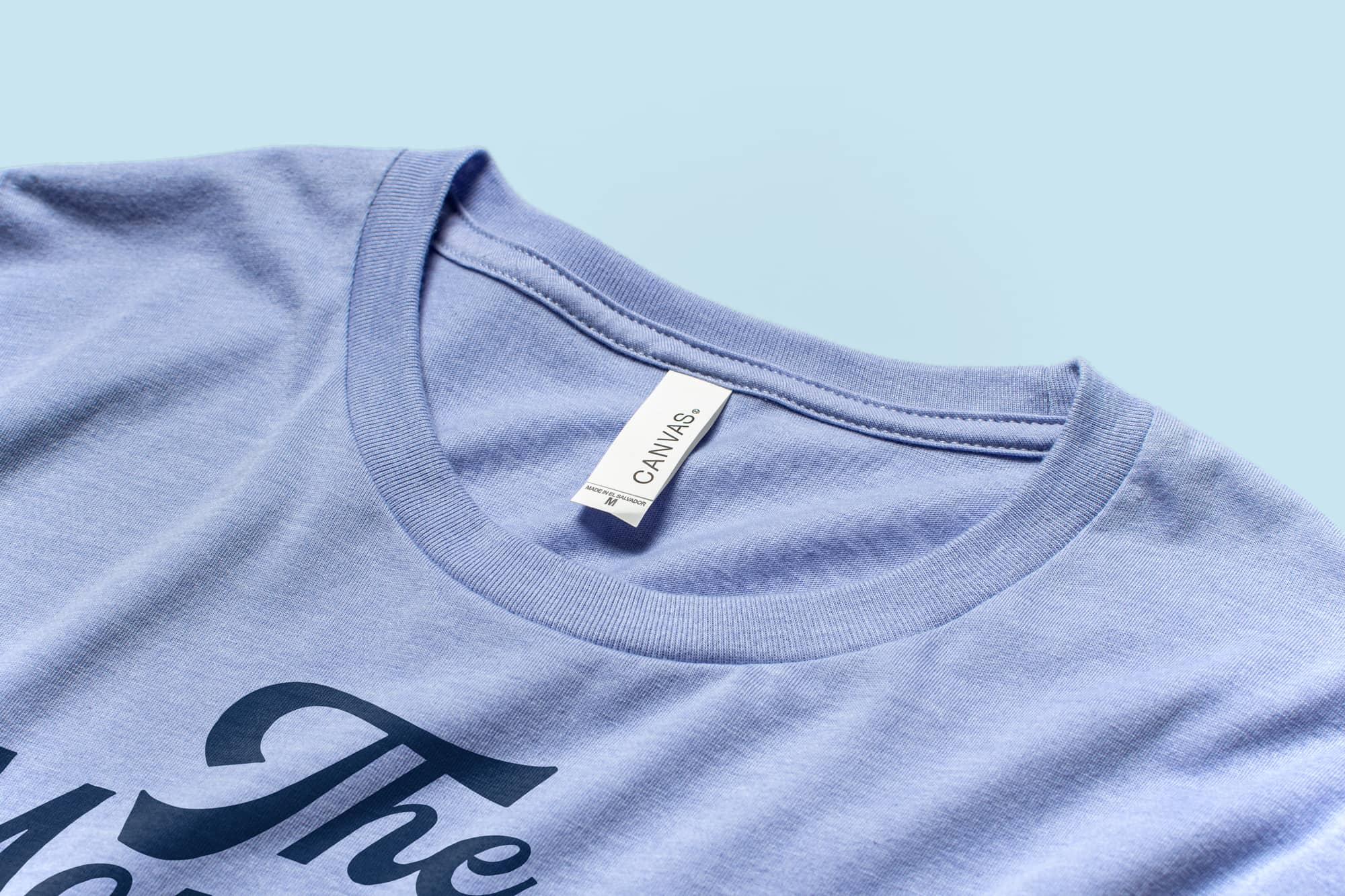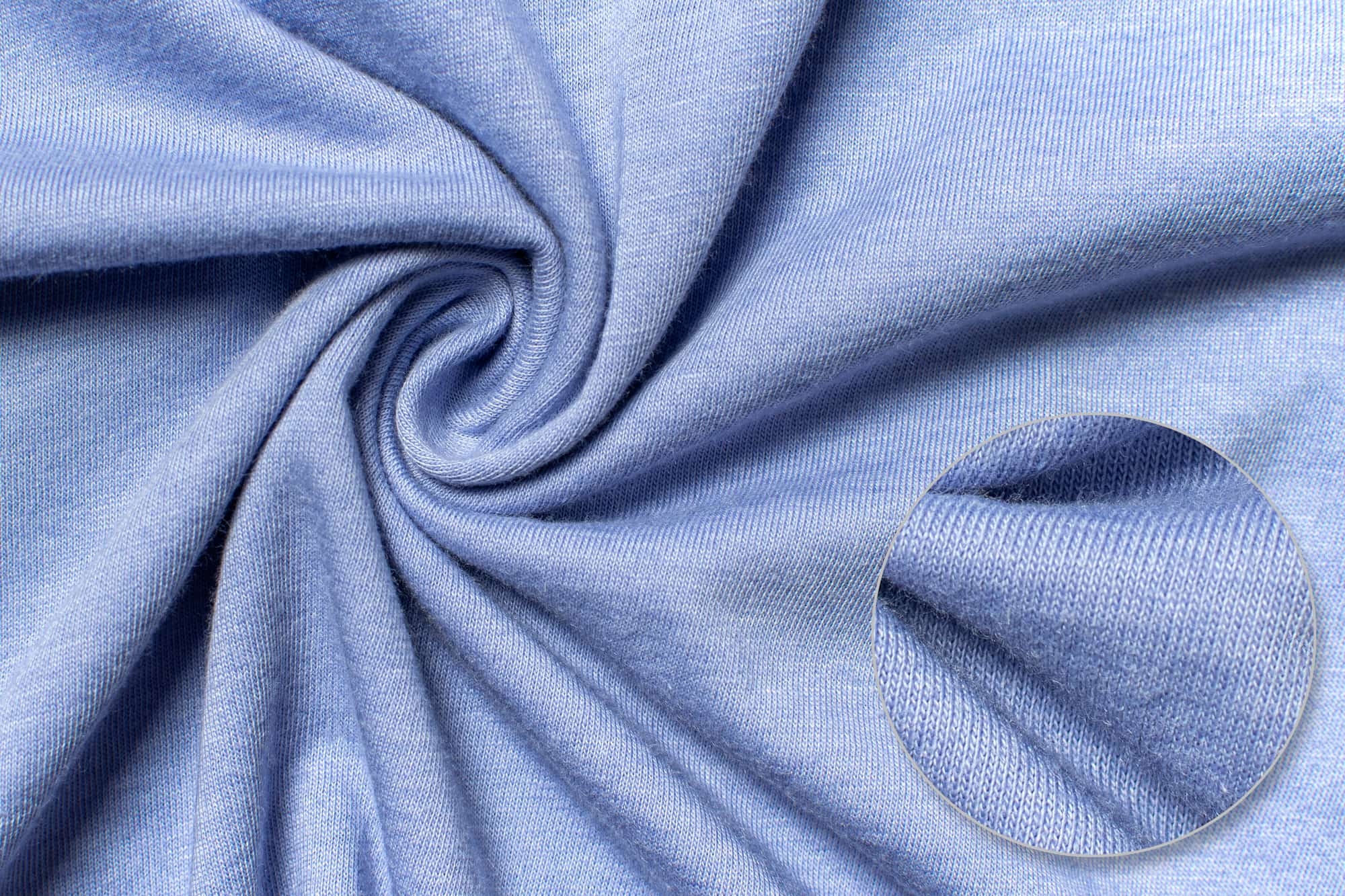 The Triblend Jersey T-Shirt is made of 50% polyester, 25% cotton, and 25% rayon, giving it the absolute softest feel of all three. This unique material is the reason why it tops the list in softness as well as price.
It's also slightly even more light-weight — which on one hand makes it drape really nicely and feel very comfortable to wear and move in. But on the other hand, really light colors, especially white, will look slightly sheer. You won't notice this with the majority of colors, but it's worth noting.
More premium, retail-quality t-shirts and apparel are trending towards thinner, lighter-weight styles. This is partly because they're made with a tighter weave to make them feel softer and print smoother, but also just because modern styles have focused more on layering, comfort, and shape.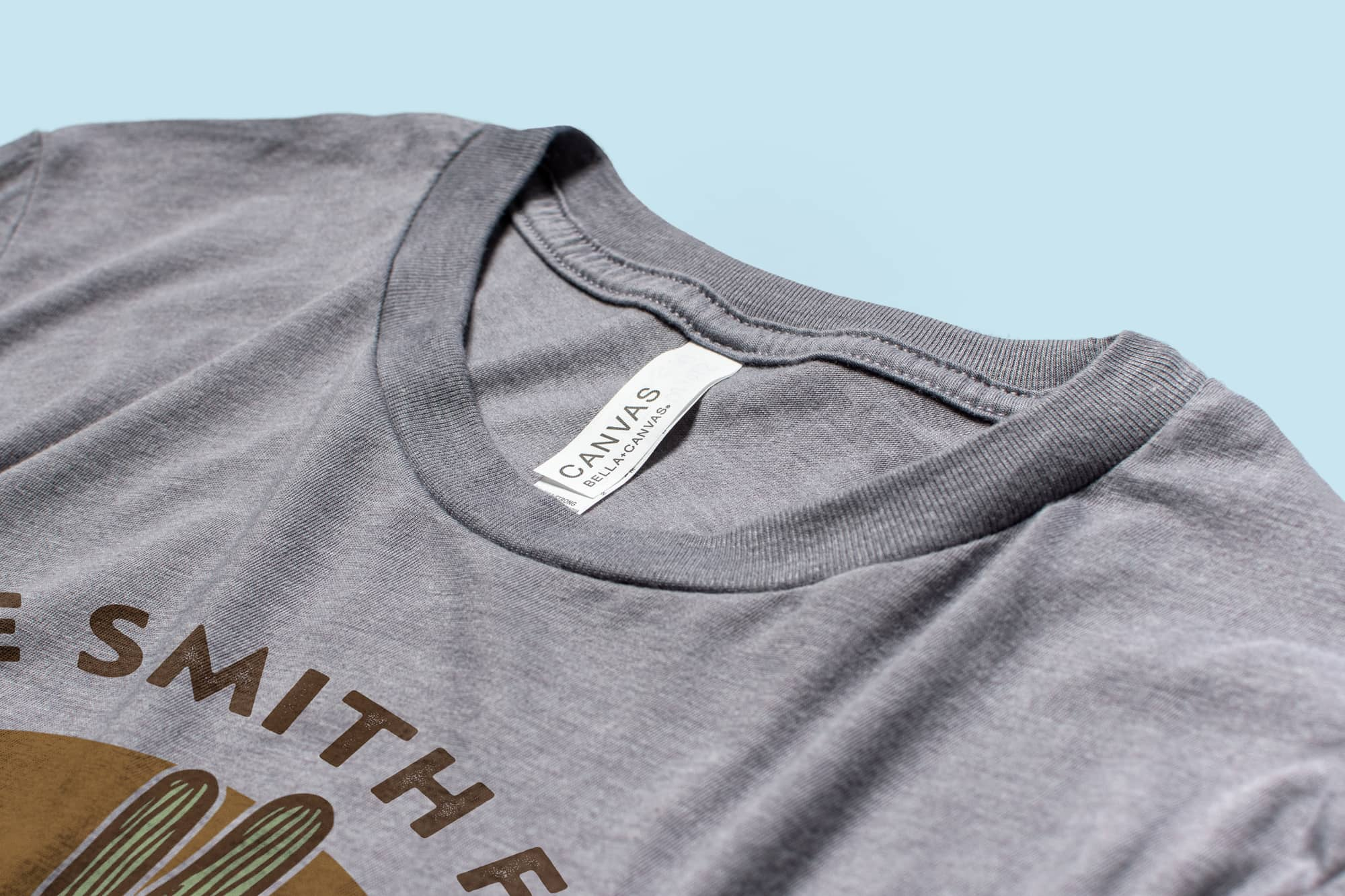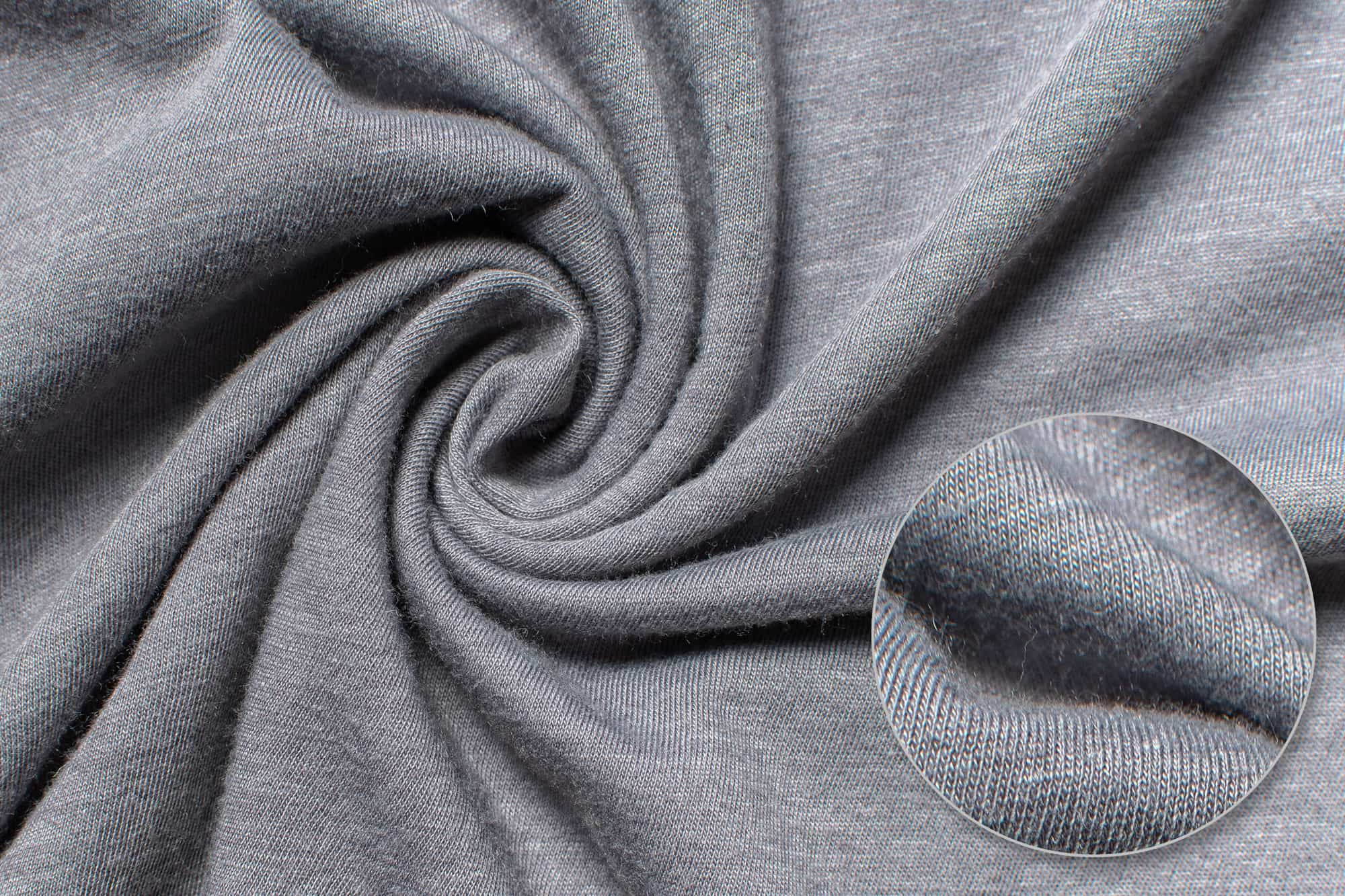 Fit and construction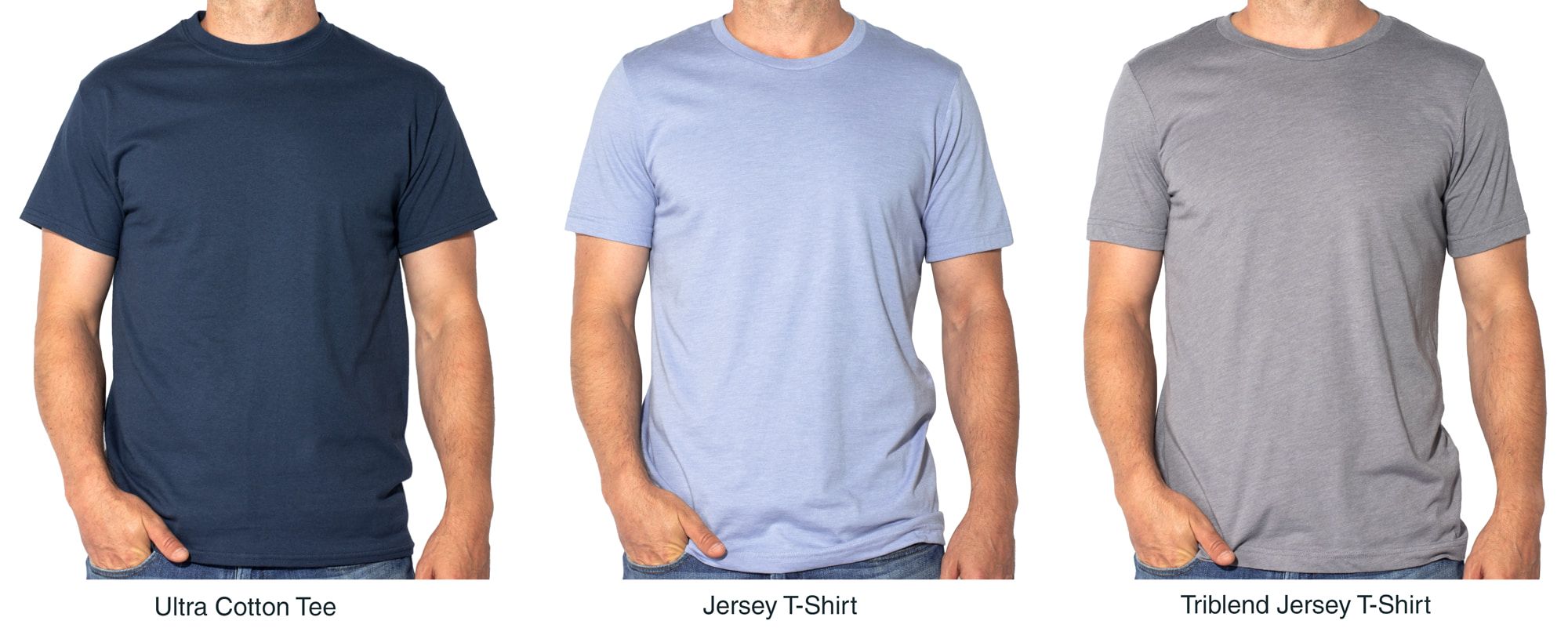 The Ultra Cotton Tee has a very standard, generous fit that would accommodate the widest variety of body types. It's made with what's called a tubular construction which just means the torso of the t-shirt is made of a singal "tube" of material.
This also means that it has a wider, looser fit that's sometimes described as "boxy". It runs true to size so I'd recommend ordering the size you'd typically wear, but you can always consult the sizing chart on its product page.
The Jersey T-Shirt has a more modern cut with higher shoulder seams, shorter more fitted sleeves, and a slightly contoured torso. It's instead made with a side-seam construction where front and back panels are cut to a more fitted shape and then joined together to create the t-shirt.
Most people prefer this fit — it's often a better unisex option —  but it might not be as accommodating so consider that when you pick this t-shirt. Typically, you can still order your normal size, but if you're worried about it running small, just go one size up.
The Triblend Jersey T-Shirt is literally identical to the Jersey T-Shirt in this regard. Nothing new to say here.
Price
Note: You can use the quote calculator on each of these t-shirt's product page to get specific prices. I'll link each one again below.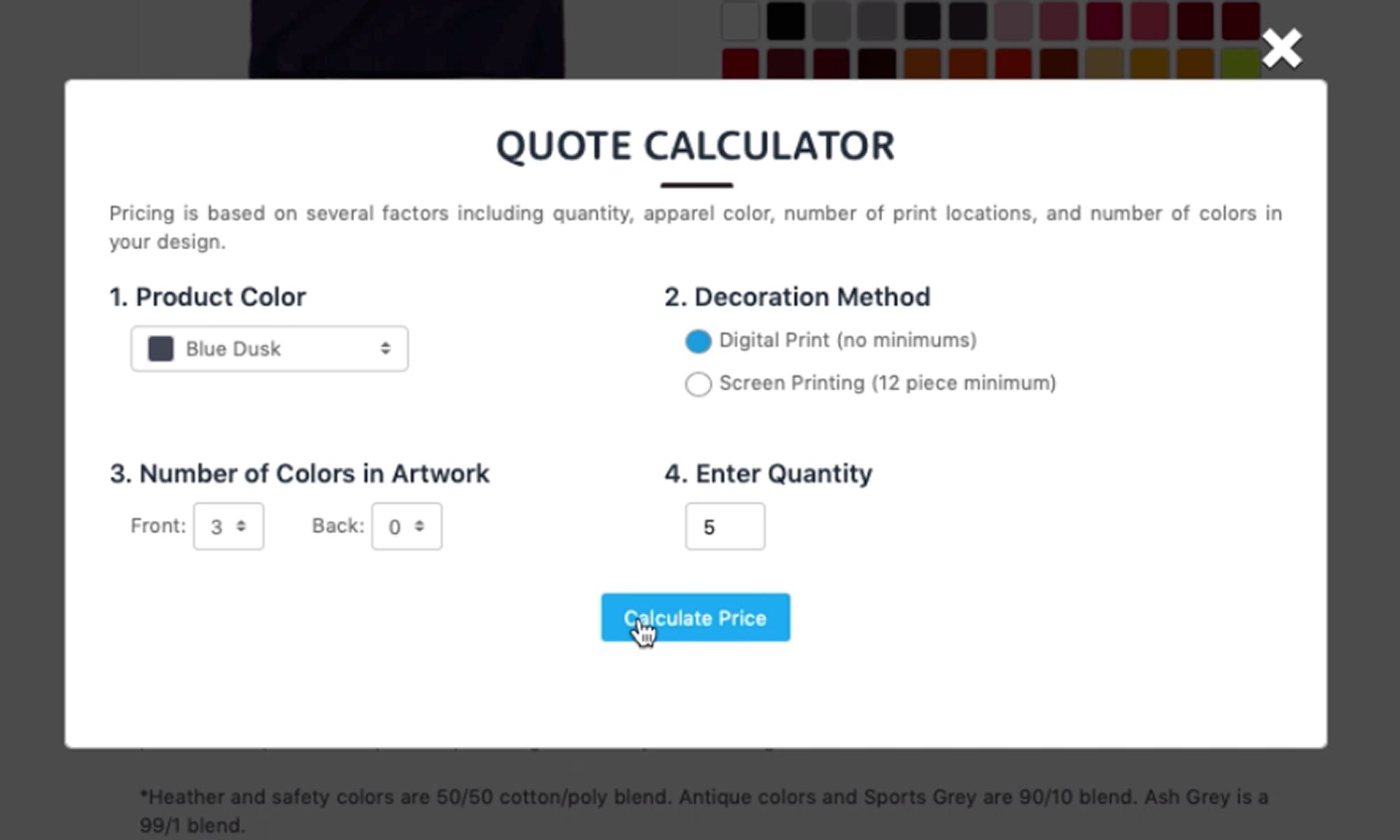 The Ultra Cotton Tee is one of the absolute cheapest options in our entire apparel catalog. It's the #1 budget-friendly option with its availability and price point being the reasons this t-shirt is so popular.
The Jersey T-Shirt falls in the middle of these 3 options. It's a step up in price from the Ultra Cotton Tee, but still cost-effective enough to be a solid go-to for tons of our customers. When people ask me to recommend a higher quality, retail-style t-shirt that will still fit their budget, this is often what I suggest.
The Triblend Jersey T-Shirt is in the highest price tier of the 3. It's another jump up from the Jersey T-Shirt entirely because of the fabric it's made of. You can count on triblend apparel being some of the highest priced because the materials and manufacturing that goes into making them is the most costly. However, many people think the cost is definitely worth the supple feel it has and I, for one, love wearing these.
Color Options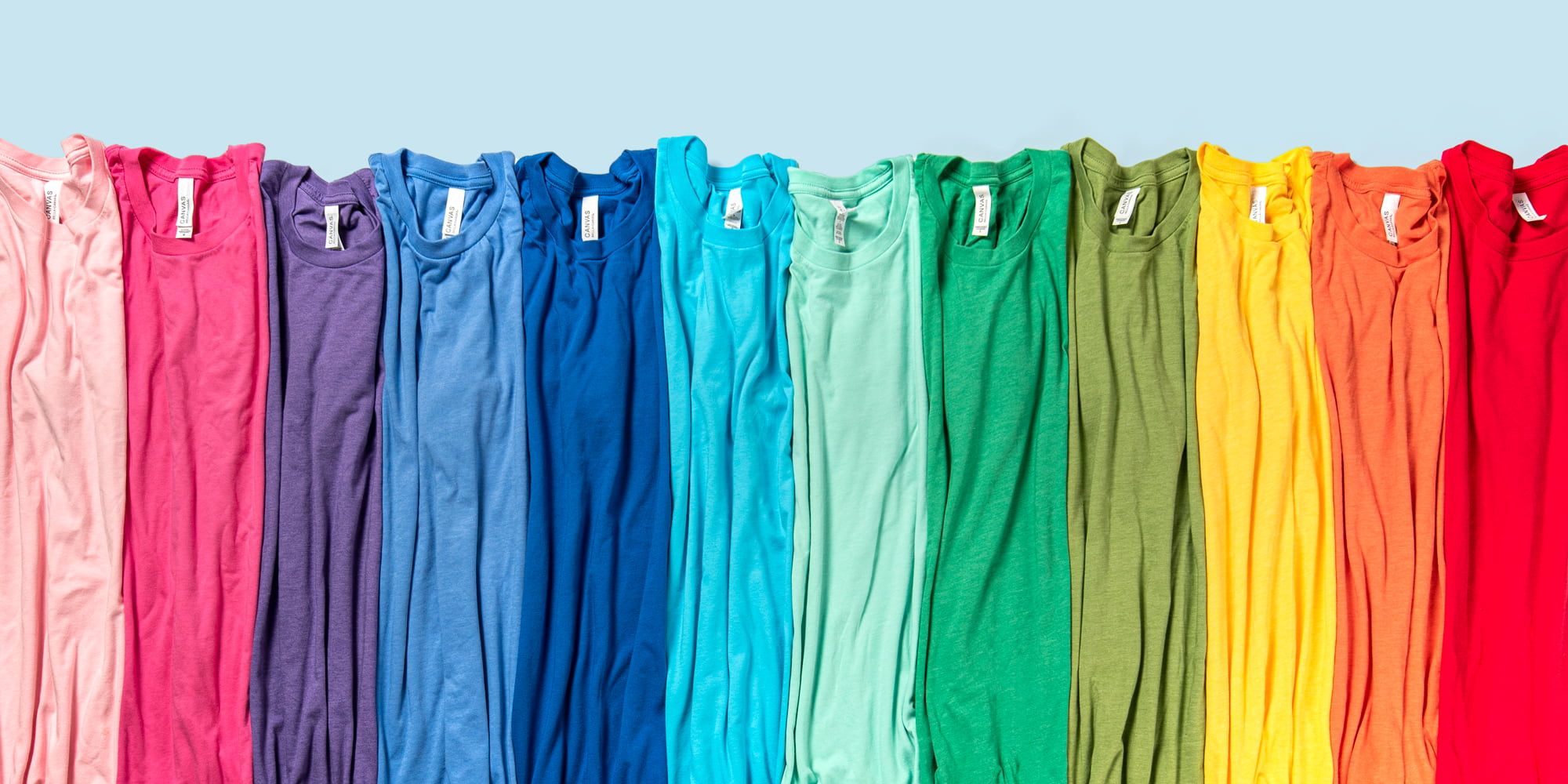 The Ultra Cotton Tee has a huge variety of colors that almost certainly has something for everyone. However, so do the other two.
The Jersey T-Shirt too has a large selection of colors, but also a greater variety of heathered options as well. Heathered colors have a subtle speckled look that many prefer over solid colors.
The Triblend Jersey T-Shirt has plenty of available colors as well, however almost all of these will have a heathered look as a result of the 3 blended materials that make up the fabric.
Print options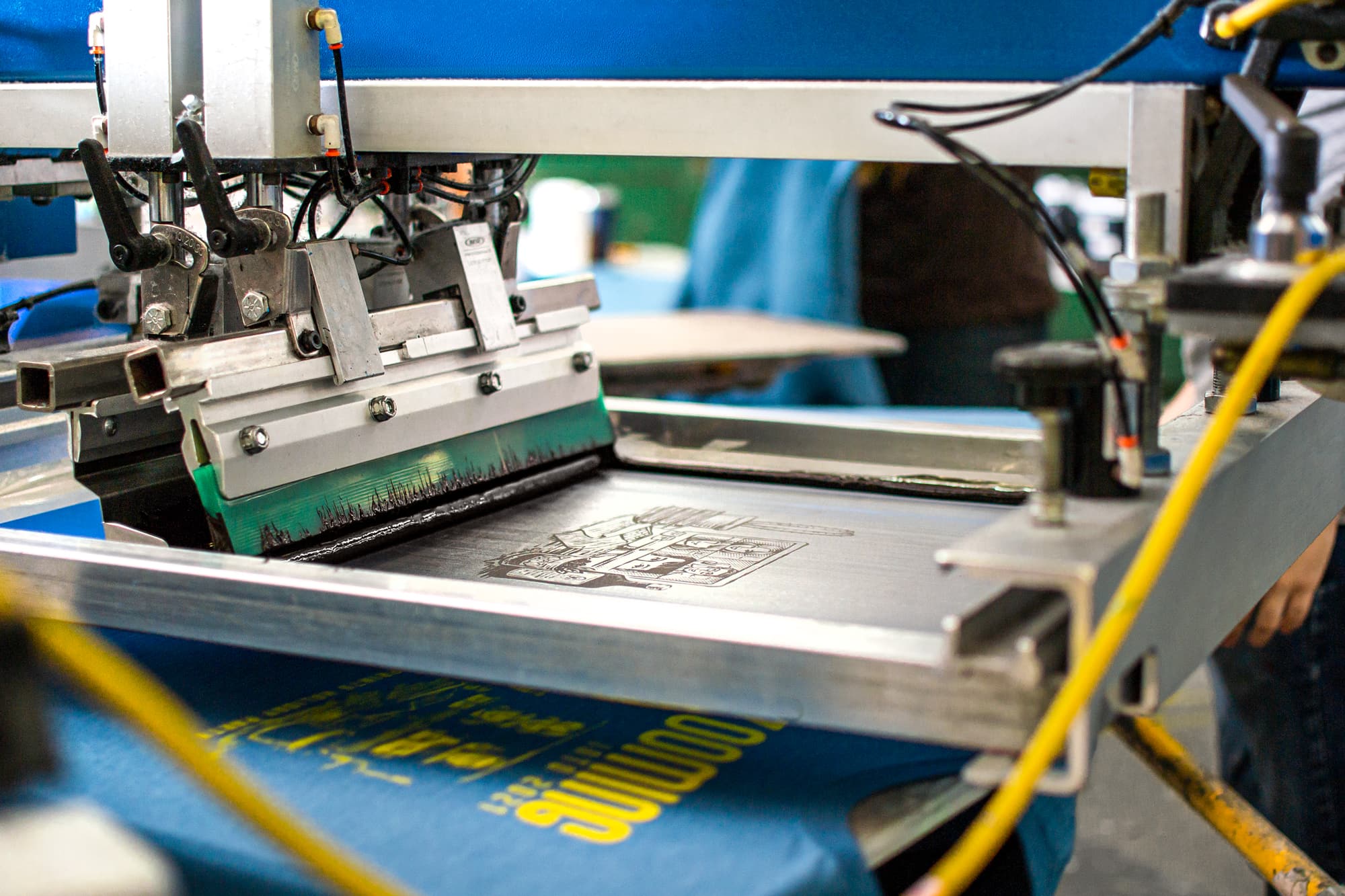 The Ultra Cotton Tee has a significant number of colors available for both screen printing and digital printing. Digital printing is our "no minimum" printing option while screen printing requires at least 12. You may want to compare the two printing methods before making a decision.
The Jersey T-Shirt doesn't have quite as many colors available digital printing, but still enough to mostly cover the full range of colors. 100% cotton options like these first two will typically have the greatest availability for both print methods.
The Triblend Jersey T-Shirt has limited color availability for digital printing because many triblend colors just aren't compatible with the process. Screen printing always allows for a much greater variety of fabrics and colors.
Pros and cons for each t-shirt option
To sum up the comparison of these 3 options across all of these factors, here's a simplified list of pros and cons for each and I'll briefly recommend some similar alternatives in case any of these points are a deal-breaker for you.
The Ultra Cotton Tee
This is the go-to cheap custom t-shirt for large events, 5k runs, giveaways, and lots of others.
Pros:
Very cost-effective, get the most out of a small budget.
Heavy-weight material that's not see-through.
A standard, generous fit to accommodate most people.
Many available colors, even for digital printing.
Cons:
Not-so-soft fabric and feel.
Boxy-er fit
If you want another super cheap option that's a bit softer and more fitted, check out the Softstyle T-Shirt. There are also a few companion styles in the Ultra Cotton Ladies Tee and the Youth Ultra Cotton Tee.
The Jersey T-Shirt
This is the perfect all-around for those that want retail-quality at a reasonable price.
Pros:
Made of soft 100% cotton material.
Light-weight material that moves more freely.
A fitted cut that might fit men and women more effectively.
Lots of available colors, even for digital printing.
Cons:
Material is slightly sheer in white and other really light colors.
Fitted cut might not be as accommodating.
If you want an option that's about as soft but heavy-weight and not as fitted, go with the Beefy-T. The Jersey T-Shirt companion styles are the women's Favorite Tee and the Youth Jersey T-Shirt.
The Triblend Jersey T-Shirt
This is the premium option that's chosen by those that want a high quality, super-soft feel.
Pros:
Made of super-soft triblend fabric.
Light-weight material that's ultra-comfortable and flexible.
A modern fitted cut.
Unique heathered colors.
Cons:
Fabric is slightly sheer in white and other really light colors.
Near the top end of the price range for a standard t-shirt.
Less color availability for digital printing.
You can get a very similar, super-soft feel with a slightly less fitted cut with the Premium CVC T-Shirt. Companion styles are the Ladies Triblend T-Shirt and the Youth Triblend Jersey T-Shirt.