Nowadays, you don't have to place a huge order to get something custom printed. There are tons of reasons why you may be ordering just a few, or even a single custom t-shirt, so I wanted to share a couple of our most popular styles for these kinds of small orders.
I've put together this guide to the best no minimum custom t-shirts to take out the guess work and give you our top go-to options. If you've already looked to order some custom t-shirts, one of the first things you'll notice is that a lot of styles have an order minimum. But, these two styles are ones that can be digitally printed meaning that there's no order minimums for these styles.
The two styles I'm going to be comparing are our Basic Tee and our Premium Tee.
---
---
Price
The Basic Tee is definitely going to be the cheapest option — starting at just $14.99 for a single custom printed shirt. It's the cheapest t-shirt in our entire catalog, and so if you want a really budget-friendly t-shirt, it's definitely going to be the option to go with.
The Premium Tee is going to cost a bit more — starting at $19.99 for a single custom printed shirt — but, it's one of the best in terms of value for the money because of all the other factors we'll get into next.
The exact price for your order is going to be determined by some other things as well like the number of print locations, so you can use the quote calculator on our website to get a specific price for your order.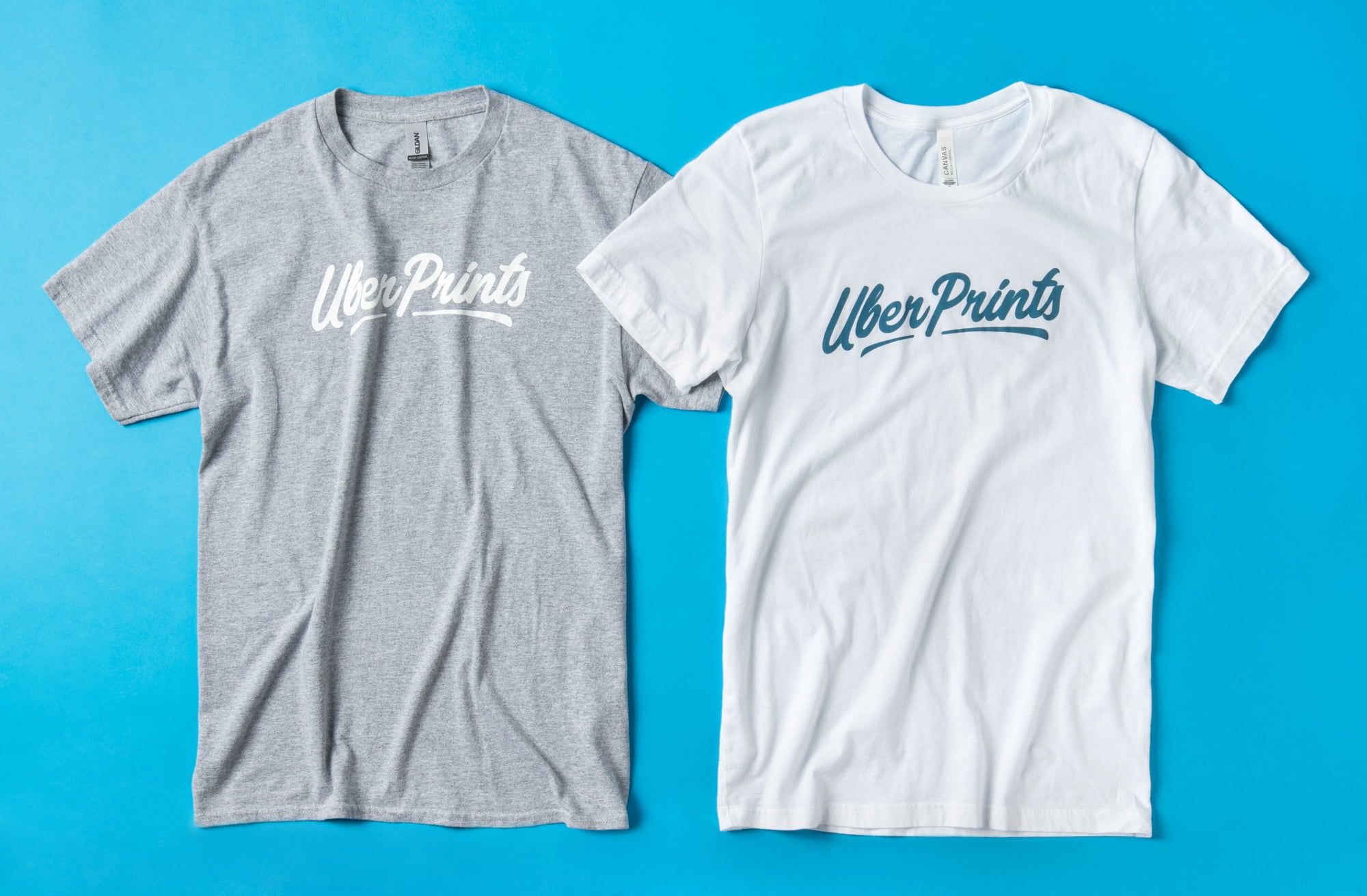 Fabric: Feel the difference
Basic Tee
One of the most significant things to consider with these two styles is the fabric they're made of. The Basic Tee is going to be made out of what's called a carded open-end cotton. And that really just means that it's the most basic cotton so it's not going to be as soft as the premium tee.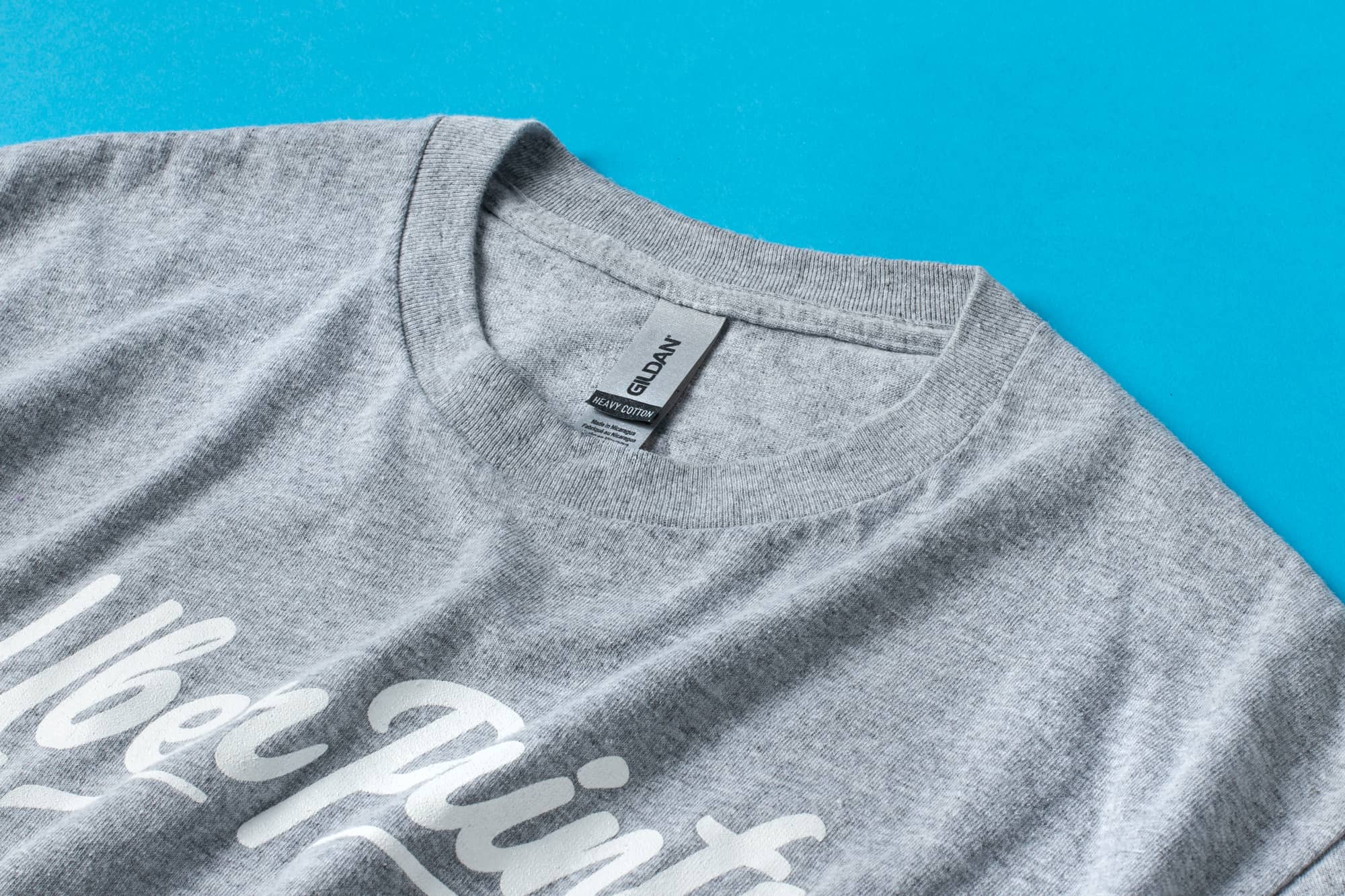 Premium Tee
The Premium Tee is made out of a combed and ring-spun cotton, meaning that it's been through a more refined manufacturing process to give the fabric a tighter and smoother weave that makes the shirt feel noticeably softer.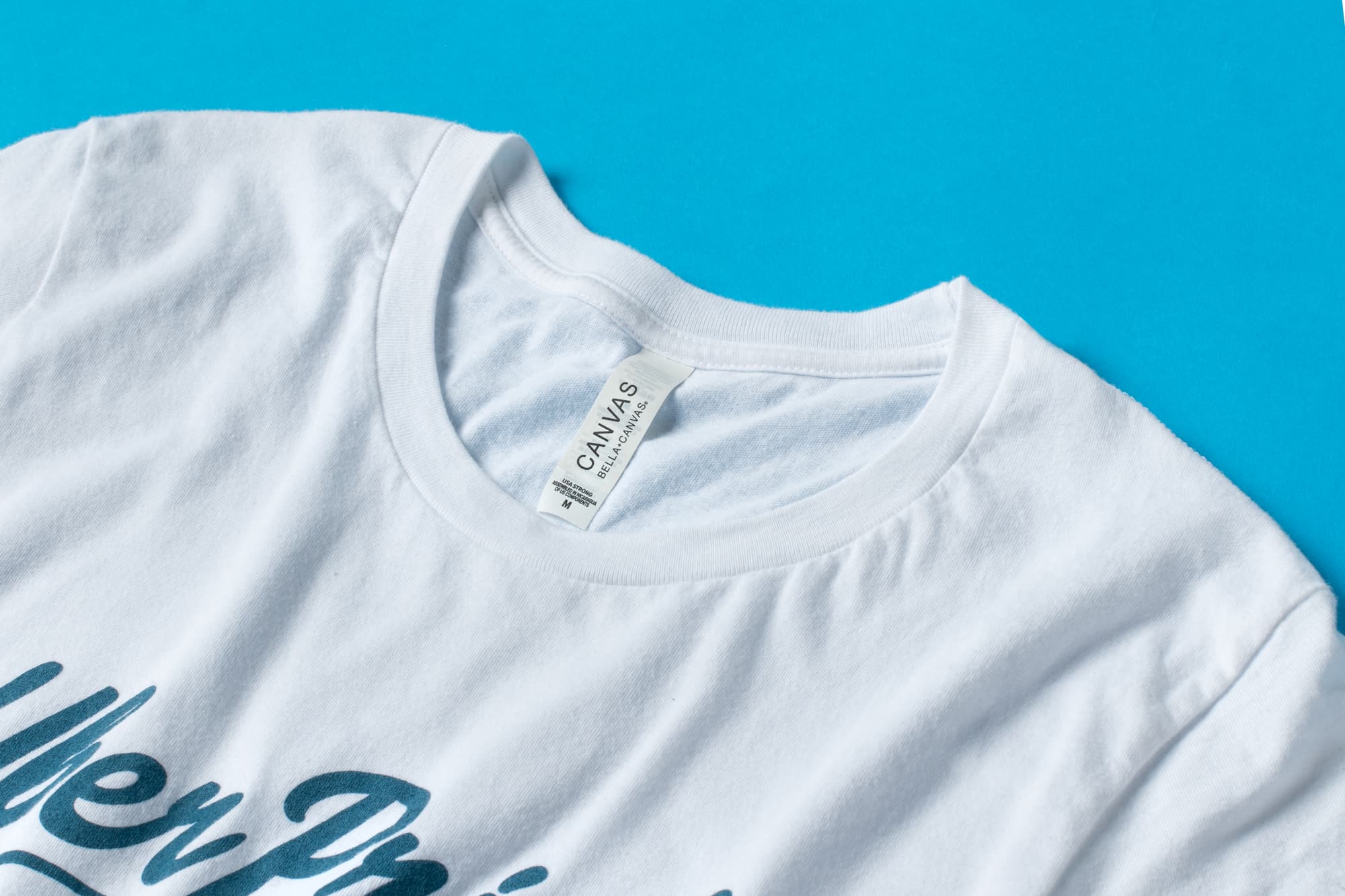 You can learn more about what sets these different fabrics apart in our complete guide to t-shirt fabrics.
Fit: Standard or tailored
Basic Tee
Maybe even more important to most is going to be the way the shirt fits. The Basic Tee is definitely going to have a more standard fit that can give it a somewhat boxy shape. But it might be just what you're looking for because it's very true-to-size, and if you're trying to fit lots of different body types, it can be a great option.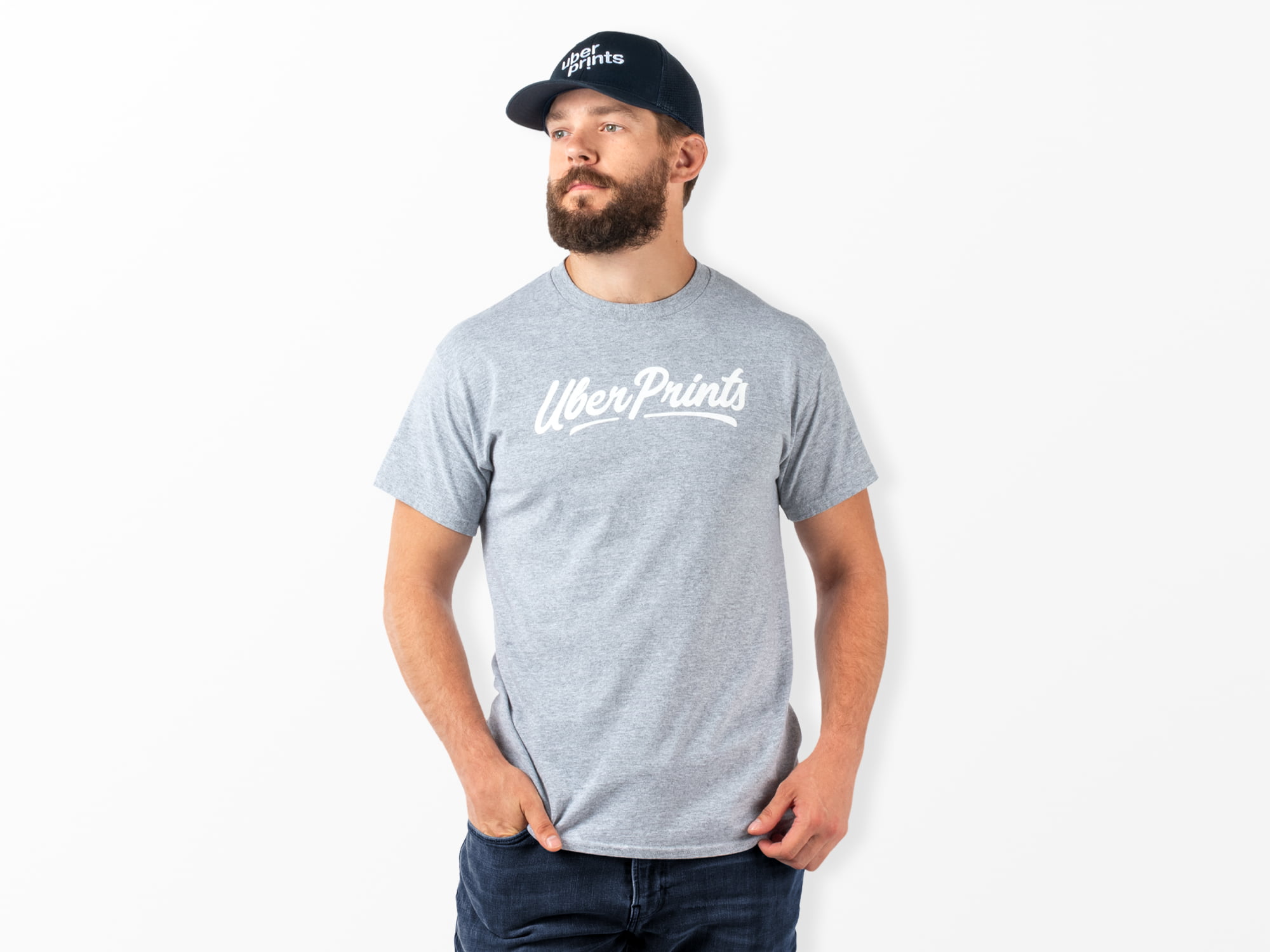 Premium Tee
The Premium Tee will definitely have a much more retail-quality-looking fit. It has more fitted sleeves and shoulders and the improved construction and fit is one of the big benefits of going with a premium t-shirt. Just because you're placing a small order doesn't mean you can't get a professional looking t-shirt.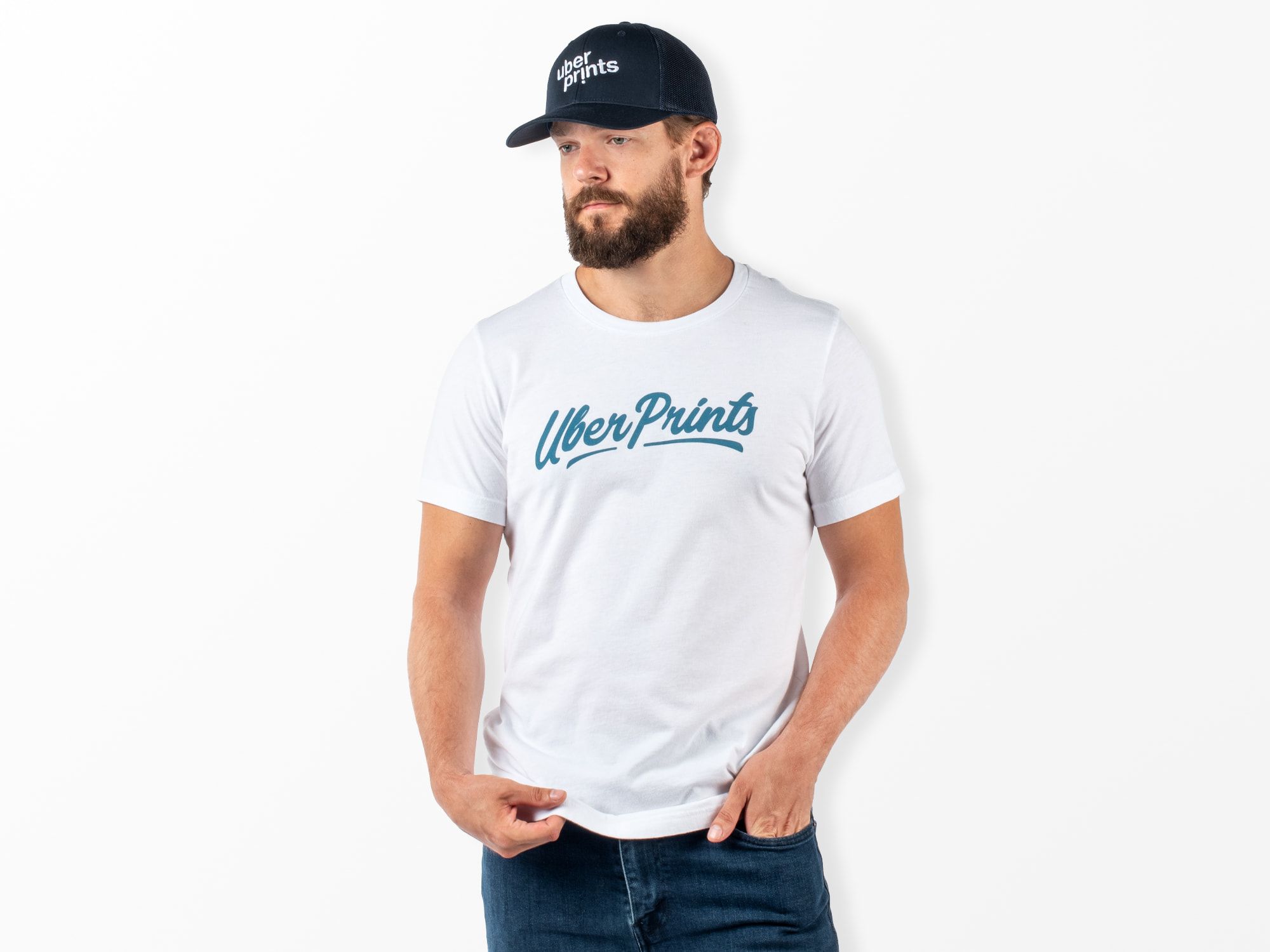 Color options
Color options can play a big part in making a decision because at the end of the day, we care most that our t-shirts are designed well.
The Basic Tee is going to have tons and tons of different colors, so you shouldn't have any issue finding one to match your design.
Because these are both such popular styles, we've made sure we can offer the Premium Tee in a lot of colors as well, but it doesn't have quite as many available for digital printing where you can get orders with no minimum.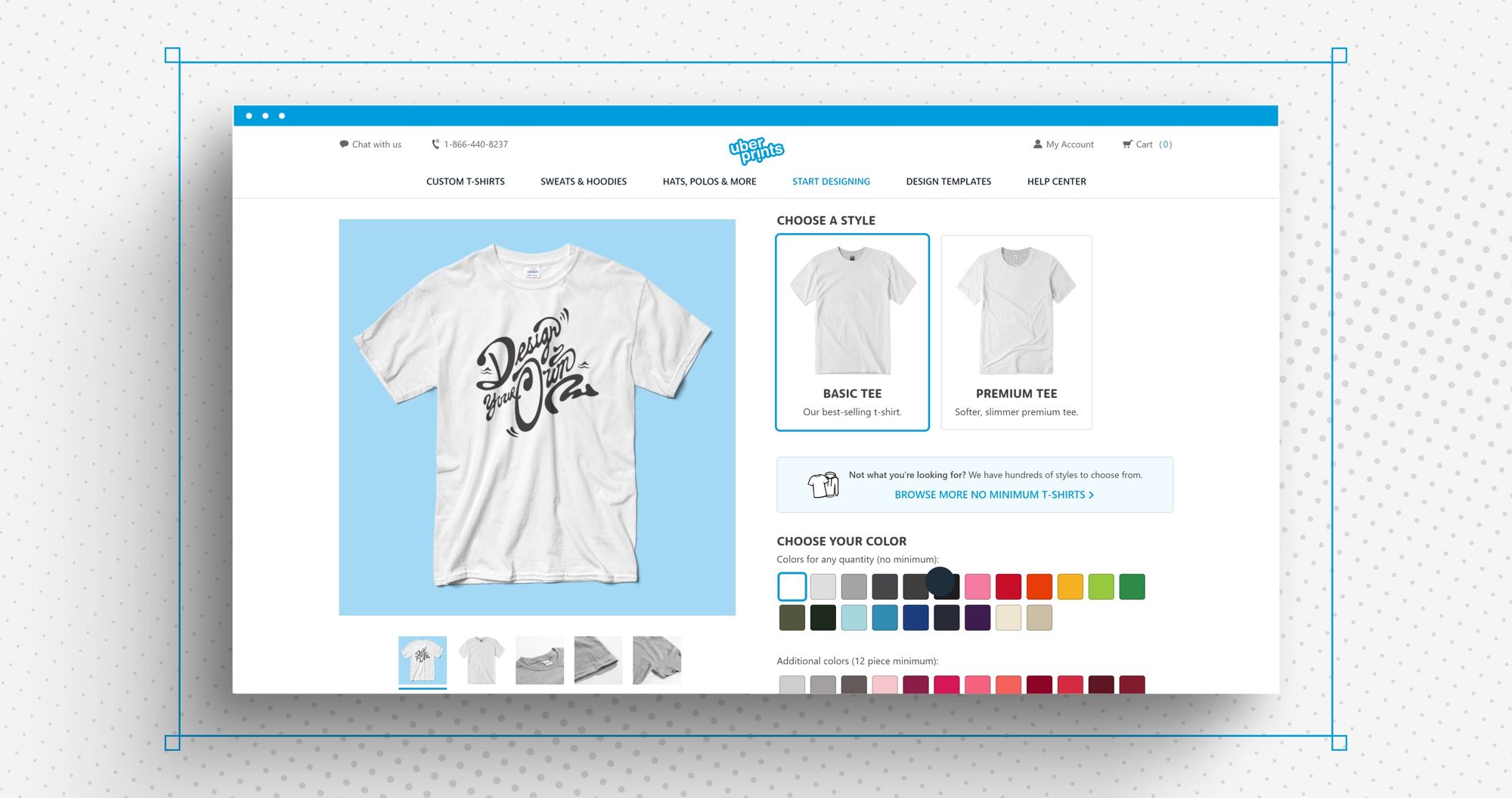 Pros and cons
The first big pro for both of these is that they can be ordered in any quantity. Because we can use our digital printing process on both of these styles, no order is ever too small. And if you're curious, you can learn more about how the digital printing process works to make one-off custom printed shirts.
Basic Tee
Pros
Very affordable
True to size
Tons of color options
Cons
Premium Tee
Pros
Soft cotton fabric
Fitted
High-quality construction
Cons
Slightly higher cost
Fewer color options
Making your pick
The biggest reason we see people go for the Basic Tee is just how budget-friendly it is. If you want to get the most bang for your buck, the Basic Tee is definitely the option to go with. Also, if you're looking for a very specific color or because you want a more generous-fitting t-shirt are two other big reasons to choose it.
The Premium Tee is almost always chosen because you want the softer feel and more tailored look. The combed and ring-spun cotton really makes a big difference and the shirt just feels and fits a lot better. It also makes it a great option for both men and women because of the shorter sleeves and shoulders. But it's still pretty true-to-size so if you are looking for just a more relaxed-fitting t-shirt, maybe go up one size in the Premium Tee.
Other styles to consider
Now if neither of these two styles seem like the right option for you, I'll link to some other affordable styles. And you can also check out the rest of our catalog where we literally have hundreds of other styles, everything from hats, hoodies, and more.
I hope this guide has been helpful, if you ever need anything, always feel free to reach out to us.