No Atlanta company has been more integral to the drunk after hours crowd, the frugal family, to Kid Rock, or the T-bone-for-breakfast-enthusiast, than Avondale Estates-born Waffle House. What other 24-hour diner can claim to have it's own language with "Scattered, Smothered, and Covered" becoming a recognizable part of the Southern-American vernacular?
When I first moved to Atlanta from Brooklyn, and was looking for quintessential Atlanta things to explore, the Waffle House Museum popped up.
I was more than excited to visit the museum for the sheer kitch factor, but after multiple drive-bys of the unassuming, tiny, building just outside of Decatur, it started to feel as if my dream of finding out the history of the Waffle House was never going to come true.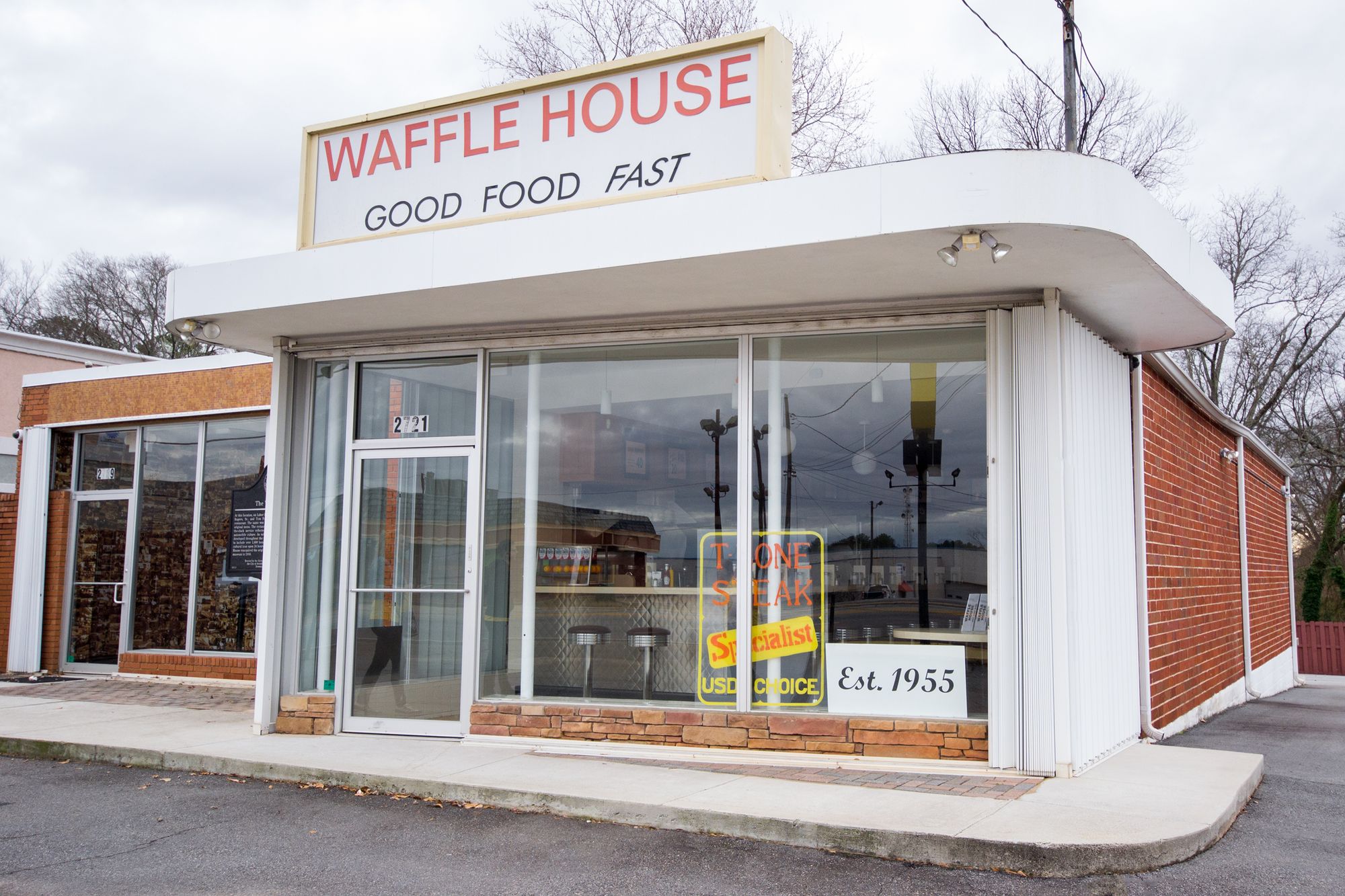 The Museum seemed to NEVER be open. The promise of a tour hung on the museum's posted hours:
Tours can be scheduled for Wednesdays or Thursdays between 10am and 2pm. Please call 770-326-7086 to make an appointment at least one week in advance.
Afraid to call just for a single person tour, I started randomly driving by on Wednesdays and Thursdays hoping that a tour would magically already be in progress that I could join. No such luck. Was no one else interested in the secrets of the WA HO?
Finally, fed up with all my Waffle House questions going unanswered I called to arrange a tour of my own. My UberPrints co-workers got conned into being cohorts, because with them I had enough of a "tour group" to feel confident that the museum would open for us. They would have to have us "stop down memory lane" with them.
I was nervous as I called the listed number (for fear that my dreams might be dashed) but the museum answering service picked up instead of a rejection. I left my name, info and number of people in my party, and eagerly waited my phone to ring.
A mere 24 hours, and a very cordial conversation with the Waffle House corporate office later, a date was set. In the small span of week we would be joining a senior group for our museum tour. I knew one thing, we had to make shirts ASAP!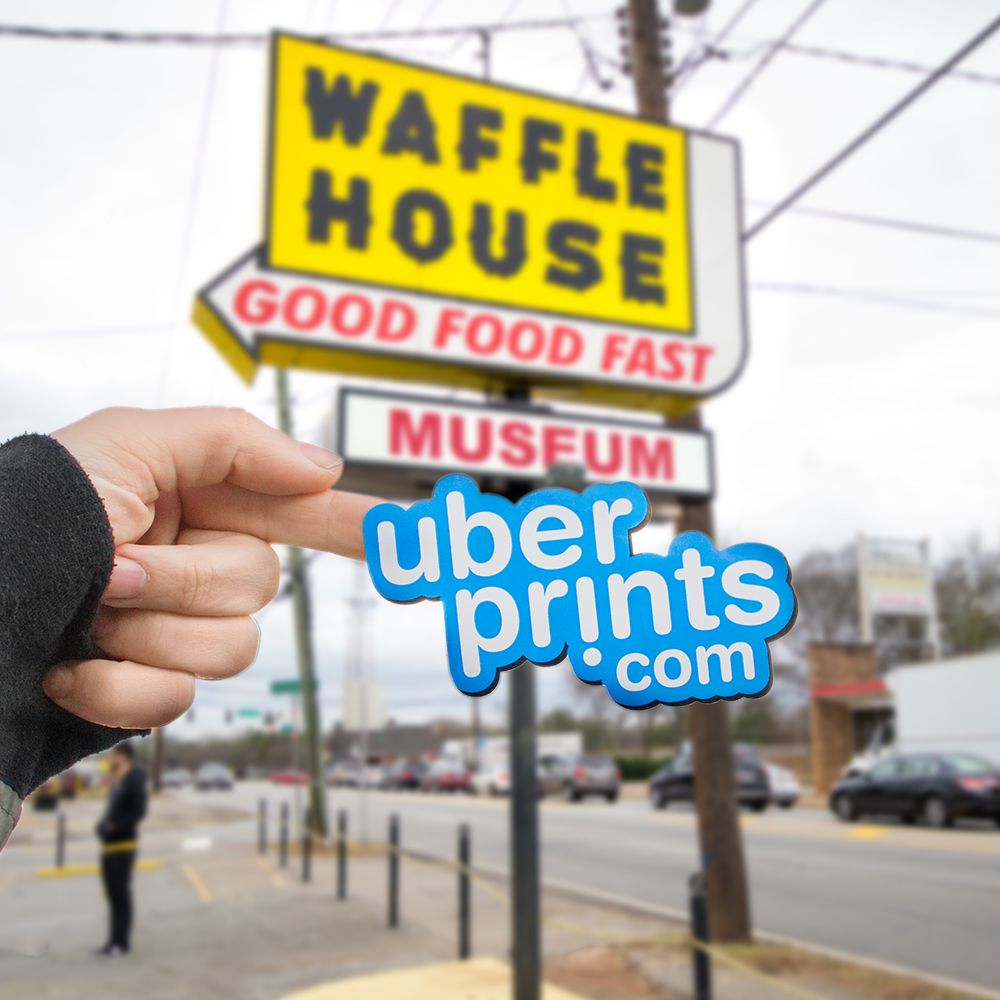 Wearing our customized WH-inspired-tees, we all met the gloomy Wednesday morning at the museum. The building looked sad and dark, just like all the drive-bys, but when our tour guides showed up, the 1955 diner began to light up.
NOTE: Our Senior friends had the sniffles, so we got a private tour.
Shelby our tour guide (and Waffle House marketing manager) was awesome. She is an almost twenty year veteran of the Waffle House corporate office, and she is passionate about her companies history.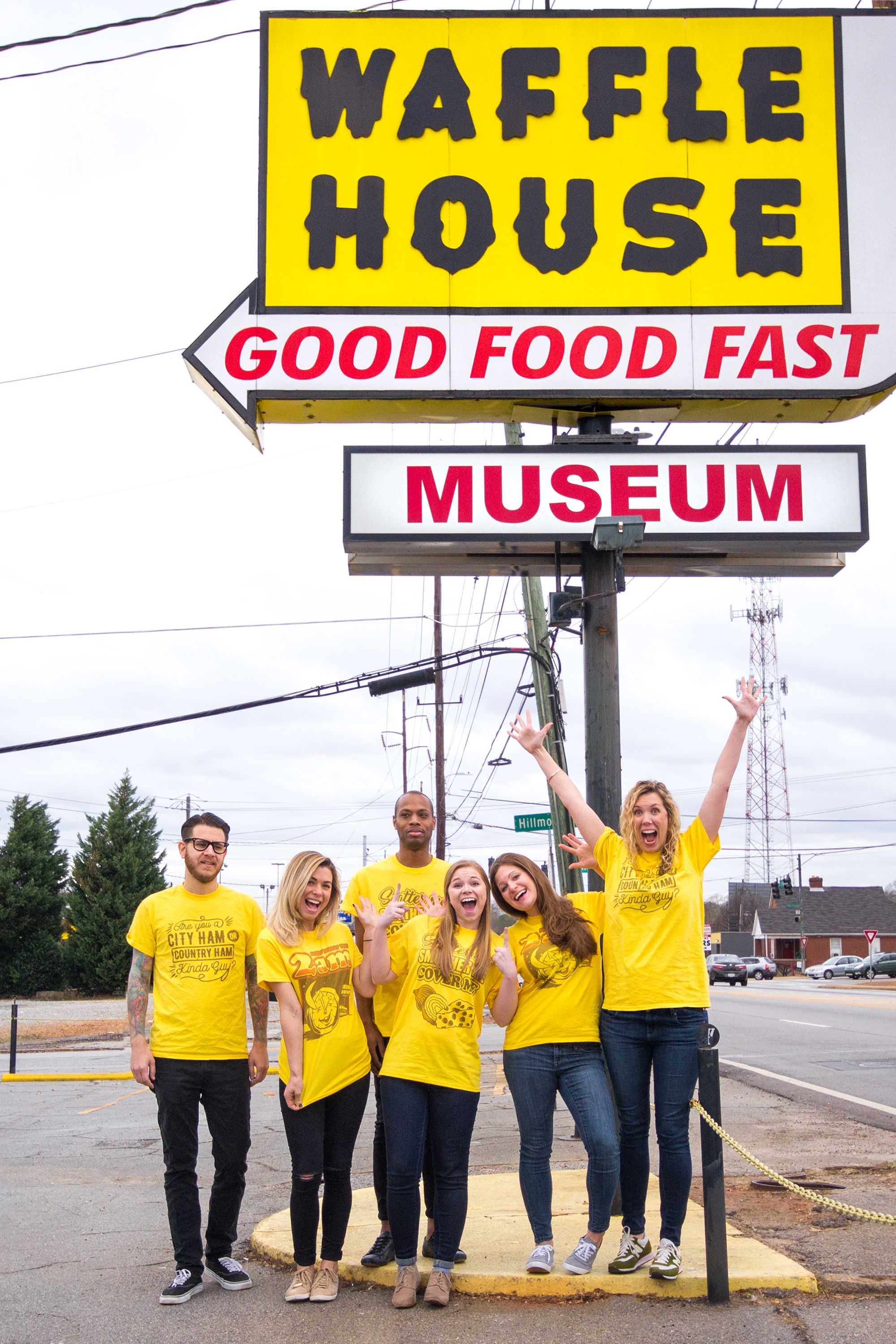 Our vintage Waffle House menus in hand, and throwback paper hats balancing on our heads, Shelby took us through 62 years of history, original prices, menu changes (there have only been a few), equipment, and iconic Waffle House personalities that eventually helped evolve this single diner into a chain of over 1,800 restaurants. The two-room museum is the exact location, and replica of the first Waffle House complete with original flooring.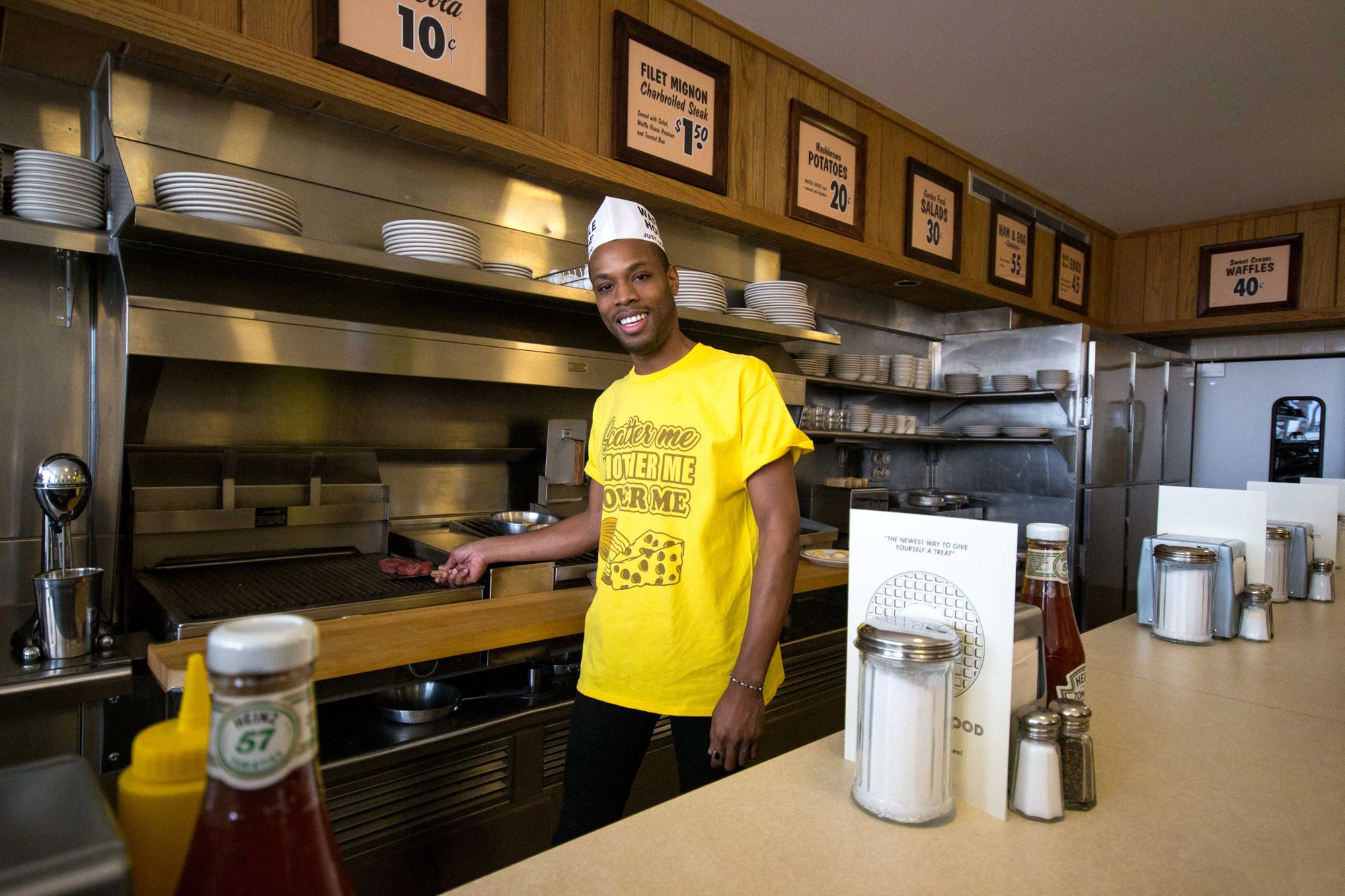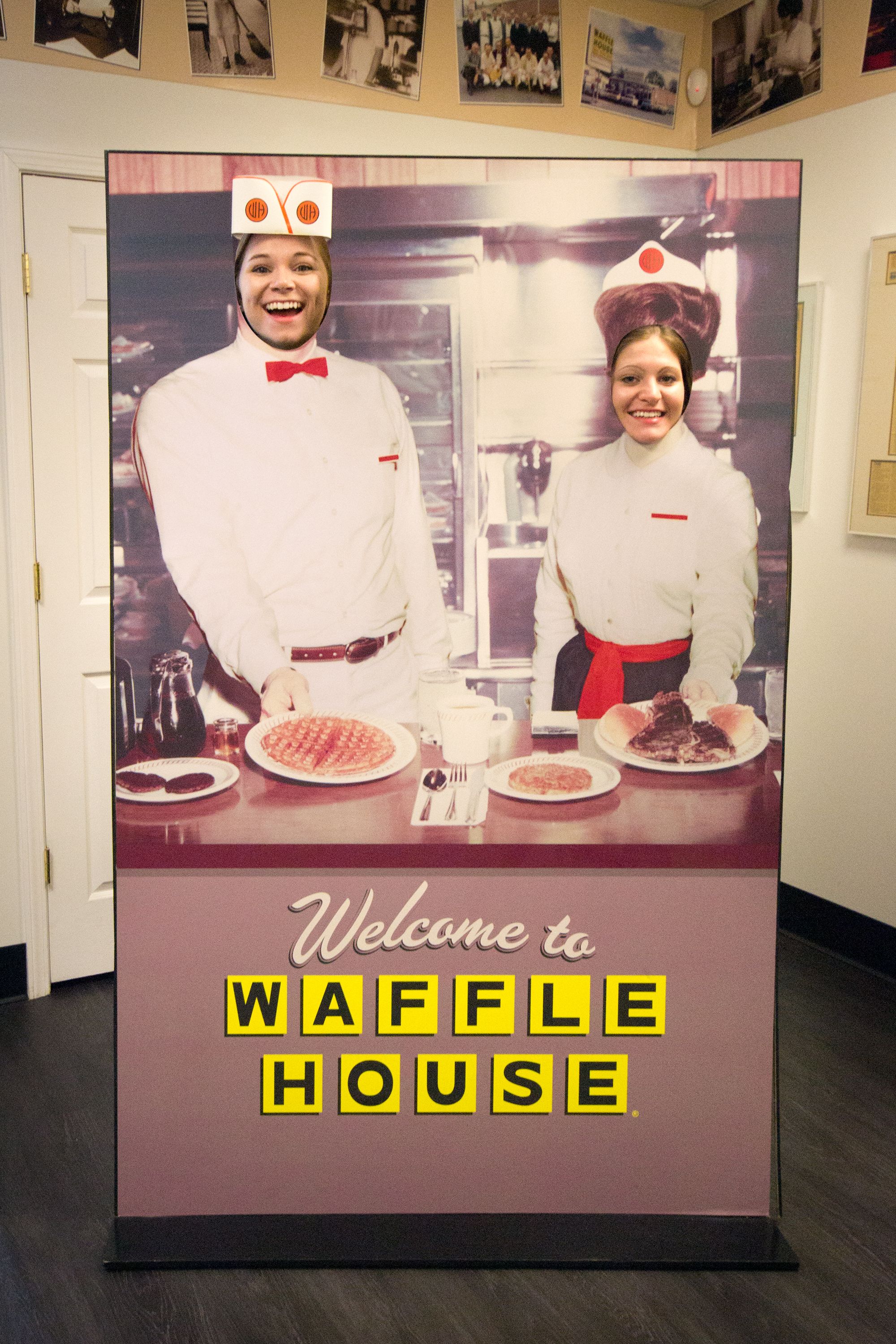 The UberPrints crew spent close to an hour and a half exploring a building smaller than most apartments, but we had a lot of questions, and Shelby was more than willing to answer. There were too many interesting facts!
Fun Waffle House facts
They are never closed- every Waffle House is open 24/7 including holidays
Christmas and Valentines are their busiest days
Waffle House used to make their own mayonnaise
Every Waffle House building (including land) is owned by the company
They do not market or advertise- so you will never hear a Waffle House jingle
Waffle House produced their own vinyl 45's that were featured in their jukeboxes
Stephen Colbert has a song on the Waffle House jukebox
Kid Rock once worked at a Waffle House for a day after he had a brawl at one
Every Valentines, certain Waffle Houses take reservations and pull out white table cloths
FEMA uses the Waffle House index to determine the need in disaster zones.
You must be an employee to be a Waffle House shareholder
Managers must work first shift (at the grill) in the restaurant
The two founders are WWII Veterans in their 90's, and still make it into the office.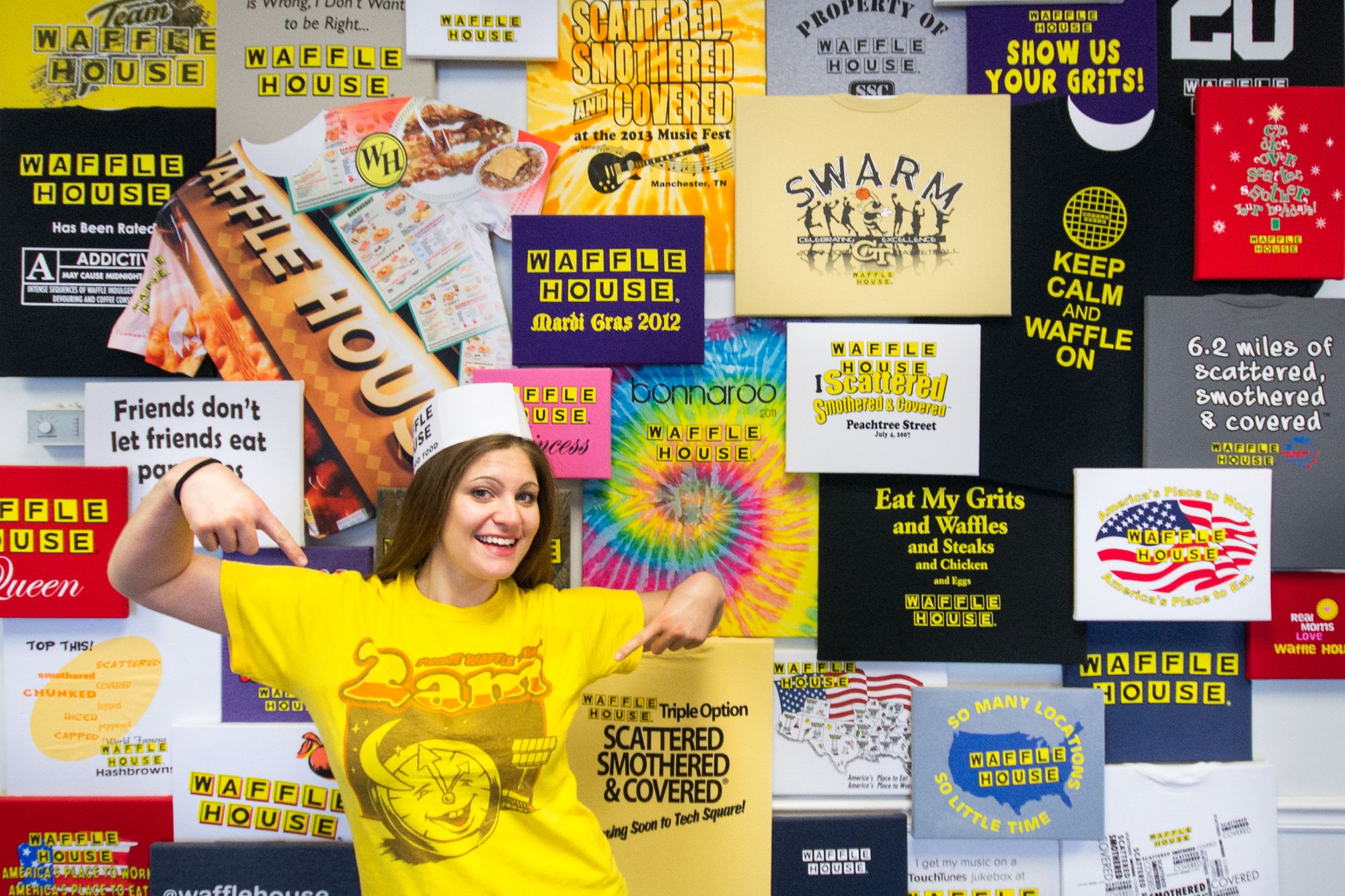 The crew worked up an appetite hearing about all the delicious food, and how it is prepared,  so we obviously had to get "Scattered, Smothered, and Covered" right after the tour.