Ben Lande may be the quietest of all the Atlanta UberPrints employees, but his artwork, designs and tattoo covered body speak volumes.
When Ben isn't writing music and playing with his band After Care, you can find him checking out live music in Atlanta, scoping out the city's vegan options, or working on original artwork. Luckily UberPrints gets his talents weekdays.
UP: Hey Ben, tell us a little about what you do at UberPrints and how long you have been with UP
B:  Hi, I'm Ben, a graphic designer for UberPrints since September of 2016. The majority of my time is spent creating oringal stock art that customers use to create their custom t-shirts. I also help create graphics for our social media, marketing and branding.
UP: How would you describe your artwork and designs?
B: I like to work in a variety of styles from retro graphic design to psychedelic illustration, but bold linework and vintage textures are some of my favorite areas to explore. I graduated from the Savannah College of Art and Design in 2004, but have since continued to teach myself graphic design and digital illustration.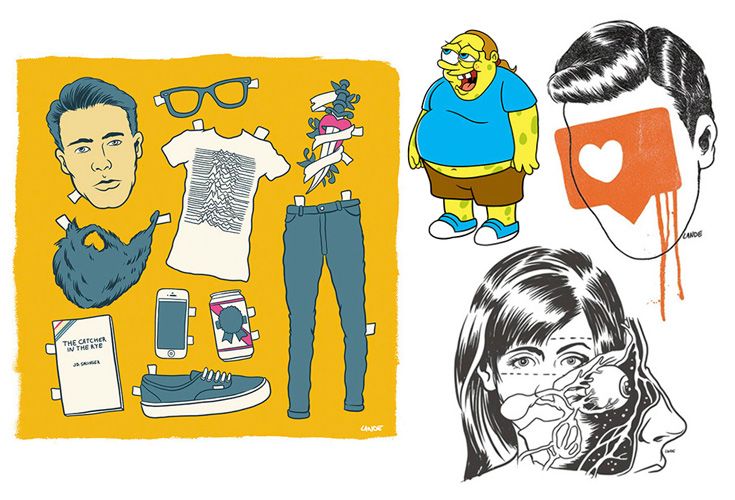 UP: What influences did you have growing up that lead you to get to this kind of work?
B: Growing up in the 80's was a huge influence. Everything was crude, bright and bold. 80's skateboards, band t-shirts, comics, action figures…I think all of these things are permanently ingrained in the way I approach artwork and I still obsess over them. Punk rock's DIY approach and aesthetic, pre-code horror and romance comics, as well as mid-century packaging, print techniques and pop art are also huge influences.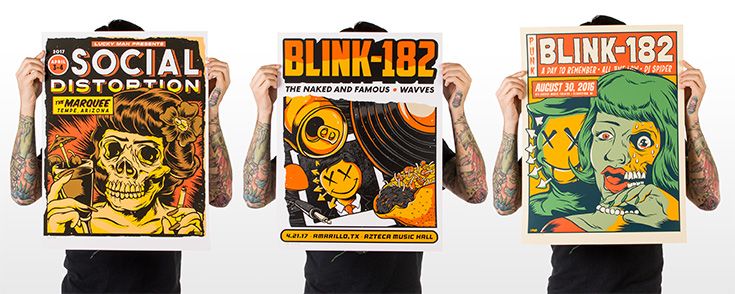 UP: You can tell you're really into artwork everywhere. Can you tell us a little about your tattoos? Do you know how many you have?
B: I fell in love with tattoos seeing Guns N' Roses on MTV when I was a kid and got my first tattoo (Misfits crimson ghost) on my 18th birthday. I actually had a short-lived tattoo apprenticeship when I was 18, but got the opportunity to go to art school and fell into the world of commercial art. I have all sorts of things tattooed from roses and hourglasses to a taco and Kurt Cobain's shotgun.
UP: What has been your favorite shirt you have designed for UberPrints?
B: One of my first projects for UberPrints was designing a Halloween shirt that featured a haunted slice of pizza with Halloween candy. That was a lot of fun.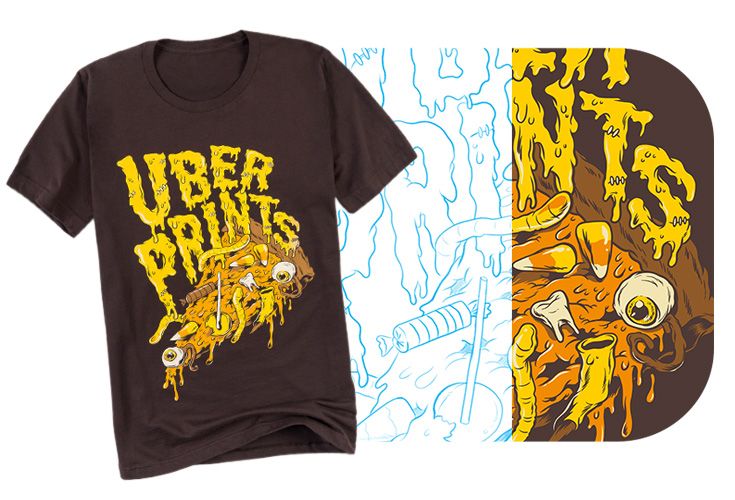 UP: What is your all time personal favorite tee-shirt?
B: When I was a kid, there was an older girl in my neighborhood that had a Guns N' Roses shirt that began my obsession with band tees. As you might guess, it was a skull with guns and roses, but as an impressionable tween, it really blew my mind. The original shirt goes for hundreds on eBay, but almost 30 years later, I was able to get a really nice reprint at the recent reunion tour.
UP: How long have you lived in Atlanta and what are some of your favorite places to go? Eat?
B: I've moved around a little bit, but have spent most of my life in Atlanta. Most of my social life involves live music, so music venues like The Masquerade, Drunken Unicorn, The Earl, 529, Terminal West are my favorite hangouts. Shout out to Kabob Land, which is down the street from UberPrints Atlanta office, for their $7.99 falafel and salad combo.