Golf tournaments are a popular pastime for many golf enthusiasts. A great t-shirt design can add to the excitement and fun of the tournament while also serving as a memento for participants to remember the event. In this blog post, we will explore some great golf tournament t-shirt designs that will make your event stand out.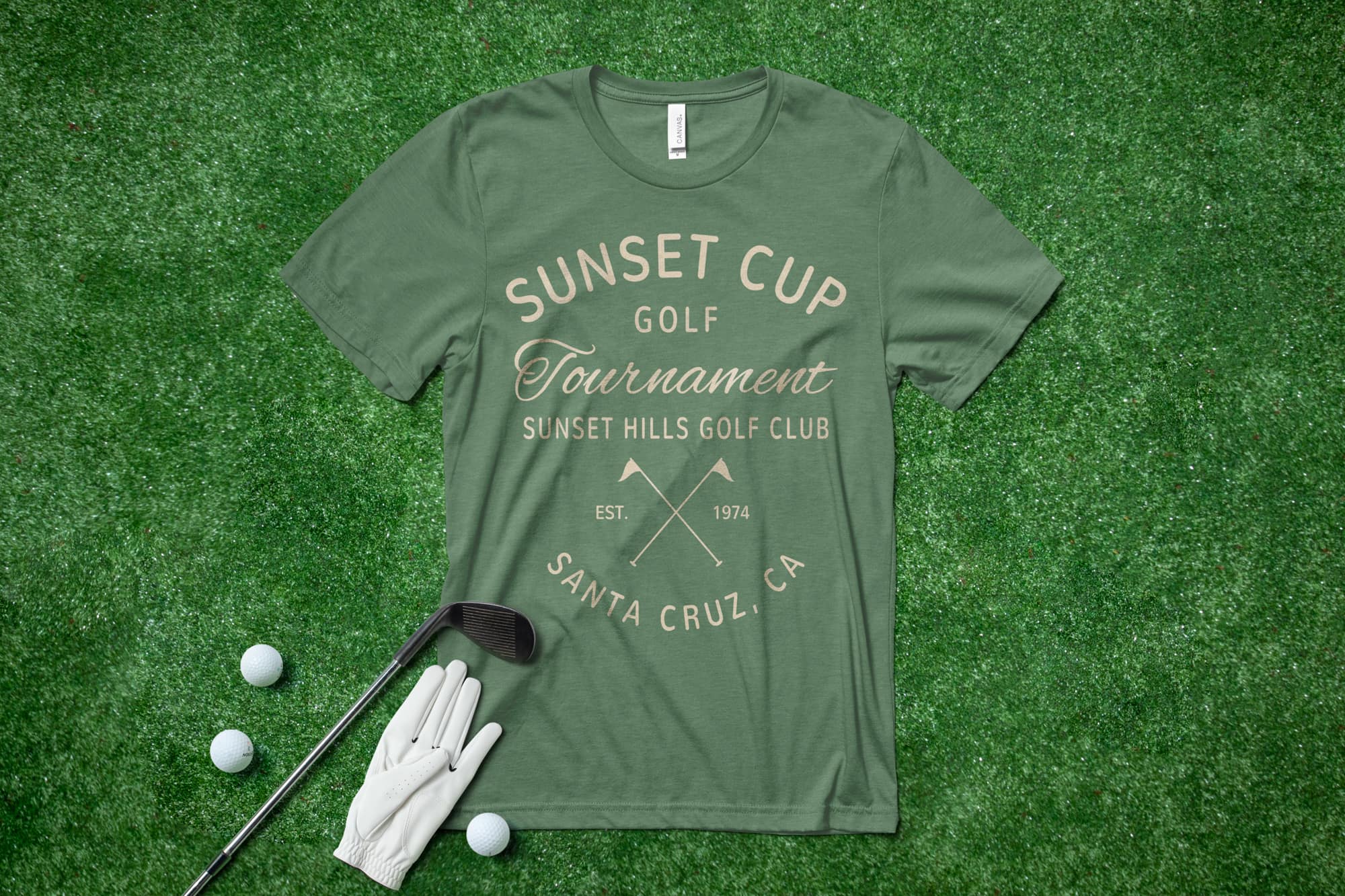 Minimalist design
Less is more, they say, and a minimalist design exudes elegance and sophistication. Consider incorporating clean lines, subtle symbols, or a single-color emblem of a golf club or ball. Opt for a sleek font to display the tournament's name or use a minimalist representation of a golf course. The key is simplicity, allowing participants to proudly wear a shirt that captures the essence of golf's timeless charm.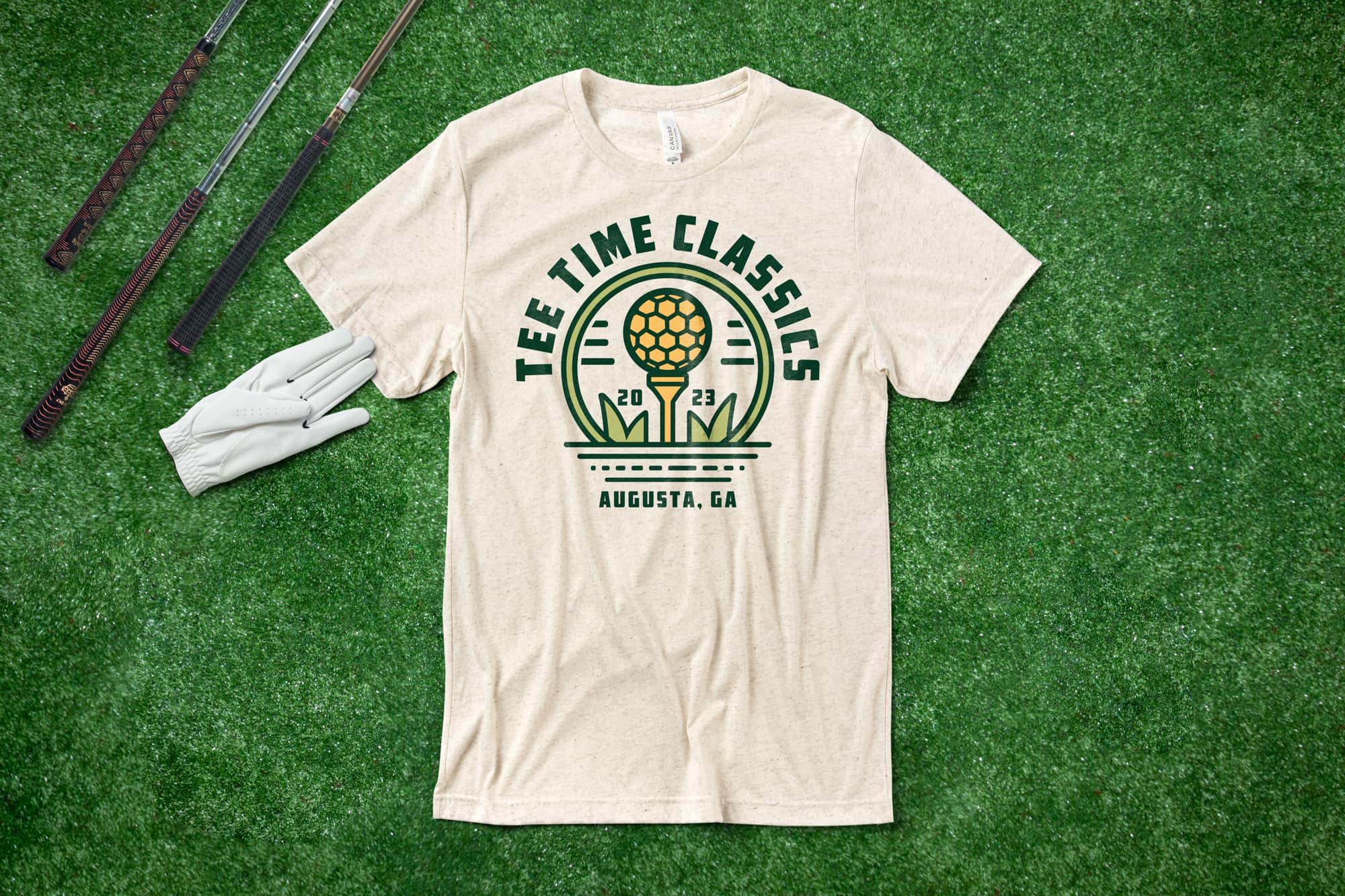 Monoline design
Monoline t-shirt designs combine simplicity with a touch of artistic flair. By utilizing a single line thickness, you can create intricate and visually captivating artwork. Consider incorporating a monoline illustration of a golf tee and ball (shown above) or a silhouette of a golfer lining up a putt. This style offers a perfect balance between modern aesthetics and the traditional spirit of golf.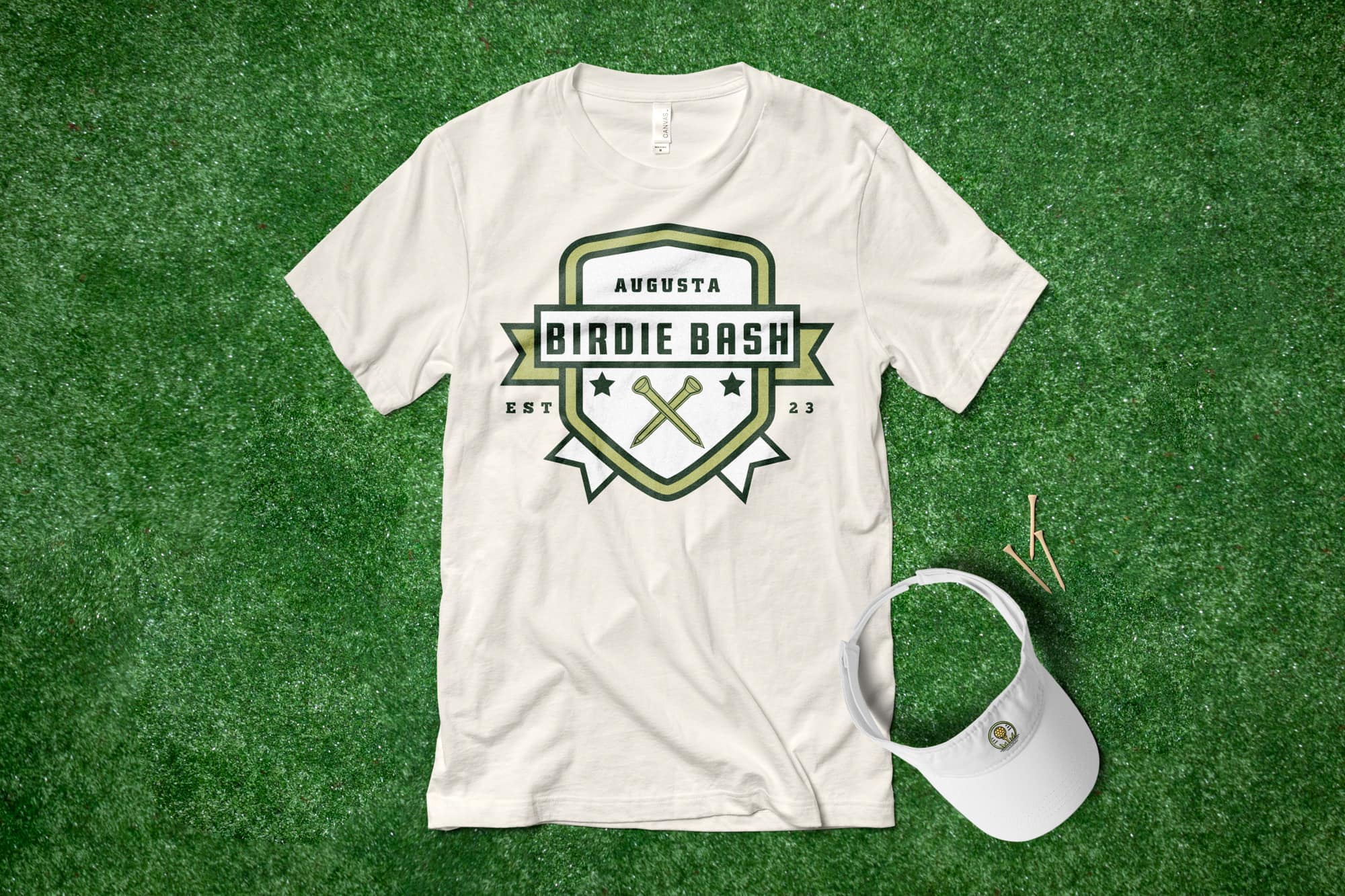 Simple Banner
Capture the spirit of competition and celebration with a simple banner design. Use bold typography and vibrant colors to display the tournament's name in a dynamic banner format across the t-shirt. Add elements like crossed golf tees or a victorious golfer to enhance the design further. The result will be a t-shirt that exudes energy and excitement, igniting the competitive fire in every participant.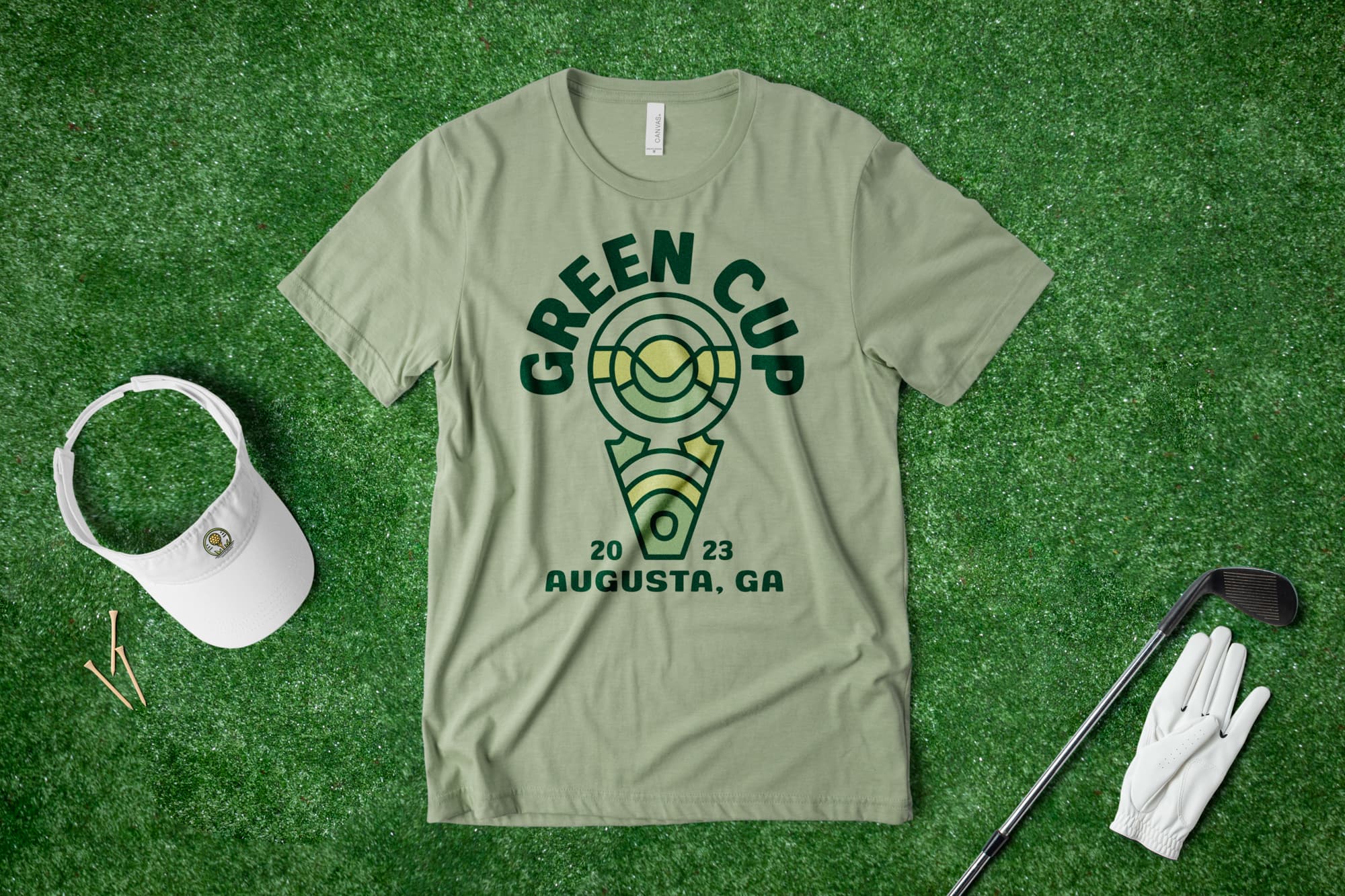 Abstract
For those seeking a more artistic and avant-garde approach, abstract designs are an ideal choice. Embrace geometric shapes, vibrant color schemes, and bold brushstrokes to create a visually captivating composition. Abstract artwork can evoke a sense of movement, rhythm, and the unpredictable nature of the game. This design category allows you to express the essence of golf through a unique and visually stimulating lens. Check out our golf clipart to find really unique and creative pieces for your abstract golf t-shirts.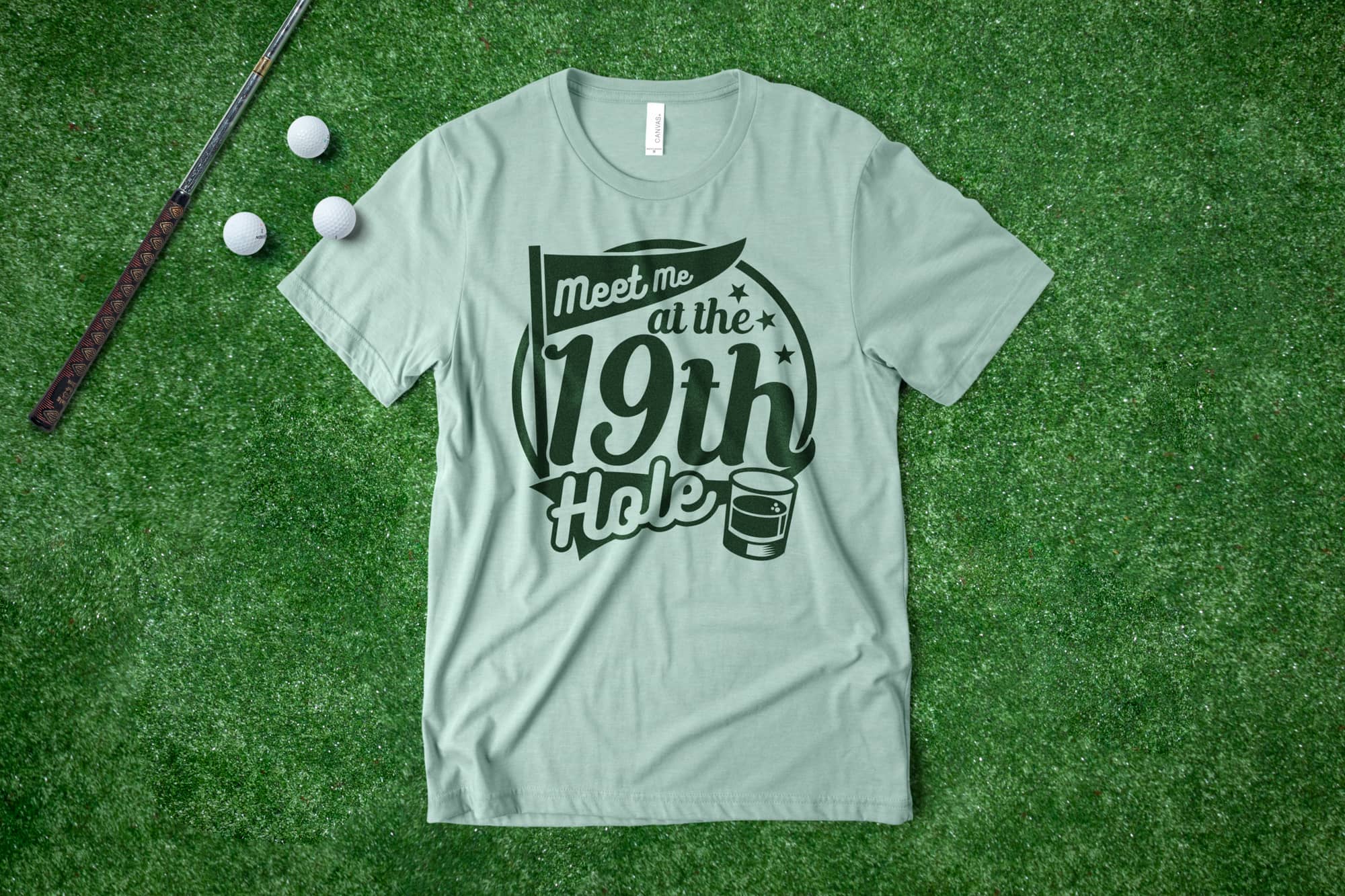 Funny
Injecting humor into your golf tournament t-shirts adds a playful and lighthearted element. Incorporate witty slogans related to golf, such as "Meet me at the 19th Hole," "Swing, Sip, Repeat," or "I Golf Because Punching People is Frowned Upon." Experiment with clever caricatures of golfers in amusing situations or amusing wordplay centered around golf terminology. Funny designs provide a memorable and enjoyable experience for participants and spectators alike.
Which t-shirt is right for your event?
When designing golf tournament t-shirts, it is essential to consider the comfort and fit of the t-shirt as well. Participants will be playing golf for an extended period, and the t-shirt should be comfortable and breathable. It is also essential to use high-quality materials that will withstand repeated washing.
Depending on the budget and intended use of the t-shirts, there are different styles to choose from. For a comfortable budget friendly tee that is still retail quality check out the Canvas Jersey Tee. If you want a performance t-shirt for hot days the Russell Blend Performance Tee is a great budget friendly option or if budget isn't an issue check out the Nike Dri-Fit Cotton Blend Tee.
Names for your Golf Event
Need some creative names for your golf event? We've got some ideas below:
"Swing for Success"
"Fairway Challenge"
"Golf Masters Classic"
"The Green Cup"
"Links Championship"
"Birdie Bash"
"Golfing Legends Invitational"
"The Ace Open"
"The Grand Swing"
"Eagle's Quest"
"Tee Time Classic"
"Drive to Victory"
"The Putt-a-Thon"
"Golden Putter Tournament"
"Hole-in-One Showdown"
"The Golfers' Cup"
"The Precision Challenge"
"The Iron Invitational"
"Par Excellence Open"
"The Summer Swing"
In conclusion, great golf tournament t-shirt designs can add to the excitement and fun of the event. Design your own or check out our golf t-shirt designs and create a memorable t-shirt that participants will love to wear. When designing your t-shirts, be sure to consider the comfort and fit of the t-shirt, as well as the quality of the materials. By creating a great golf t-shirt design, you can help make your golf tournament a memorable and enjoyable experience for all participants.